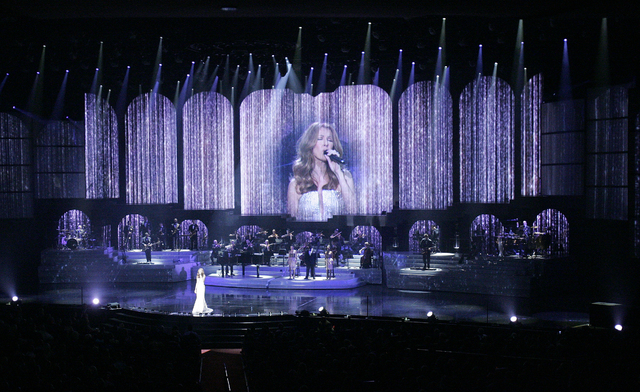 Each year, there is only one guy crazy enough to try to calculate the average Las Vegas show price, but a bunch of people to tell him why he shouldn't bother.
And no, the first guy ain't me. It's Las Vegas Advisor and Huntington Press publisher Anthony Curtis who first sought the average price to 94 shows, then crunched those numbers to set the average show ticket at $82.86, an increase of $2.64 from last year.
In trying to put the numbers in perspective, Curtis notes that most of the big shows people really care about — such as Celine Dion, "Jersey Boys" and "Love" — held the line from last year, and that the middle-tier are titles to blame for the increase.
But that's no real change either. The "B" and "C" shows inflate a ticket's face value to sell for "half-price" at discounters such as Tix4Tonight. And there are always a few titles that make you say "Huh?" (I see two that Curtis called out specifically in the Advisor — "Zombie Burlesque" and "Divorce Party" — have lowered their average.)
Show producers cite other ongoing issues that put the $82.86 in perspective.
■ Actual ticket prices may not be up, but surcharges such as $3 to $5 "facility fees" sneak onto the final purchase price for consumers, and don't go back to producers or performers.
■ Service fees for many casinos, including one of the dominant players in Caesars Entertainment Corp. and its partner Ticketmaster, are on a sliding scale based on ticket price and/or whether the purchase is in person, by phone or online.
■ Any survey based on posted retail prices can't get to a "real" average based on all the discounts that are out there, from coupons to room-and-show bundles.
■ When Cirque du Soleil aggressively discounts, the pain rolls downhill to those "B" and "C" shows. Just one example: Cirque's partnership with Restaurant.com that last summer offered "Mystere" for $49 (before fees) and a $50 eGift Card from the website.
One other tradition of the survey? It usually tells me about a show I didn't know existed. This year, "Kento's Asian Invasion" at the Clarion was the cheapest ticket of the 94, at $12.95 a pop. …
Today brings the return of singing impressionist Veronic (DiCaire) to Bally's through October, sharing the Jubilee Theater with the namesake "Jubilee!" Murray (Sawchuck) is again ensconced at the Tropicana's Laugh Factory club, celebrating his two-year anniversary with Sunday's show.
The two have a common tie in what you could call selective scheduling. A "resident headliner" used to be one who committed to year-round advertising and 40 or more weeks a year with a casino.
The idea was that a year-round relationship with ticket agents and long-term contracts for cab tops and billboards outweighed the losses of performing in slow months such as January.
But more and more shows are looking for a lesser presence. "Because the Laugh Factory produces my show, I do have that flexibility," Murray says of his 12-week break. As with Veronic at Bally's, other entertainment in the room keeps casino landlords from fretting about a complete lack of foot traffic.
Murray was bumped from a 7 p.m. to a 4 p.m. start time when Roseanne Barr came in for a headline run, and "thought it would be the death of me. But it doubled my sales," he says. "I was in shock, but then it made sense to me." Because he is an "afterthought" versus a "destination" show, he's not competing against the big guns in the evening.
Murray used his time off in part to land TV shots on upcoming episodes of the CW's "Masters of Illusion," National Geographic's "Brain Games" and ABC's "Wipeout." …
After a May in which The Smith Center for the Performing Arts will host three acts who have played casino venues — Lili Tomlin on May 11, Chazz Palminteri's "A Bronx Tale" May 13 and Johnny Mathis May 30 — June trades one back.
William Shatner will reprise "Shatner's World: We Just Live in It" June 19-21 at the MGM Grand's Hollywood Theatre (usually the home of David Copperfield), after debuting it at The Smith Center last January. Hope he remembers to talk more about "The Devil's Rain" this time.
Contact Mike Weatherford at mweatherford@reviewjournal.com or 702-383-0288.