Before redo, down with ship for 'Jubilee!'
January 30, 2014 - 7:19 pm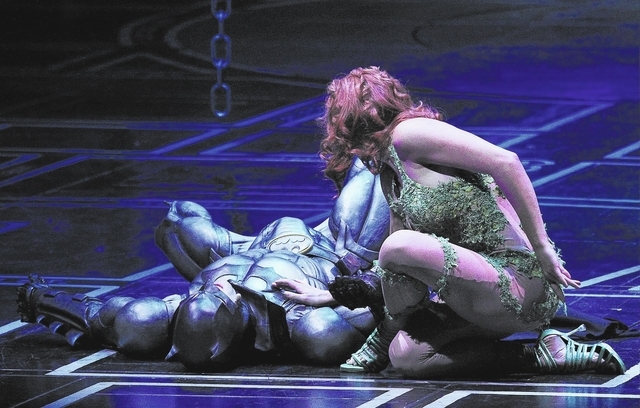 So what did they say when the Titanic set sail? "See you in a few weeks?"
The Titanic we all know on the Strip sinks one more time Thursday, the last voyage for the version of Bally's "Jubilee!" we all grew up on. The safe money is on the ship going down again when a retooled version of the Strip's longest-running show debuts in March. After all, if you throw out the Titanic, or Samson and Delilah's shagadelic foreplay, what's left to keep?
But the folks in charge are being cagey about just which parts of the showgirl extravaganza we will or won't see again when it reopens under the helm of Beyonce's choreographer, Frank Gatson Jr.
It may be that such decisions haven't been made yet. And it could be the new "Jubilee!" is more like the piecemeal update the show received in 1995 than a top-to-bottom reimagining.
Caesars Entertainment Corp. isn't confirming March 22 as the target night for a grand reopening, which some cast members seem to believe. And while some of the lead performer contracts were not renewed, the company says casting "is still being determined" for the new edition.
Those cast members who weren't let go are said to be working "at will" in lieu of a new contract, with their fates to be determined during rehearsals. ("Jubilee!" is the rare Las Vegas show in which cast and crew are on the hotel payroll, not working for a contracted producer.)
"I'm terribly curious, as is everyone who's ever danced on that stage. We'll see what this fellow Frank does," says Linda Green, the former showgirl who performed in "Jubilee!" the longest.
Green danced for 23 years, from its opening in July 1981 until her contract wasn't renewed 10 years ago when she was 50. She will be in the third row Thursday to see the show one more time the way she remembers it.
"I just smile the whole time," she says of her periodic returns.
She still knows about 10 cast members who started before the end of her run.
"Of course I'm screaming and standing up and everyone knows I'm there and they're winking as well as they can without doing anything out of character."
"I find my lips moving and my seat going. It's hard to sit still. I need a seat belt." …
"Zarkana" returns Friday, but Zark lost his voice while the show was on vacation.
The Cirque du Soleil opus returns to Aria in slightly different form after a month's downtime, which included some content changes.
One of them is that the title character, the mysterious wizard who makes all the cool stuff happen, no longer sings about it.
Things keep changing for this guy. When the show first went up in New York, he sang real songs in English. But the words had turned to pure vocalese by the time it debuted here in late 2012.
Audiences may have had the same reaction I did in my first review of "Zarkana." I wrote that the character played by Paul Bisson "just seems to be trying so hard to tell us something. As he gesticulates and sings so dramatically, he makes us feel like we can't help a poor foreign tourist get to Hoover Dam."
Composer Nick Littlemore also has swapped out some music and written new pieces to score the show. One of them will accompany Kevin and Andrew Atherton, the twin brothers who do an aerial strap act new to "Zarkana," but which was featured in Cirque's Hollywood production "Iris."
The "Wheel of Death" act also is back in the show after being temporarily pulled when an acrobat was injured in November. "Zarkana" will phase back in with one show per night until it gets back to its full-schedule stride by mid-February. …
By now you may have seen the new Brooklyn Bowl at The Linq has announced its early concert schedule, rolling out in March and teaming Elvis Costello with The Roots on March 15-16.
A few weeks ago, I talked to veteran promoter Danny Zelisko about the new tier of midsize venues and competition for acts who play them.
"I'm a little biased because I book at the Palms (but) I don't understand Phil Lesh in a bowling alley. I'm sorry, I don't get it," he said before I realized this was not a random name-drop: Lesh is playing the Bowl April 18-20.
Zelisko was addressing the scenario of different promoters "combing over the exact same list of bands that are available."
"The bands at some point say 'uncle,' " Zelisko says. "If you throw too much money they can't refuse, they're going to take it."
One way of getting to that guarantee seems to be the Bowl offering multinight stands.
The early schedule for the Bowl includes Steve Winwood, who has also played the Palms, on June 13-14 and the Avett Brothers, who last played The Cosmopolitan of Las Vegas, on Aug. 29-31. …
If Batman couldn't do it by himself, can the combined clout of The Avengers complete the mission?
That mission being, fill the Thomas & Mack Center?
Feld Entertainment, the folks behind circus and ice shows, have rolled out plans for "Marvel Universe Live!" which combines Marvel's mightiest heroes into a theatrical arena show.
The show's website lists local dates at the Thomas & Mack Center April 23-26 of 2015. An arena spokeswoman says those dates are unofficial and ticket sale dates have not been set.
The show is casting all the big Marvel heroes and villains, including Iron Man, Hulk, Captain America, Thor, Wolverine and even Spider-Man, though a separate producer is trying to take the Broadway musical "Spider-Man: Turn Off the Dark" to arenas and a Las Vegas casino.
Maybe Marvel and the Felds — known in Las Vegas for co-producing "Siegfried & Roy at The Mirage" — can do what their rivals at DC Comics couldn't when they licensed "Batman Live" for a tour that played the Thomas & Mack in the fall of 2012.
That one didn't quite convince ticket-buyers it was an all-ages enterprise with live actors instead of costumed mascots ice-skating and lip-syncing.
Either that, or Batman just got his butt kicked by "Phineas and Ferb," who were at the Orleans Arena the same weekend.
Contact reporter Mike Weatherford at mweatherford@reviewjournal.com or 702-383-0288.