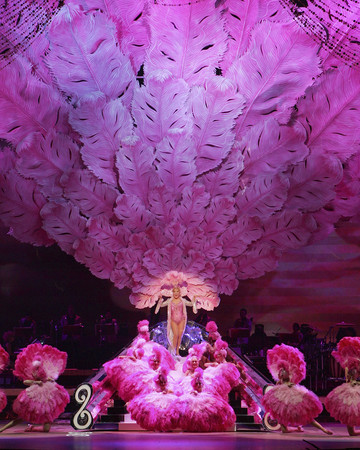 The down side of not looking your age? It's surprising to hear Bette Midler say she's tired.
In fact, what she says is, "I'm really, really tired."
And so "The Showgirl Must Go On," her custom-designed spectacle at the Colosseum at Caesars Palace, is counting down to its final performance on Jan. 31.
"I'm not as young as I once was, and it's starting to really tell on me," says the 64-year-old entertainer. "It really was my health. I just want to get my health back. I haven't really slept well in a long time."
Midler will fulfill her two-year commitment to the residency, which launched in February 2008. But 100 shows a year turned out to be a tall order. A lot of performers will tell you the actual time onstage is the easy part; that it's the travel that grinds one down in the post-9/11 era.
For Midler, it didn't work out that way. "I don't find the traveling stressful," she says. Doing 50 shows on a concert tour turned out to be easier than 100 in one place.
"It's starting to wear me out. Especially because I put a lot into it," she says, noting she never missed a show at the Colosseum. The reason is easily explained: "I'm really careful. And in being really careful, you kind of cut out whole chunks of your life. I'm tired. I want my life back."
That said, "I feel like I was in the town," she says of Las Vegas. "I find it a fascinating, fascinating place.
"They know me at the Springs (Preserve)," and she covered some miles at "a half-dozen parks where I would do some runs with the girl who was training me.
"I wish I drove more," she adds. "That's the biggest problem here, that I was afraid to drive. I don't read maps and can't really do the GPS so well. I was afraid I'd get lost. I finally got to the point where I could get out a little bit, get to the Whole Foods and get to the bookstore. I'm always turned around here in Las Vegas. I'm never sure which direction I'm going."
Midler is at least a little more certain of her direction in life. The big, campy Colosseum production — with mermaids in wheelchairs and Elvis impersonators on the video screen — made her yearn for the simple things: To "have a trio and sing in the subway," she jokes.
"I'd like to do something so teeny that if I could get good enough on ukulele, it would just be me for a while," she says.
One of the most memorable moments in "Showgirl" was when the production came to a halt and Midler sat on the stage steps to sing "The Glory of Love," accompanying herself on the instrument associated with her native Hawaii.
"It really gives you so much joy to make music by yourself," she says of the uke. "It only has four strings. I recommend it to anyone who is frustrated because they can't get their fingers to go fast enough on a keyboard."
Midler was in the audience at one of Garth Brooks' solo performances at Wynn Las Vegas, and says, "What he does for an hour and a half is not just entertaining, but winning and charming.
"I would love to do it. If I could play ukulele as well as he plays guitar, I'd be there," she says with a laugh.
The Brooks residency suggests Steve Wynn just might go for a Midler ukulele showcase. But even if it didn't get quite so minimal, she says any return to Las Vegas probably would be in that spirit.
"I just need some time to get my head out of the gigantic show world concept: Having every show get bigger and bigger and brighter and brighter and more full of gimmicks and gags.
"I'd just like to sing some nice songs seriously, and have a decent band and not have to worry about all the other stuff."
But first she will lie down.
"Celine (Dion) packed her bags and went right out on the road, God bless her. Not me. I'm gonna lie down, look at the horizon and try to catch my breath and catch up with what's going on in the world, and see if there's any place I can be of use. Look after my husband and daughter for a while. I really need a chance to reassess.
"If I catch my breath and my disposition is sunny, then my instincts will tell me what to do."
Contact reporter Mike Weatherford at mweatherford@ reviewjournal.com or 702-383-0288.
Preview
Bette Midler: The Showgirl Must Go On
7:30 p.m. Saturdays, Sundays, Tuesdays and Wednesdays (through Jan. 31)
Colosseum at Caesars Palace, 3570 Las Vegas Blvd. South
$55-$255 (731-7110)