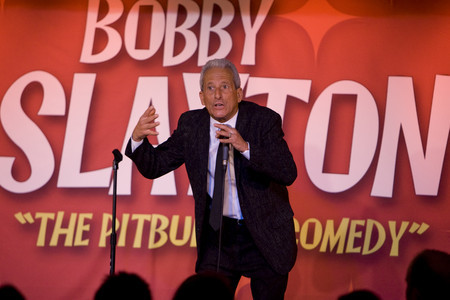 Do Bobby Slayton a favor. If you go to see him at the Tropicana, check out his Vegas wall of fame.
You will learn a bit about where he's coming from in the process.
The comedian says he "worked like a gay mental patient," hand-building display boxes with three-dimensional pop-ups of Las Vegas memorabilia, heavy on the 52-year history of the casino where he now performs.
But after all that effort?
"They don't ever look," he says, amped and tightly wound as usual, before going onstage last week.
In his first month at the former Comedy Stop, a low-ceiling room with swanky retro chandeliers, lines down the entry hall haven't been a problem. People walk right past the displays of Slayton's comedy heritage and his love of Vegas tradition.
The 54-year-old's own style lies at the crossroads between the old school of rim-shot ethnic slurs and the more authentic, confessional style of last week's young support act, Bill Dawes.
That gives the self-proclaimed "Pit Bull of Comedy" cross-generational appeal, even if the generations laugh at different jokes.
"You seem like an uptight bunch of (double blankety-blanks)," Slayton offers by way of raspy-voiced welcome, urging the crowd to drink more. He compares unhappy nationalities that don't imbibe (the Arab world) to the jovial mood in countries where the booze flows (Mexico).
Because Slayton is introduced with a big video buildup — roast-type "endorsements" by everyone from Jay Leno to Robin Williams — he has to come out and do a few minutes before bringing on the support act (this weekend it's Willie Farrell, not to be confused with the movie star).
One video testimonial comes from Jon Lovitz, who tells the audience Slayton is "so (expletive) neurotic."
As if to prove the point, the first thing Slayton does after Dawes' 25-minute set is backpedal. "I'm sure you're not retarded as individuals, so don't take this personally. It's not like you guys get together and decide to be a bad crowd." Besides, "I can't afford to lose a third of this crowd."
He also sets the record straight on this "Pit Bull" thing as he explains the rules: "I'm like Shamu the whale. You sit up front, you get splashed." But pit bulls also can be "abused, neglected and tortured," as comedians can be by their wives.
And like all dogs, this one is eager for your affection, even if he's ornery and loud.
This crowd, small and tough, turned out to be proof there is no room Slayton can't handle. The younger folks seemed weary of the Rickles-style ethnic jokes, which reached their limits when the "Chinese guy" turned out to be Filipino and the "Mexican" was partly of Czech Republic heritage. "Who the (expletive) has Czech Republic jokes? Thanks for ruinin' my show!" Slayton sputtered.
But he still has plenty of killer stock material, which he segues in and out of so expertly, the fascination is in trying to figure out when the joke begins. Is he really talking about himself? His wife? Obviously he's not really racist. But what about a misogynist?
Trying to find out what's in a guy's head, he says, is like peering into an empty fridge a second time, expecting a Thanksgiving turkey to have materialized inside: "Guys don't share their feelings because guys don't have feelings!" he rails. Well, they have two: "I'm horny or I'm hungry!"
Men masturbate "because it's easy. … To make love to a chick takes work." He can take the situation in hand "and brush my teeth at the same time, and be back in bed before Letterman even starts."
Love for the Pit Bull came slowly, but there was no better focus group. A retired couple — Slayton nicknamed the man "Grandpa Munster" — sat just a few feet away from the young couple who became the favorite targets of the evening.
The guy looked like a younger version of Mickey Rourke in "The Wrestler." She looked like a porn star. After picking on them for nearly the entire set, he discovered she (Jayden Williams) is a porn star and he (Craig Valentine) is both porn star and wrestler.
Slayton rushed off the stage and embraced both of them like sons and daughters come home from war.
The show ended and the crowd filed out a different door, so people still didn't see the Vegas memorabilia. But at least by then, they had decided to adopt a pit bull.
Contact reporter Mike Weatherford at mweatherford@ reviewjournal.com or 702-383-0288.
Review
Bobby Slayton
8 p.m. Tuesdays-Sundays
Tropicana, 3801 Las Vegas Blvd. South
$42.49 (739-2411)
Grade: B