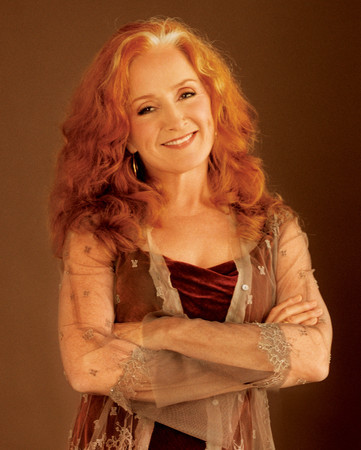 Bonnie Raitt says she's ready for a long vacation. But it sounds like her current tour almost gives her a head start.
The 59-year-old singer is calling from a tour-bus detour to Yosemite National Park, which included a six-hour sightseeing hike and a swim. She once sang "The Road's My Middle Name," but now "we travel at night so we can beat the traffic," she says.
"I've been sober for 22 years so I really enjoy being in the daytime."
Raitt is on the phone just before the bus rolls again for her tour with Taj Mahal, the eclectic bluesman who produced her third album back in 1973. Their "BonTaj Roulet" tour stops today at the House of Blues at Mandalay Bay.
"We've all been friends, both our bands, for so long," she says. "To be able to eat dinner and travel around the country and see our friends and play music together backstage, it's really been a treat."
The two play separate sets with their own bands, do a few acoustic songs together in between, and then combine both bands for a blowout finale. The live shows are recorded, but there is no immediate plan for when they might be released or in what form.
Raitt talks about how hard it is for people to come up with concert cash these days. But when asked if promoters might have preferred she focus on her early '90s era of hits, she dismisses the notion.
"I've had the same job now for 40 years, so my fans come see me whether I've got Grammys or not, or a new album out," she says. "The blessing of having got started when I did is if you're lucky, and you keep stretching and keep giving them something interesting to watch, people will stay loyal and come and see you."
She and Mahal have hopes "BonTaj Roulet" will become a bigger brand, "possibly down the road adding different acts we both want to showcase — Celtic, African, Caribbean, reggae," she says. "This is just the first run of what hopefully will be an interesting umbrella."
The 67-year-old Mahal (Henry St. Claire Fredericks) is the son of a jazz-pianist father and gospel-singing mother, who threw himself into the world influences that led to American blues. He and guitarist Ry Cooder were both part of the Los Angeles band Rising Sons in the 1960s.
"He's much more than a blues artist," Raitt says of her friend. "What Taj was doing with the blues for his first two albums especially, he was really blasting open the boundaries. He's from so many angles and much more eclectic. He's really kind of a Renaissance man."
Raitt is the daughter of late Broadway star John Raitt, cutting her teeth as a respected blues-rocking singer and guitarist before coming into late-bloomer fame with the "Nick of Time" album in 1989. Hits such as "Something To Talk About" and "I Can't Make You Love Me" anchored the largely bygone "adult-alternative" radio format in the '90s.
Mahal and Raitt have a common bond in that "we really don't want to be pinned down," she says. "We stick to the blues, but that's not all we're about."
Raitt has been talking onstage about the April death of her 61-year-old brother Steve, after an eight-year bout with brain cancer.
"I was his primary caregiver … his emotional support and was there with him. I need a break after this. After this tour's over, I'll get my first break in a long time."
But she said she won't abandon her "day" job as an activist. VIP tickets for the tour support the BonTaj Collective Action Fund, an umbrella organization supporting environmental, sustainable energy and human rights causes.
"My activism is ongoing, but I'm not taking any more commitments for a while," she says. "I'm going to take a real break. You have to shut it down every once in a while or you'll go crazy."
Contact reporter Mike Weatherford at mweatherford@ reviewjournal.com or 702-383-0288.
Preview
Bonnie Raitt and Taj Mahal
8:30 p.m. today
House of Blues at Mandalay Bay, 3950 Las Vegas Blvd. South
$62.75-$82.75 (632-7600)