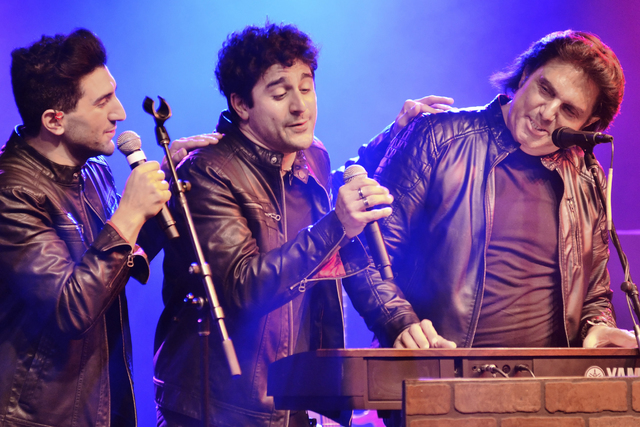 There's "A Bronx Tale" we know fairly well, and the Bronx tale we chicken-danced to for years. Looking beyond the Strip, if not all the way to the Bronx, gives us some Las Vegas news and clues. …
If they had futures bets for new Broadway shows, you would get down on "A Bronx Tale" early. The new musical doesn't officially open until next month, but its first three previews last week ran at 91 percent capacity.
The work based on Chazz Palminteri's one-man show and movie, co-directed by Robert De Niro and Jerry Zaks could be a natural successor to "Jersey Boys," one of the few Broadway tuners with longevity on the Strip.
The title even has brand familiarity here, thanks to Palminteri performing the one-man version in casino venues. Mike Tyson's 2009 attendance inspired his own one-man show, which he still serves up in a devolved version at Brad Garrett's Comedy Club.
It turns out Vinny Adinolfi is well-versed in "Bronx Tale" history. He's the frontman for the Bronx Wanderers, who hope to dig in as a year-round attraction in the Windows Showroom at Bally's.
Adinolfi is friends with Palminteri — a small place, this Bronx — and at one point was helping him put together a nightclub act called "My Life in Song." But "somewhere in the middle of all that," he recalls, it changed into a musical of "A Bronx Tale."
Around 2005, Adinolfi was summoned to audition for Jimmy Whispers in a workshop version that included future "Jersey Boys" star John Lloyd Young. But the musical lost momentum — it ended up changing composers from Jimmy Webb to Alan Menken — and Palminteri doubled down on the one-man version.
Adinolfi says everything worked out in the long run. Palminteri always talked up the Bronx Wanderers and used his cachet to help the family show band, which features Adinolfi and his two sons, get bookings in its early days.
If "A Bronx Tale" with its doo-wop flavored score is a hit, it can only help the Wanderers by association. "All the big production shows are closing, and we're this little niche show for people who like that kind of music," Adinolfi notes. …
The worrisome wave of show closings this year almost always includes hopeful talk of a return. "Cherry Boom Boom" is the most recent casualty with producers saying they aren't giving up and are scouting a more cost-efficient venue.
Sometimes it even happens. Witness "Baz" at the Palazzo. But the odds are steeper than … well, you're tired of election analogies. More shows go the way of the almost 20-year-old comedy club, The Improv, which closed at Harrah's Las Vegas in late May, vowed a swift return and still hasn't come back.
Still, it's the rare show that says "That's all, folks." Even as "Jersey Boys" producer Michael David talked of leaving with "dignity and hopefully elegance all around," fans spread hopeful rumors of a slimmed-down, "cabaret" version. Said supporters could read tea leaves in David saying, "We'll do what other shows do, which is to look for ways to adapt and fulfill interest if it's there."
Which brings us to our second Bronx tale's out-of-town happening: The recent Chicago return of "Tony n' Tina's Wedding," the original interactive dinner comedy. Chicago Tribune reviewer Chris Jones — who has visited Las Vegas for unsparing looks at some of our productions — was surprised to find he actually enjoyed "Tony" and its reworking as a retro piece to keep its stereotypes in safer context.
When producers tell me "A deal's almost done, but I can't tell you yet," I usually say "Call back when you can." This time, I'm making an exception for Raphael Berko, because he co-produced the Las Vegas edition of "Tony n' Tina's" in its better days.
Berko says it will be back in business by Valentine's Day, with a bigger budget and full cast (the final Las Vegas version at Bally's cut a lot of characters and corners) and a venue with both franchise potential and the ability to make the most of the dinner component.
"The brand is too strong to stay gone," Berko says. …
Last week, the R-J's John Katsilometes wrote of how it's unlikely the Rock in Rio festival will return next year to an outdoor festival site on the Strip at Sahara Avenue. Those 40 acres might not be any less lonely for next year's Academy of Country Music awards.
The awards weekend took a big leap last March with a three-night Party for a Cause benefit on the festival grounds. Concerts headlined by Dierks Bentley, Kenny Chesney and Carrie Underwood had announced pre-sales of 22,000 tickets, but there was room for at least twice that number.
"A benefit's only a benefit until somebody doesn't make money," a member of the ACM board later noted.
The Academy later was roiled by the departure of its longtime president, Bob Romeo.
Last week, the Academy announced a new board of directors for ACM Lifting Lives, the organization that collects and distributes money raised by the concerts. And last month, the Academy announced new officers and a board of directors for the rest of this year and next.
But the Academy's website still doesn't have a date or location for next year's awards, let alone the Party for a Cause. MGM Resorts said last week it still has received no confirmed dates for the awards usually broadcast on CBS in late March or early April.
Read more from Mike Weatherford at reviewjournal.com. Contact him at mweatherford@reviewjournal.com and follow @Mikeweatherford on Twitter.