Bruno Mars keeps the party from getting too predictable
January 1, 2017 - 11:43 pm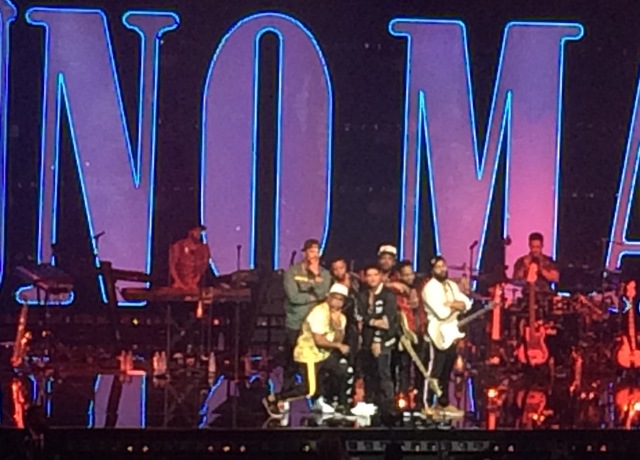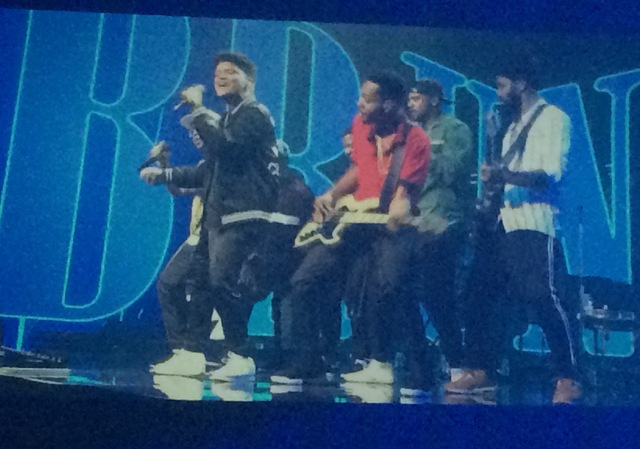 The big audience singalong? Or the sincere breakdown to float a lyric over a lone piano?
With Bruno Mars it's not a choice. It's the same song.
A New Year's show by a born showman made sure that "before 2017 comes around," all 5,182 people at the Park Theater at the Monte Carlo would "sing this chorus one last time" as they joined in on "Just the Way You Are."
But the ever-smiling 31-year-old also claimed a piece of the hit just for himself, ensuring Las Vegas's safest New Year's bet never became a rote walk-through either.
If the casinos could genetically engineer the perfect entertainment machine, Mars is it. Charismatic, cross-generational, writer of hooks that don't leave your head. And when he's in perpetual motion, flanked by six of his band members dancing in just-enough synchronization — none of that overly choreographed Britney stuff — he's introducing those who consume their music on YouTube to the on-your-feet, on-your-knees tradition of James Brown and the Apollo Theater.
The New Year's Eve show, the second night of Mars' Park debut, was one of the most prestigious tickets of a star-packed weekend. And yet the crowd was as varied in age as a concert can be in these fragmented times. Little black dresses were stretched over 20-somethings and women who could be their moms. Spangly one-percenters were mixed in with parents towing youngsters by the hand .
So when Mars divided the crowd in half to see who was loudest ("I got my money on the left side") , the older folks just had to smile. But not as broadly as they did when when "Runaway Baby" veered off into the Isley Brothers "Shout" thing: "A little bit softer now …" as all onstagefell to the ground, then rose up again.
It was pretty easy to guess the show would begin with "24K Magic" — the new one seemed written to be a show-opener (and a video ad for Las Vegas) — and end with "Uptown Funk."
In between, Mars varied his touchstone hits with things he saves for live shows: A cover of "Money (That's What I Want)" setting up the playful "Billionaire," the song he shared with Travie McCoy.
Basically, the dude can't do anything to annoy you.
He sells it all with that smile, whether he's a gyrating sex machine telling you to ride his pony, a guitar-soloing arena rocker on "Grenade" or a wounded poet on "When I Was Your Man," the evening's rare ballad, given a gospel organ arrangement.
Mars will return in March — and hopefully for years to come — to the Park, which framed his show with flashy visuals such as fire cannons and a giant sign spelling out his name, yet never seemed to be about technology.
In fact, this throwback singer maybe got a cosmic smackdown from the tech gods. Early on, he posed with his band for a massive photo op. Then, because "Ya'll can't dance with your cameras," he asked if "everybody could put their (expletive) phones down for 10 minutes."
But near the end, before they could finish "Locked Out of Heaven," the power went out onstage. Not to fear, though. He was back 10 minutes later.
Nothing's going to stop this guy, and nothing was going to stop this show — at least until the 95 minutes ran out near 11 p.m, when it was time to get everyone out to the fireworks.
Contact him at mweatherford@reviewjournal.com. Follow him @Mikeweatherford.
REVIEW
Who: Bruno Mars
When: Saturday
Where: The Park Theater
Attendance: 5,182
Rating: A