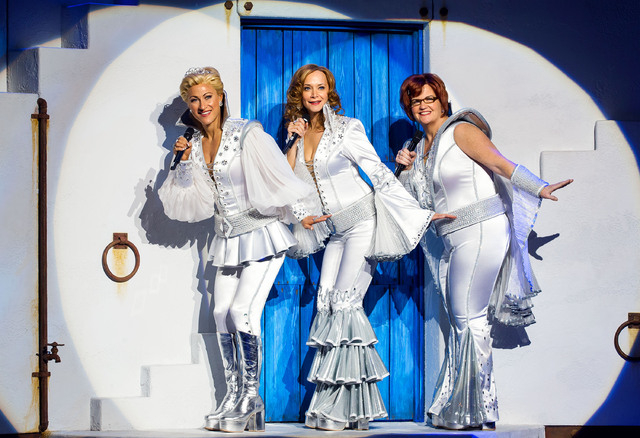 Fear not "Mamma Mia!" fans. The beloved ABBA musical did not lose any sparkle as it danced its way back onto the Strip, even if it did set the cute control this time.
The reason to bring a proven hit back to town is that you know what you're going to get. Reviewers play a limited role by now. The 15-year-old "Mamma Mia!" has lapped the globe since it left Mandalay Bay in early 2009, and home copies of the movie — which didn't yet exist during most of those six years on the Strip — have further sapped the surprise factor.
Oddly enough though, the return of the blockbuster jukebox musical has generated questions and emails about quality control.
The long absence creates legitimate concerns about licensing the title to more budget-minded producers. Even more so because "the new Tropicana" used to be the old Tropicana, which starved "Folies Bergere" to death before replacing it with a series of entertainment flops and misfires.
So it can't be overstated that this is the full two-act show supervised by the original British producers, with an Actor's Equity union cast and a live band, though it's piped in from backstage instead of out in the house (which is likely the case on many tour stops as well).
Even the theater is nicer now, if you haven't visited since they remodeled the old showroom into mostly auditorium seating. The physical changes in the musical really just amount to a tighter playing area and the absence of a climactic "stairway to heaven" set piece that doesn't travel with the road shows either.
The real magic was never in production design, but how the ABBA pop catalog is transformed into a story with people you like. And we like them even more this time around.
The two stars who play the central mother and daughter, Christine Sherrill and Kimbre Lancaster, are as good or better than anyone who played them at Mandalay Bay.
But the whole cast seems to join the cause of better grounding this production, which tones down my eye-rolling memories of the broad physical comedy and TV-sitcom mugging of the last residency. Yes, people still jump on a bed and sing "Dancing Queen" into hair-dryer microphones. They just do it in a way that seems a little more real.
Director Martha Banta, supervising the original work by Phyllida Lloyd, gives each cast room to find its own path. And this one seems committed to scratching a little beyond the contrived cuteness to bring out the less-assertive theme: Daughter Sophie rushing into an early marriage to hunky Sky (charmingly played by UNLV grad Jordan Bondurant) to plug the hole in her life created by not knowing who her father is.
That central question sets the story in motion from the opening curtain, in which Sophie (Lancaster) sings "I Have a Dream" amid a dreamscape of aqua-blue washes. The lighting bursts into a "reality" that still conjures the soft-focus dream of a Greek island, where swirling gypsy skirts and white linen bring out the tans of the beautiful people who dwell there.
The bride-to-be mails out wedding invitations to three prospective dads mentioned in her mother's diary, and they all show up on the same ferry. So do the other two-thirds of Donna & The Dynamos, who toured as disco singers back in the day before Donna (Sherrill) settled into motherhood and an underfinanced dream to build and manage the Greek inn.
As the plot thickens you can't help but be impressed by how the ABBA songs move it along. It's the rare tune that feels like a forced fit, such as Sophie and the three dads using "Thank You for the Music" to get to know one another. But the very next one is the title tune, and it works perfectly to express Donna's horror — as interior monologue no less — when confronted with the shock of three ex-lovers standing in the same room together.
A frothy first act comes to more of a hand-wringing boil in the second, requiring not one but two "eleventh hour" songs: the get-out-your-hankies "Slipping Through My Fingers" mother-daughter duet, followed by Sherrill belting a forceful "The Winner Takes It All" to Sam (Sean Allan Krill), the ex she clearly wasn't ready to say goodbye to 21 years ago.
For a show that ends with a disco-drag encore, the mother and daughter leads really make you feel the tension and sell the central drama. It's the supporting cast of "Dads and Dynamos" who may challenge the fond memories of repeat viewers.
Comic-relief Rosie, played by Mary Callanan, continues this cast's vibe of keeping it slightly more real when it comes time for her tour de force "Take a Chance on Me." But "Does Your Mother Know?," the big song for Tanya, the thrice-married playgirl played by Alison Ewing, didn't quite take flight in the way I've seen it soar before.
Krill, a Broadway veteran in the Sam role, has the warm resonance of a character actor able to convey a lot in a limited space. But Steve Judkins, as Australian adventurer Bill, and Trey Ellet, as button-down businessman Harry, both seem too young for their parts.
Granted, by the letter of the script, either of these prospective dads could technically be just 40. But movie stars such as Colin Firth can spoil us on actors with more presence. Ellet in particular seems like a cool enough guy in Clark Kent glasses that he could have been "Harry the Headbanger" in an earlier life, deflating all the jokes about how square he is.
But to compare this version of "Mamma Mia!" to those in your past only reinforce what a repeat-viewing phenomenon it has become. No memories are betrayed here, and perhaps a few new ones will be created for moms and daughters who just might start singing into that hair dryer when they get home.
Contact reporter Mike Weatherford at mweatherford@reviewjournal.com or 702-383-0288.
Review
"Mamma Mia!"
7:30 p.m. Monday-Thursday; 5:30 and 9 p.m. Saturday
Tropicana, 3801 Las Vegas Blvd. South
$53.90-$148.50 (800-829-9034)
Grade: A-