October 10, 2008 - 9:00 pm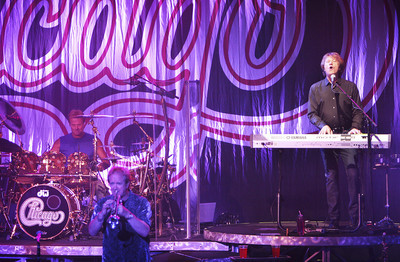 Forgive the guys in Chicago if they sounded a little tired in places.
One night after playing the Fresno fair, the venerable band last week opened up at the MGM Grand, where it will stay through Wednesday. It's one of the longest stretches the lads will spend in any one place in any given year.
Veteran singer Robert Lamm, who turns 64 on Monday, told the audience it was a full-circle trip back to "where our year started in March," before the group toured Japan with Huey Lewis, the United States with the Doobie Brothers and Europe by themselves.
Chicago still has shows on its calendar until Dec. 7. All in a year's work for a workhorse band that claims a 40-year history and 32 albums.
Whew.
If you never go away, you never have to worry about a comeback. On the other hand, you also wonder whether you can run a good thing into the ground if people never get a chance to miss you.
But Chicago has proven to be an adaptable creature. The MGM set, solid if rarely dynamic, suggests they've really been three bands over the years.
The opening "Introduction" — the first song from the band's 1969 debut album — and "Questions 67 and 68" (from the same album) threw down a reminder of the jammy rockers with the still-intact horn trio that inspired a generation of band geeks. ("25 or 6 to 4" has to be the only song about being pass-out wasted ever to be played by marching bands at halftime.)
The 1980s saw the band devolve into sappy power ballads that typified that era's radio and movie soundtracks. Most were voiced by Peter Cetera. When he left, Chicago pioneered another current trend by replacing him with a sound-alike singer, years before YouTube made it easy for groups such as Journey to troll the tribute bands.
Sound-alike Jason Scheff, now 46, joined in 1985, when he was 23. Fans have watched him for literally half his life, so he does add weight to the likes of "You're the Inspiration," even if his voice was a bit sketchy on this night.
Scheff shares vocals with another mid-period arrival, Bill Champlin, who gets a front-and-center medley for his power-'80s hits "Look Away," "I Don't Wanna Live Without Your Love" and "You're Not Alone." But he still comes off as the hard-to-place voice.
And the third incarnation? For years now, Chicago has been an oldies band, keeping the music alive on the nostalgia circuit. Bless their hearts, the group did break a long dry spell with a new studio album in 2006. And the MGM set includes "Stone of Sisyphus," the title track from a studio album shelved by the band's record label in 1994, one of the last years before file-sharing that a label could get away with such mustache-twirling deeds.
But right after that one, Lamm admits it's the classics people come to hear, and his vocals on "Saturday in the Park" or "Beginnings" evoke an authentic chill from a band that can be under appreciated for being overexposed.
The songs are the stars of this band that's managed to stay relatively faceless for 40 years, despite the efforts of trombonist James Pankow — composer of most of the early, horn-driven stuff — to ham it up like an old Las Vegas showman.
Maybe this captures the duality of the band in a nutshell: Except for that "Sisyphus" thing, every single song in the 95 minutes had to be instantly familiar to everyone in the room. But for a band of this era and sensibility, the musicianship still matters the most. That means you can never have too many hits to leave out the drum solo.
Contact reporter Mike Weatherford at mweatherford@reviewjournal.com or 702-383-0288.
REVIEW who: Chicago when: 8 p.m. today, Saturday, Monday- Wednesday where: Hollywood Theatre at the MGM Grand, 3799 Las Vegas Blvd. South tickets: $75-$100 (891-7777) rating: B