October 24, 2008 - 9:00 pm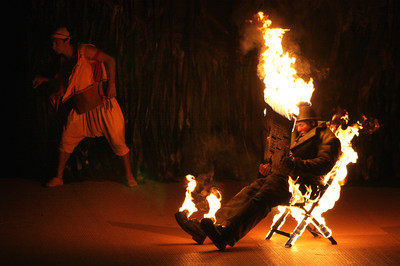 It all seems so easy now. At least as simple as sitting around reading the newspaper while you're on fire.
The 10th anniversary of "O" on Oct. 15 was marked with minimum fanfare. Performers found a cake in the backstage kitchenette, near a table where the show's two clowns played dominoes. Later, cast and crew members who were on board with Bellagio's water spectacle since day one assembled for a photo in the training gym.
A big party awaited them in The Bank nightclub four nights later (when they didn't have a show the next day). But a low-key celebration on the actual anniversary seemed right in keeping with the smooth-running machine that arguably stands as Cirque du Soleil's finest hour — or at least that great moment in time when the Canadian company could do no wrong on the Strip.
"Really, it was the turning point for Cirque in a lot of ways," says Ray Wold, the one and only cast member who hadn't missed any of the 4,768 performances chalked up by the anniversary day. There is no understudy for the man who calmly sits in a chair and reads the paper while first his foot, then his whole body, goes up in flames.
Artistic director Luc Ouellette says whenever things begin to feel too routine, "I take a seat in the house. I sit down and I recharge just by feeling what the audience are feeling for the first time when they watch the show."
Cirque opened three more shows on the Strip after "O" and is now launching its sixth Las Vegas title, "Criss Angel — Believe." The 10 years of "O" have seen director Franco Dragone leave the company to open (and close) a show with Celine Dion and mount a second water spectacle, "Le Reve."
But a cancellation line still forms at the "O" box office for many of the early shows. "They dress up," Ouellette says of the audience around him. "Maybe it's their first time or their second, but they know that they're here for something special."
He says his role for the past year is "mainly to be the guardian" and keep the cast motivated.
"I'm spoiled," he adds.
All the anxiety and adrenaline of 10 years ago is now a mile south at Luxor, where the creators of "Believe" can envy the fact that "O" opened in relative stealth. Internet access was still mostly dial-up then, the word "blog" hadn't been coined.
Opening the same day as Bellagio allowed show creators to benefit from delays in the larger project, with 45 test performances in front of casino employees before the first ticket was sold.
For 25 original cast members, including synchronized swimmer Katy Savoie, the real 10th anniversary was a year ago. The cast rehearsed in Montreal before arriving in Las Vegas in February 1998 with every one of its 95 performers (85 in each show) taking scuba certification tests in a chilly Lake Mead the next month.
Savoie remembers coming in the stage door to rehearse in the 1.5 million-gallon pool for months before seeing the casino beyond the construction walls.
On the first day, Belgian director Dragone sat the cast in the auditorium and demonstrated the hydraulic platforms, which changed the shape and depth of the 150-by-100-foot liquid stage, converting it to a flat surface in no time at all.
"I had seen a little bit of the world" as a competitive swimmer, says Savoie, who was 20 then. "But when we walked in the theater and I saw the size of the pool, it was … overwhelming I would say is a good word."
By then, she already was accustomed to Dragone's unconventional methods. While still in Montreal, she remembers him producing a biblical painting of contorted bodies and telling the cast to "get in the water and try to find the essence of this."
"All of us were looking at each other. It was really theatrical what he was asking us, and our brains 10 years ago weren't ready."
Dragone would call for 15 swimmers to be on standby, and "four hours later we would still be standing there," she recalls. "Some of the process was long, but then at the end of the day, you could see the image that he was creating, what was created during that day. We didn't lose our time here. It was all for good reason."
Burning man Wold had it even worse. "I came here for creation and sat for about two months. Franco never really called on me," he recalls.
He wasn't complaining. Wold knew a prestige gig when he saw one after doing his burning man act in old-school circuses, "working in these mud shows and having to take care of the elephants."
Still, "I was a little dirty tramp clown. I didn't see how I fit into a beautiful image." Finally, the director hit upon the two minutes of surrealistic newspaper-reading, after the epiphany that a burning man will be the center of attention no matter what else is going on around him.
"I think that's the little twist that Cirque gives to things," Wold says. "It takes a genius to put all those elements together and make them blend. I was just awestruck by how (Dragone) did this.
"We'd offer something up as an entertainer and he'd say, 'I like that.' And the next thing you know, he took that and contorted it and changed it and blended it into something that was really unique and interesting and fantastic."
Over the years, more has changed behind the scenes than with anything the audience sees. Wardrobe supervisor Scott Clish has learned that overhead fans, not heated dryers, are better for drying the 4,400 costume pieces. Some last six months, others just six weeks.
"O" still runs on its original stage design, if not its original parts. All 12 of the 30-foot hydraulic lifts finally have been replaced. "Every time we build or replace something, we make it better," says technical director David Chabira.
Long-timers ponder the next 10 years. "Some people find a passion and they can do the same thing over and over again," Savoie says of her recent return after a maternity leave. "I found something that I love to do, and I think that helps me to do it every day."
"Of course you get bored," says Wold, who keeps his days busy running a party clown business. "But at the same time, you appreciate that this is as good as it gets."
Contact reporter Mike Weatherford at mweatherford@reviewjournal.com or 702-383-0288.
ON THE WEB VideoSHOW REVIEWDecade later, 'O' still a memorable experience