Clint Holmes suffers an occasional miss, but keeps on swinging
August 12, 2016 - 9:00 am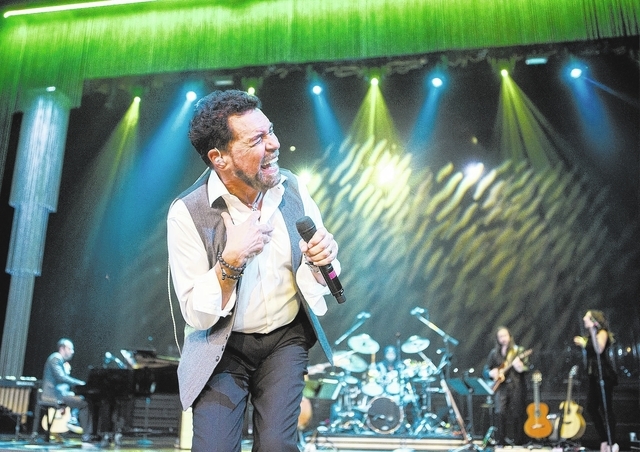 Hey, it's cool. We locals can pause and mark time long enough to give you tourists a chance to catch up on Clint Holmes.
You might need time to fathom how a silly novelty song from 1972 can segue into Lukas Graham's "7 Years," and somehow blend together without so much as a snicker.
It's the very reason why, when Holmes wrapped six years at Harrah's Las Vegas nearly a decade ago, locals stole him.
It has been up to Holmes, a singer-showman who can't be easily labeled, to sustain his out-of-town fame on cruise ships or in New York cabarets. We had him sewed up in suburban casinos or Cabaret Jazz at The Smith Center for the Performing Arts.
If tourists only wanted flying acrobats, locals reclaimed a bit of old-Vegas class with the energetic 70-year-old, who threads his own life story into inventive twists on standards or pop hits.
But now we have to give him back, to see if a long-shot return to the Strip can pay off. Holmes is sharing the newly remodeled Palazzo theater with "Baz — Star Crossed Love."
Both shows are great fits for what they've done to the place, adding sofa seating, cocktail tables and stage extensions into the audience. And this one explores whether an older crowd abandoned in the nightclub explosion will resurface given the right magnet. (On this night, Priscilla Presley and Cindy Williams of "Laverne & Shirley" fame were at different tables, so hope springs eternal.)
The new venture does mandate a big dose of Clint Holmes 101. No more monthly musical themes or team-ups with other stars. But the trade-off is a dose of nostalgia for those who miss the Harrah's days.
This one is probably closest to Holmes' first year there, when he leaned more on familiar songs before getting established enough to add more autobiographical originals. The new one, "Between the Lines," does include the piano-backed "1944" to tell the story of his parents' mixed-race marriage, the jazz workout "At the Rendezvous" and the inspiring "If Not Now, When?"
But creativity also comes out in the cover tunes, to the point where you hate to call them that. Early on, Holmes opens the door to his past with a respectable update of his only Top 40 hit, the campy "Playground in My Mind." But a piano refrain of that children's chorus, "My name is Michael … " carries right into "7 Years."
Holmes and his new stage foil, Cuban singer Noybel Gorgoy, shift in midsong to John Mayer's "Daughters." Later, the two park on stools for Ed Sheeran's "Thinking Out Loud," a lesson in Holmes' interpretive skills. Gorgoy's half makes you hear the radio melody, while Holmes makes you listen to the words.
It's always cool for a younger crooner to respect his elders with the standards. It's far riskier for an older guy to dive into more recent pop. But an atmospheric version of Snow Patrol's "Chasing Cars" somehow works better than some of the oldies, including an odd version of "I Saw Her Standing There."
That one is a reminder that when you swing for the fence, you sometimes whiff. Nobody really needed a smooth-jazz version of John Lennon's "Imagine," full of busy underpinnings, either.
But again, we locals know there will be hits and misses, because Holmes is a restless musical adventurer, and that's part of the charm.
Adults who still enjoy a night out should take time to discover it for themselves.
Read more from Mike Weatherford at reviewjournal.com. Contact him at mweatherford@reviewjournal.com and follow @Mikeweatherford on Twitter.
Review
Who: Clint Holmes "Between the Lines"
When: 10 p.m. Friday-Saturday, 9:30 p.m. Tuesday-Thursday
Where: Palazzo, 3325 Las Vegas Blvd. South
Tickets: $42.65-$75.35 (702-414-9000)
Grade: A-