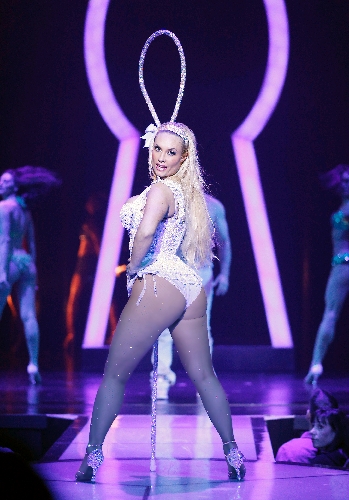 Coco dances. And when she does, her balance and center of gravity become the elephant in the room. Well, two elephants, really.
Did anyone else watching Coco Austin, the new star of "Peepshow," hold their breath and worry about what would happen to her if she took a tumble forward and landed right on those things?
Thank goodness, she doesn't. Her dancing is, well, careful, but self-assured if not second-nature. And a recent Review-Journal look at the 50th anniversary of the breast implant should make us rest easy; the new silicone implants won't damage internal tissue even if a fall should make them spring a leak.
If all you care about is Coco's famous assets, rest assured she pops her top twice, the first time about 45 minutes in and the second right before the finale.
But if you were hoping to see more of her personality? (After all, she's never shy about her body.)
Well, the producers would remind you that technically she is playing a role here, that of a lovelorn professional named Bo.
And they will remind you of that because Coco is only guaranteed to be in the show until March 10. They would need a longer commitment to make the costly changes that would further Coco-ize the show.
So Coco mostly retraces the footsteps of her predecessor, Holly Madison – more dancing but no singing – and spends most of her time reacting to the other cast members, with a few lines of dialogue such as "I can't find a man."
But she does all that's asked of her. And the real thing she's asked to do is bring in her reality-TV fame from "Ice Loves Coco" (which has made "Peepshow" a storyline) and let the permanent cast handle the rest.
If it's a bait-and-switch, it works in the favor of the ticket-buyer.
"Peepshow" is a true ensemble effort, and in three-plus years creator Jerry Mitchell has found the balance between topless burlesque numbers and live singing from five – yes, five – of the performers.
It speaks to the depth of the talent that Sophia Monica stepped up from the ensemble to take over the retro-burlesque number "Teddy" last sung by Madison, and she knocks it out of the park.
That Connie Francis oldie is also effective – as is Josh Strickland's "Feeling Good" – because they are a rare break from the full-on belting of rhythmic pop tunes that blare through most of the rest.
Why has Kelis' "Milkshake" here outlasted its currency in the larger pop culture? Because the producers paid for the giant milk-wagon prop, that's why. But there are a few new bits for repeat customers, including another Las Vegas attempt to convince people the "Burlesque" movie was a hit.
But Vegas burlesque never goes out of style. And "Peepshow" dominates the local field when it comes time for Michelle DiTerlizzi's acrobatic pole dance, Quinn Kingston as the cowgirl swinging out from the stage or – equal opportunity, ladies – Jacob Moody's wet rope-climbing over a bathtub that finally wins Bo's affections.
"Peepshow" is better when it comes into these moments of focus than when it is trying to do so many things at the same time.
But the distractions – and now you can add Coco's to the list – may just be a good enough reason to go see it again.
Contact reporter Mike Weatherford at mweatherford@
reviewjournal.com or 702-383-0288.
Review
"Peepshow"
9:30 p.m. Thursday-Friday, Sunday-Tuesday; 8 and 10:30 p.m. Saturday
Planet Hollywood Resort, 3667 Las Vegas Blvd. South
$71.50-$137.50 (785-5000)
Grade: B