Comic juggler Jeff Civillico comes into his own
August 10, 2014 - 7:55 am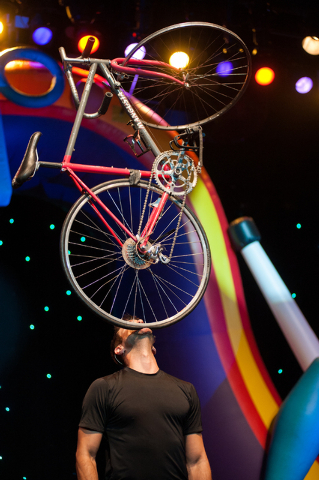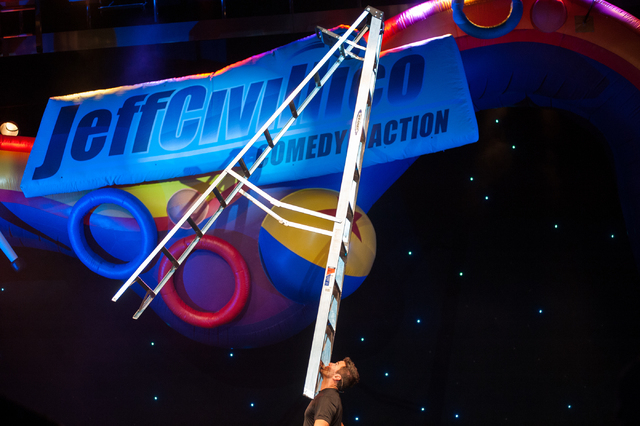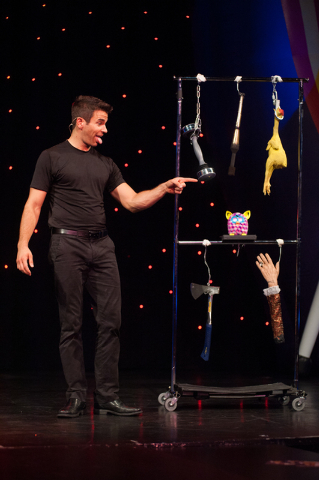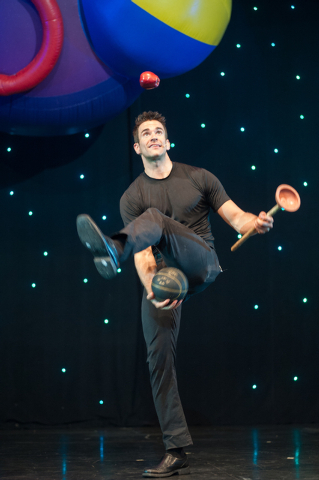 Jeff Civillico still does a one-man show, but he doesn't seem quite as alone up there as he did two years ago.
What a difference two summers make in turning the comic juggler's "Comedy in Action" into an afternoon show that's now second only to Mac King's (who gets a cross-promoted shout-out from his Caesars Entertainment neighbor).
If you have seen King's magic or Gregory Popovich's daredevil dogs so many times you know what's coming next, Civillico has really just come into his own.
Even when he served up a minimal hour on a bare stage, you could tell the juggler had staying power. A guy who looked like a matinee idol but ran around like a geek, putting a fresh face on a tired variety genre? What's not to like?
But the show seems more settled and substantial now. While his host property is finally emerging from a long makeover — from the Imperial Palace to The Quad and soon, The Linq Hotel — Civillico built his act into a smart family attraction to sit next door to the new High Roller ride.
Watching a guy juggle pins and balls is so old it may seem new again for families headed to or from the high-tech Ferris wheel. Even so, this juggler seems very much in tune with our times and toys.
He has an opening act now, but Tim Gabrielson (who took a less-successful run at afternoon stardom a few years ago) Skypes in a couple of tricks from Minneapolis, his boyish face looming as an Oz-faced projection on a rear screen above a laptop.
The real show begins with the strains of "Also sprach Zarathustra" as a colorful soft-sculpture set inflates like a bouncy house. Graphics explain the $11,000 "Peoples Arch" was crowd-funded.
It ends with Civillico strapping a GoPro camera to his head and killing the lights, so you can see the luminescent balls and pins from his point of view and watch them make pretty patterns on the rear screen.
What falls in between is old-school street theater, from a full-throttle guy working at a manic pace that fits our short-attention-span times. But even the running banter is also more "modern" and self-aware than you would expect from a dude catching marshmallows in his mouth astride a unicycle.
Civillico takes the self-deprecating banter that's part of the variety tradition — "Did you guys hear that uncomfortable silence?" — and fine-tunes it a bit: "You're also kind of honest about what you think is funny." The self-aware jokes aren't afraid to get a little inside either: "Four o'clock is the new 7 o'clock" he quips in regard to his show time.
Summoning a stream of audience recruits to the stage is another ancient variety tradition which plays well in the selfie era. But as more volunteers feel less bashful, perhaps even entitled, performers are going to get more volunteers like the guy who decided to steal the show by shoving a marshmallow Civillico had already chomped into his own mouth.
"Oh my God, that was so … disgusting!" he exclaimed, genuinely surprised. "I got no lines for that."
But then, of course, he did: "He just got sick for you people!" he announces, encouraging applause for the dude.
We should mention Civillico is a master juggler too, although he understands how little modern audiences care about that.
He also balances construction ladders and bicycles on his chin, and does a lot of other things that you and I can't do. But they are things that can grow repetitive in a show that has stretched from an hour to 75 minutes.
Maybe that's why Civillico feels like he can't slow down enough for people to notice. Even the chat that wraps things up before the big finale comes at us like the late Casey Kasem taking snorts from a helium balloon.
But "slow and steady" isn't what made his show noticeably better in two years. Civillico just may be there packing the show with more innovations until the day he has to worry about being too old to move so fast.
Contact reporter Mike Weatherford at mweatherford@reviewjournal.com or 702-383-0288.
Review
"Jeff Civillico: Comedy in Action"
4 p.m. Saturday-Monday, Wednesday-Thursday
The Quad, 3535 Las Vegas Blvd. South
$38.50-$49.50 (702-777-2782)
Grade: B