Concert season brings change from locals casino consolidations
March 11, 2017 - 11:40 pm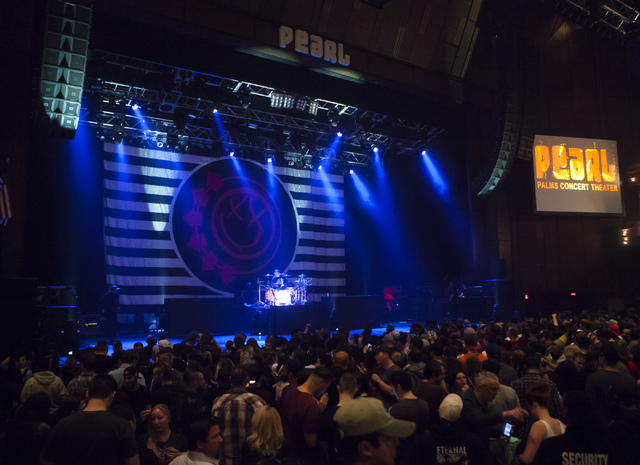 If you don't remember KMXB-FM's "Spring Fling" at Red Rock Resort last year, that's because it was somewhere else: on the Strip.
Friday's poolside party headlined by OneRepublic moves from The Cosmopolitan to the suburbs. It's symbolic of Station Casinos' pledge to double its concert offerings from last year, and of its properties grabbing back some of the concert momentum that's transforming the show scene on the Strip.
Spring is starting to reveal the effects of last year's two big consolidations in the locals market: Station's parent company buying the Palms, and Boyd Gaming buying the Aliante, the Cannery and Eastside Cannery.
The biggest change is Station overseeing The Pearl, the Palms' 2,500-seat concert hall and "one of the best concert assets in town," according to Station spokeswoman Lori Nelson.
The Pearl had been in a holding pattern with the rest of the Palms. The past five years have seen The Pearl — lacking the budget for big "bragging rights" loss leaders — hosting dependable, low-risk classic rockers such as George Thorogood this weekend and Pat Benatar on March 24.
Bigger ideas, such as a Ringo Starr residency, went on hold with the sale announcement.
Through good times and leaner, The Pearl had been primarily booked by Phoenix-based independent promoter Danny Zelisko. His future involvement is now less clear beyond the April 7 and 8 shows by A Perfect Circle that he is co-promoting with industry giant Live Nation.
Live Nation is behind some upcoming Pearl shows that would have been "gets" on the Strip or at the Hard Rock Hotel: Chris Stapleton on March 30 and Idina Menzel on Sept. 2.
Station Casinos is "going after even more current artists and that younger demographic," Nelson says, citing Broadway and YouTube star Todrick Hall at Red Rock on May 6 and Young the Giant at The Pearl on Aug. 18.
The Pearl resurgence doesn't come at the expense of outdoor events at Red Rock Resort and Sunset Station. "Our guests really like that outdoor experience, even as the temperatures rise," Nelson says.
Green Valley Ranch, which closed its indoor club venue four years ago, will host more ticketed events, particularly comedy, in its multipurpose center.
At Aliante in North Las Vegas, NASCAR fans this weekend surely noticed Foreigner singer Lou Gramm was not a jazz saxophonist.
As a free-standing property, Aliante defined a unique niche as the home of smooth jazz. "We're not going to, by any means, drop the jazz," says Terry Jenkins, Boyd's corporate director of entertainment. "But we're going to broaden the market up there a little bit in the programming."
The Access Showroom mix will include stand-up comedians, such as Carlos Mencia on April 14 and 15.
Don't look for immediate changes at the two Cannery properties. "Everything's business as usual," says Kathie Spehar, who already had much of the year booked at both venues before Boyd took over.
Even before the sale, Spehar said, she and Jenkins stayed in touch to avoid conflicts. Consolidation does raise new prospects for Sam's Town Live! which is used more for sporting events and private rentals, and its Boulder Highway neighbor Eastside Cannery, which hosts budget-minded concerts in a multipurpose ballroom.
Out west at the Suncoast, Jenkins borrowed a page from the Cannery's playbook of more interactive, festival-type events.
A Friday Sock Hop with free live bands started at the first of the year and is regularly drawing 300 or more fans. "I can tell you that dance floor is full from the time they start until the time they stop," Jenkins says.
Read more from Mike Weatherford at reviewjournal.com. Contact him at mweatherford@reviewjournal.com and follow @Mikeweatherford on Twitter.