Consistent Little still entertaining, at least until he starts singing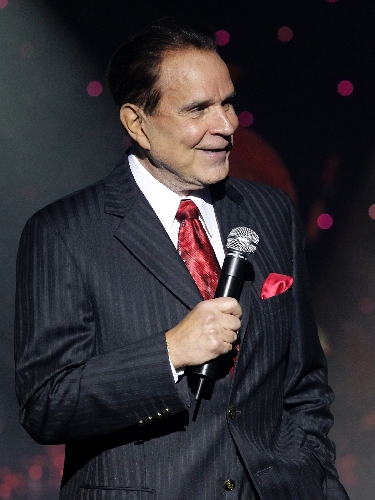 Rich Little has been amazingly consistent over the years. So if you care enough to see his show or read about it, there aren't many new ways to describe it. So here's a list of things that occurred as I watched it.
1. Rich and the Riviera are a perfect fit.
To see his limited run through June 12, you weave your way through a casino that looks like it did in 1995, when the "Casino" movie shot there because it still looked like it did in the 1970s.
Neither Rich nor Riv have been rediscovered by a cool crowd that would declare them "retro," like Tony Bennett. (Gershwin standards can leap generations. Impressions of another generation's movie and TV stars, not so much.) But they both carry an authenticity and preserve something you used to find in Vegas.
2. He really is a good impressionist.
Little was of an era when only a few people who were honestly good at imitating other people's voices attempted it. If you heard his banter between Jack Lemmon and Walter Matthau coming from another room, you might be fooled. And he even looks like Johnny Carson and Richard Nixon.
There were probably less-gifted impressionists kicking around the lower echelons of show business in the '60s and '70s, too. But in recent history, Little's Las Vegas and cruise-ship competition tends to do hacky retreads of other impressions, i.e. imitating Dana Carvey's version of George Bush. Little takes it back to the real daddy Bush.
3. That is, until he starts singing.
Of all the shows I've reviewed over the years, I can't think of another one where so much of the good will built up in the first three-fourths is undone in the homestretch. Little's awful, horrible impressions of Tom Jones, Frank Sinatra and Tony Bennett seem more like bad karaoke than something a pro would offer, and they diminish all the strong ones that come before.
4. A radio interview to promote the show was better than the show.
This has happened twice, oddly enough. Years ago, I saw David Brenner not long after hearing him tell Howard Stern amazing stories about his career. The stories were way more compelling than his stand-up.
This time, I happened to catch Little on KNPR-FM's "State of Nevada." It drove home that at 72, the impressionist had personal run-ins with most of the politicians and Hollywood legends he imitated.
His story about meeting John Wayne was authentically funny, a much better way to work in the voice than any gag writer's joke. Little could make his own career the organizing framework of his act. He could even be interviewed by veteran straight man Steve Rossi, who plays the befuddled sidekick for a segment of this Riviera run.
5. Me thinks Rich is a Republican.
He makes it quite clear, actually, in his Fox Newsy bashing of President Obama, with an extra shot at Bill Maher for good measure. Oddly enough, the topical jokes often go to voices like Sammy Davis Jr. (making "The Candy Man" into "The Taliban can …" kind of works, actually), while past presidents such as Carter and Reagan can end up with generic, nonpolitical jokes.
It's jarring to hear Dean Martin fire off a weird Osama bin Laden-related line: "7-Eleven stores are gonna be closed due to a sudden death in the family." But you can't say Little never updates his act.
Contact reporter Mike Weatherford at mweatherford@ reviewjournal.com or 702-383-0288.
Review
Rich Little
7:30 p.m. Wednesdays-Sundays (through June 12)
Starlite Theater at the Riviera,
2901 Las Vegas Blvd. South
$40.95-$73.95 (794-9433)
Grade: C+