Controversial comedian Favorito finds that popularity buys second chances
September 4, 2016 - 6:39 am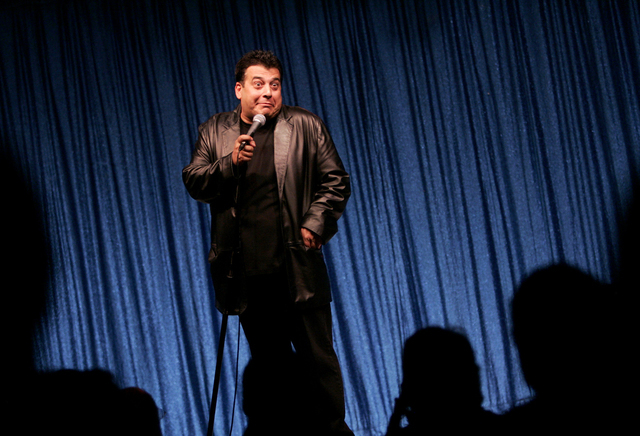 Las Vegas is a forgiving town, as long as you sell tickets. Just ask Vinnie Favorito.
The insult comic whose personal debts and borrowing-spending habits got him booted from the Flamingo is now leaving Hooters Hotel.
Surprise No. 1: Hooters is sorry to see him go.
Surprise No. 2: He's leaving because he got a better offer.
Favorito is set to close at Hooters on Sunday and reopen Wednesday in the Westgate Cabaret at Westgate Las Vegas.
"Vinnie's been great over here, he really has been. … We never had any problems," said Mike Storm, general manager of Hooters Hotel. "We're all aware of his history and we had the conversations before he came in the door."
The Flamingo pulled the plug on Favorito's show last year after a cocktail server who had taken him to court over an $8,000 loan complained to casino management that he was trying to borrow money from customers and other employees.
Court filings (including one from high-profile attorney Edward Bernstein) and people who contacted the Review-Journal after the initial news coverage allege a history of unpaid personal loans and promissary notes ranging from $2,000 to as much as $109,000.
By the time Favorito left the Flamingo, showroom staffers say it was common for the comedian to be confronted about loans at his merchandise table after shows. A few times, angry people even went up to the stage to accost him while he was performing, and had to be led away.
Favorito's rebound venue turned out to be the freestanding Tommy Wind Theater, where he worked from June 2015 through last May. Tommy Wind, the magician who runs the theater with his family, said he and Favorito did not part on the best of terms, but there had been no confrontations with patrons during or after his shows.
The Westgate's entertainment venues are leased to Red Mercury Entertainment, headed by Darin Feinstein and Carlos Reynoso. Company executives did not want to be quoted, but say they are aware of Favorito's past problems and believe they are behind him.
They also say it stands to reason that check garnishers and the IRS will ultimately be happier if Favorito is generating income to repay his debts instead of being blackballed in Las Vegas.
Storm said the Red Mercury folk "made him a good offer" to jump ship, but it sounds like Favorito still has an open door at Hooters. "He seemed genuine about having learned a very valuable lesson," Storm said. "He put himself in a really difficult position and he blamed no one but himself." …
Favorito's slot at Hooters will go to Ryan Stock, the "Comedy Daredevil" whose recent stunt gone wrong on "America's Got Talent" arguably got him more attention than if he were still a finalist on the show.
Who wouldn't watch a viral video of someone getting shot in the neck with a flaming arrow?
Stock posted on Facebook that the laser-sighted illusion had been rehearsed to perfection with stage partner Amber. But on live TV, Amber's arrow missed the target he was holding in his mouth because "the notch holding the arrow broke and sent the arrow sideways. Fortunately, because of how it hit, it wasn't at full power and I walked away with a minor injury."
And now Stock walks to Hooters. His new show opening Sept. 15 will be produced by Angela and Matt Stabile, who also run a residency for one of last year's "AGT" finalists, Piff the Magic Dragon, at the Flamingo.
Storm said he thinks Stock can be marketed along the lines of (mostly retired) comedy-magician The Amazing Johnathan, and that an act so specific fits the casino's goal of "trying to position ourself as having something that's not the same as everybody else has." …
"America's Got Talent" wraps up the current season Sept. 14, so who knows how many of this year's finalists will end up on the Strip? Last year's season alone gave us three: Piff, the season's winner, Paul Zerdin (who closes today at Planet Hollywood) and magician Xavier Mortimer.
Read more from Mike Weatherford at reviewjournal.com. Contact him at mweatherford@reviewjournal.com and follow @Mikeweatherford on Twitter.