Country awards weekend takes the 'party' all over Vegas this year
February 12, 2017 - 7:25 am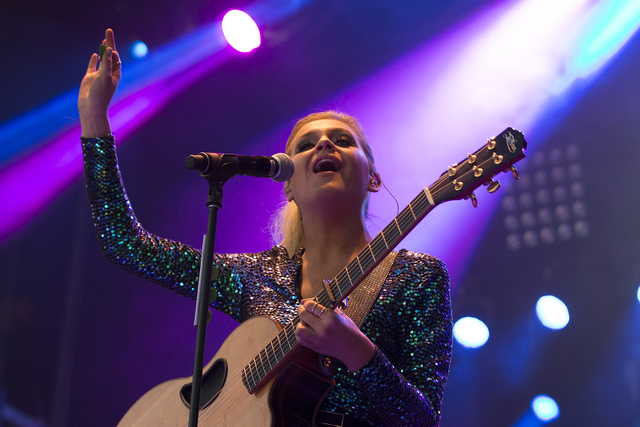 The Academy of Country Music exists to celebrate Nashville's stars, not compete with them.
That's a short explanation for the big country music weekend taking a new direction when the awards show comes back to town in April.
The Encino, California-based organization last week detailed plans for the CBS awards show set for the T-Mobile Arena on April 2, and the surrounding live events collectively known as Party for a Cause, raising money for the umbrella charity ACM Lifting Lives.
Last year, the party was three big outdoor concerts, headlined by arena-level stars on a new festival grounds on the Strip.
This year will bring more events in smaller venues spread across town, from concert halls to nightclubs, hotel pools and even a barbecue joint, Virgil's Real BBQ at The Linq.
The academy created suspense by waiting until late January to announce this year's date, at least six weeks later than last year. Party for a Cause plans were even slower to emerge after the academy was shaken up by May's sudden departure of Bob Romeo, who helmed the organization for 12 years.
Romeo steered the awards to the Strip in 2004, and his vision was always to make better use of the stars while they were in town: a citywide blowout worthy of the trademarked catchphrase, "The Week Vegas Goes Country."
But by the time Romeo staged a three-night festival last year? Well, as the French taunter in "Monty Python and the Holy Grail" says, "We've already got one."
Neither Romeo nor the academy have explained his departure beyond cordial statements from both sides. But the academy's new chief executive Pete Fisher and Erick Long, senior vice president for operations and events, acknowledged a problem, if not the problem.
The party may be for a good cause. But last year's looked a lot like the 2-year-old Route 91 Harvest festival at the other end of the Strip last October.
Not to mention the Stagecoach festival, also coming up in April on the Coachella site in California, or the Country Thunder Festival in Arizona the same month.
"We're supporting these other three festivals, because we want to," Long says. "We're the ACM. We're not in business to compete; we're trying to raise money for a charity."
All three festivals pull from a larger region. And stars such as Carrie Underwood and Kenny Chesney not only have other festival bookings, but want to play Las Vegas arenas as solo headliners, too.
"We don't want to do anything but complement what the artists are trying to accomplish on their own," Fisher adds. He was on the ACM's board for 15 years before he applied for the directorship. Another board member is Brian O'Connell, the Live Nation executive who oversees Route 91 Harvest.
So, back to the bars.
"I heard one person in the music industry refer to this as the world's largest pub crawl," Fisher says.
Las Vegas' local country fans are used to ACM weekend being a second Christmas when it comes to free or low-dough peripheral events. And they are used to looking around for them. Years of free concerts on Fremont Street gave way to later experiments with festivals in the parking lots of The Orleans and The Linq.
This year may be confusing. So many events, some in different locations at the same time. But the trade-off is multiple points of entry. Can't stay up late? Start drinking at noon on Saturday in Stoney's Rockin' Country.
Fisher says 18 events in 13 venues will give stage time to 70 or more artists, and the events collectively add up to 45,000 tickets for sale. Fans can go to more than one show and still spend less than the $75 for a single-day ticket to last year's festival.
And for the charity, "I can make almost the same amount of money with the smaller events as I did with the festival," Long notes.
And they do have that trademarked slogan to live up to. "Now we really are taking over Vegas," he says.
Read more from Mike Weatherford at reviewjournal.com. Contact him at mweatherford@reviewjournal.com and follow @Mikeweatherford on Twitter.