"Country Superstars Tribute"
September 30, 2010 - 11:00 pm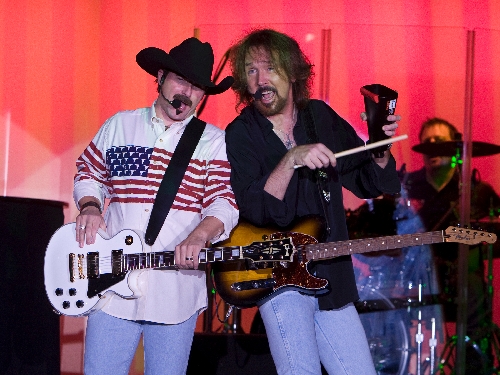 With such a generic title, "Country Superstars Tribute" could use a catchy slogan. Country fans might dig one that sounds like a pickup ad: "Built to last." Or, "Built tough."
The country spin on the "Legends" format keeps on truckin' after a lot of start-up titles have come and gone in the past three years. The uphill journey began in the tiny venue at Fitzgeralds, then ventured to Primm before circling back downtown, this time to the Golden Nugget, Fremont Street's one prestige address.
The show is also about as complicated as a 4×4. Costumed tributes to country's big stars sing in front of a five-piece band. That's it. A modular format allows featured acts to rotate almost nightly.
So "Superstars" is really all in the execution and quality control. If the ultimate test is the accuracy of the illusion, then this night scored three out of four. The Ronnie Dunn, Reba McEntire and Willie Nelson look-alikes were as close to dead-on as seems possible.
Most nights, the show is hosted by the Brooks & Dunn impersonators, who have the most tribute time. Why? Because it's their show. Former '80s rocker Ron Keel launched "Country Superstars" as a vehicle for his astonishing resemblance to Dunn. Producer Leonard Quenneville saves a salary by playing Kix Brooks himself.
When Keel is on the road trying to reassert his rocker side, Corrie Sachs steps up to host as McEntire. This is one of the most uncanny impersonations you will see, and Sachs did it for several years in "Honky Tonk Angels" (a similar concept that had more of a sense of fun than this one).
Roy Hammock can be mistaken for Nelson in public, but so can a lot of old guys. What's important is that he downplayed the nasal caricature all those singing impressionists do. If he didn't quite nail the real icon's soulful minimalism, he at least gave Nelson his dignity. The obligatory dope and IRS jokes were actually good for lightening up the revue.
Sachs is the one having a lot of cartoony fun with Reba's Okie twang and down-home affectations. Maybe she's just been at this so long she's rebelling a bit. No biggie. The real Reba kind of deserves it anyway.
"Superstars" doesn't let its flexible format make it skip the chance to do the "If You See Him/If You See Her" duet between Reba and Ronnie Dunn when both are present.
Fans of Kix Brooks might feel shorted; their guy doesn't get to sing until an hour into the show. But Keel's strong chops deserve stage time, as he demonstrates on the soulful "Believe."
Adam D. Tucker's Tim McGraw should have been trimmed by a song or two if the singer was battling "Vegas throat" that night. His strained vocals, gruffly lower than McGraw's tenor, were the only wrong notes in the show — yet still arguably necessary to acknowledge the past 10 years of country radio.
The wider bullpen of acts includes Brian Pop as Kenny Chesney and Jeff Fairchild teaming with Quenneville for Big & Rich. But with his producer's hat on, Quenneville tells me country dance clubs siphon off his younger ticket-buyers.
Fine, but he might want to trim the opening narration promising "some of the hottest acts burning up the charts today."
Chesney and Big & Rich "get a great round of applause," Quenneville says. But in the handshake line after the show, "We often get told they were not sure who we were, but they loved our music."
Is there a George Jones impersonator out there? What about Jeannie Seely? Little Jimmy Dickens? Maybe Grandpa Jones.
Contact reporter Mike Weatherford at mweatherford@ reviewjournal.com or 702-383-0288.
Review
"Country Superstars Tribute"
9:30 p.m. Tuesdays through Saturdays
Golden Nugget, 129 Fremont St.
$36.95-$75.45 (866-946-5336)
Grade: B-