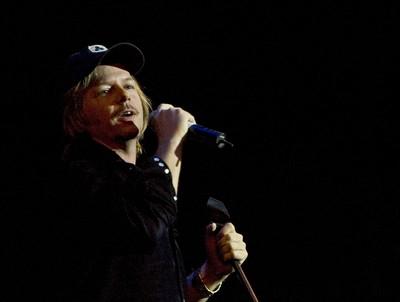 It's the 'tude.
Of course it is with David Spade, whose put-upon comedy of attitude finds punch lines where none should be.
When he first made a splash on "Saturday Night Live," Spade was the Kathy Griffin of the early '90s, calling out celebrities with his snarky "Hollywood Minute." Now he just wants to be left alone — to the degree that a guy who dates Playmates can be.
When a kid tries to play peekaboo on an airplane, Spade mutters, "I'm kind of in the middle of SkyMall right now." But he indulges the kid anyway because he doesn't want the people sitting around him to think he's a jerk.
"They don't call TMZ with the good news!" he tells the audience during his stand-up gig at The Venetian.
Other frequent visitors such as Griffin and Ron White also make their own personas the engine of their humor. But they are Type A characters; almost the opposite of observational comedy. (Would we call that "participational"?)
Spade is no less a celebrity, but it's his passivity to the world around him that drives his casual sarcasm. His mom sends him to crash with the weirdo neighbor next door when her two-bedroom house is full at Christmas, and it's easier to complain than to refuse.
Spade's persona has proved surprisingly adaptable in acting roles from "Tommy Boy" to "Rules of Engagement." In a stand-up forum, playing the character he has established as himself, the 45-year-old has become one of the Strip's most dependable headline names since 1998.
Home base of late is the 742-seat Showroom at The Venetian. Last Saturday, in the first of two weekends there — "Crowd of the century. The third day of everybody wasted from New Year's Eve" — Spade looked quite the truck driver in his ball cap, lumberjack shirt and scruffy hair and beard.
(It's probably the latest L.A. fashion, but it did lend extra credibility to Spade's riff on the Hollywood homeless, his aversion to giving money to guys "who look cooler than me and have better hair than me.")
Spade is so laid back, and the writing so hidden, you could think he's up there just talking to you. "I have three jokes, and I pack 'em into one hour," he tells the crowd.
More of it just takes the form of little dialogues or conversations with himself: Trying to tell the hotel desk his porn is on the fritz, or a potential pickup how to find his room at the MGM Grand: "You go to the fourth elevator, get in and go up, and there's this shuttle bus …"
The Scottsdale, Ariz., resident has spent enough time in Las Vegas to turn a bit of the act to the not-so-bright idea of CityCenter: "What don't they have enough of? Hotels and shopping? Let's do it!" Or the Hard Rock Hotel pool, composed of "500 guidos from New Jersey and one waitress."
As long as Vegas is ridiculous, Spade should have a place here pointing it out.
Todd Glass, Spade's friend and frequent opening act, proved dope jokes are almost as timeless and universal as bathroom humor, which he called "the lowest kind of comedy you can do." That didn't stop him from doing both in an agreeable set that didn't threaten Spade's low-key energy.
Contact reporter Mike Weatherford at mweatherford@ reviewjournal.com or 702-383-0288.
Review
David Spade, Todd Glass
9 p.m. today-Sunday
Showroom at The Venetian, 3355 Las Vegas Blvd. South
$65.75-$105.75, VIP package $175.55 (414-9000)
Grade: B