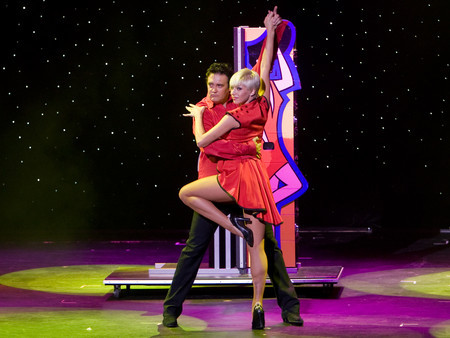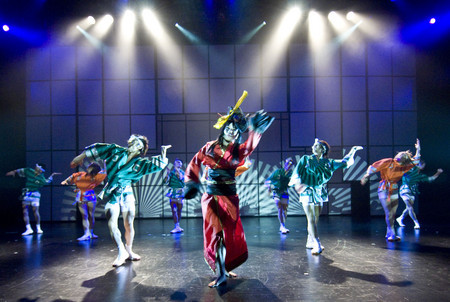 Let's see now. Magician Rick Thomas is back, in a Sahara theater once used by "Matsuri." And so is magician Scarlett, in a Riviera showroom that also hosted "Matsuri."
But what about "Matsuri"?
Glad you asked. It's at the Imperial Palace.
This may be a summer where the casinos can't wait until Labor Day. But it's one that reopened a door for all three shows, along with The Comedy Stop, a stand-up club left briefly homeless after 19 years at the Tropicana.
"Strike while the iron is cold," jokes Meghan Belk of EBI Enterprises, the agency that served as go-between between the "Matsuri" producers and the Imperial Palace.
"We have to look at it as an opportunity," Belk says. "I love this room for this show." To hesitate brings the risk that "somebody else would have snapped it up." It's better to "ramp up" and be in place when things improve than to "chase it once (the economy) starts coming back."
That's a philosophy shared by the other deja vu titles, reintroduced here.
RICK THOMAS
Criss Angel set out to be a heavy-metal magician. Rick Thomas wanted to play trombone in the Lawrence Welk band.
"My parents forced it down my throat," he says with a laugh. "I didn't know anything else existed."
Raised in Long Beach, Calif., by Mormon parents who taught ballroom dance, Thomas saw a lot of the Welk show and not much else. His parents once were under contract to substitute for Welk's dance team of Bobby & Barbara, but "Bobby (Burgess) was a workhorse and never gave up one moment to Mom and Dad."
So Thomas took trombone lessons for 14 years and dance lessons with his sister, never understanding there was more than one show business opportunity out there.
"I guess that doesn't make my show sound very hip."
But that's always been part of the charm for the lantern-jawed magician, who looks like an old-school comic-book hero. And in a roundabout way, he is hip again.
Thomas dusts off some old moves, thanks to the "Dancing with the Stars" craze. "You get people saying, 'I've never seen a magician move like this onstage before,' " he says.
Thomas first brought his tigers to the Tropicana in 1997, then moved to the Stardust in 2005, when he couldn't get straight answers on how much longer the Trop would be in business. Oops. It was the Stardust that was imploded, and Thomas ended up with a curtailed run at The Orleans in 2007. He spent some of the past two years working in Korea and Japan.
Despite all the theaters on the Strip, "When you start asking, 'Which venue can hold my show?' you start realizing how few opportunities are available to you at that moment," he says.
The upside is a renewed appreciation for a routine that "becomes a 9-to-5 job."
"Sometimes when you're working so hard on the road, you really feel like you're accomplishing something," he says. "In Vegas, you walk in, do your show and go home. You always want to keep it as fresh as possible. Traveling as I did and coming back has done that for me."
'MATSURI'
"Matsuri," known in Japan as the "Muscle Musical," first came to Las Vegas as a slice of Japanese pop culture. Now you can take a little of the "pop" out of it.
Ushio Higuchi is the Japanese TV producer of the obstacle-course game show "Sasuke (Ninja Warrior)," which has a heavy influence on shows such as this summer's "Wipeout."
He spun the more musical elements of those TV contests into the live production, which first came to Las Vegas with a lot of jumping jacks and cheesy dance music in 2006. It returned next door at the Sahara the next year, heavier on acrobatic routines and a little lighter on young women in gym shorts chanting, "Muscle-muscle-muscle."
"It tightened itself up, so to speak, over the years. Everything seems to improve with time," Higuchi says through an interpreter.
Now it's back as an afternoon show in the Imperial Palace showroom, with a smaller cast — 18 instead of 30 — and a little more of an eye on traditional Japanese theater.
"There's some comedy, but not too heavy," Higuchi says. "We're trying to inject a little more beauty and a little more grace, and not to really focus on the humor this time around."
SCARLETT
The single-named magician is less a return than a reboot. A family matinee at the V Theater is now at the Riviera, billed as an "Abraca-sexy" revue with topless dancers.
"It fits my personality better," says the Reno-native magician. And the audience didn't change as much as one might predict: "Even though it was a family show, we were getting lots of couples."
Scarlett started as a dancer-assistant to John Lewis, a Harley-Davidson dealer who had retired to Reno and was trying to make a second career of his fascination with magic.
"I taught her a few things, and she just caught on so fast, I thought, 'Why am I doing this?' " Lewis says. "We should really be pushing someone who has ongoing talent and has the youth to do it."
So the two moved to Las Vegas, where they ran the afternoon show from August through March. It was a risky way to get stage time versus working as a specialty act in someone else's show, but Lewis has conviction. "She's not an act. A lot of people can do an act and that's wonderful. She carries the whole show."
"The stage persona has evolved," Scarlett says. The original idea was "me playing different personalities and different roles. We kind of came out of that. Now it's more just me doing the magic and my personality."
THE COMEDY STOP
" 'Disappointed' would be a good word," Comedy Stop operator Bob Kephart says of a 19-year run at the Tropicana that ended in March. "Surprised" would not be. "I saw it coming" with an ownership change in 2006, he says.
Starting over again at the Sahara — in the second-floor showroom long inhabited by a Platters-Coasters oldies tribute — will be "a battle, but I've always figured out a way to make it happen," Kephart says. And he has a prediction: "Once the locals find out where we are again, we will be back in business."
The club was one of the first shows on the Strip to reach out to locals with a two-for-one promotion twice each week. The new policy eschews specific days of the week for a standing $19.95 offer to Nevada residents.
"I can't think of other clubs that put on the shows I do," Kephart says. "You shouldn't have to sit through two boring comics to get to the headliner."
Contact reporter Mike Weatherford at mweatherford@ reviewjournal.com or 702-383-0288.
Interactive Graphic