Donny and Marie Osmond blend past with present in Flamingo show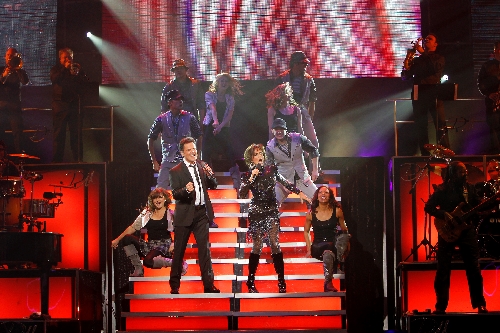 This is where you find them, in dressing rooms as different as the two of them are, but which seem like home. Or at least a recording studio, thanks to the sound-proof vocal booth in Donny's.
Why overhaul their Flamingo Las Vegas show when they didn't have to? Donny Osmond thinks a minute. "We're a variety show, that's what we are," he says. "And that's what you do."
And Donny and sister Marie have done it most of their lives.
They have been in the public eye since they were children. Bubble-gum idols in their early teens. Occasional Las Vegas headliners since, well, forever. Donny and his brothers rocked the white suits with Nancy Sinatra in 1969, and the Las Vegas Hilton threw a wedding reception for him in 1978.
They have shown up at the Flamingo five days a week for about 36 weeks a year, since September 2008.
They perform when they have good things to talk about, such as a new album together, or Marie's remarrying Stephen Craig, the first of her two husbands.
And they soldier on through the bad times: the suicide of Marie's son Michael in February of last year. The 2009 death of friend and fellow entertainer Danny Gans, who helped steer them into the Flamingo. Litigation with former managers and producers.
And they still found time to update the show, which now seems just right. Now, perhaps for the first time, these Osmonds have gravity as well as energy. They own up to some mileage but still perform as fine-tuned entertainment machines.
"I think authentic is a good word," says the 51-year-old Marie. "I don't think you can fool your audience. Hey, they all grew up with us, too. So, we're all in the same place."
SEPARATE BUT EQUAL
A plan to interview them together ends up as separate chats. You get the idea they don't see much of one another unless they are onstage or in front of a camera. "It's like fire and ice. I'm the ice," Donny says of their relationship. He laughs.
The sibling rivalry that's been part of the act since their '70s variety show still creeps into interviews. "I gave Donny the responsibility of titling the album, so he came up with 'Donny and Marie.' Took him four months to do that." She laughs. That deep — some would say naughty — delight that plays in fun contrast to her Mormon sweetheart image.
They live in different states. Marie, her new/old husband and four of her children live in the Las Vegas Valley, where they are deep into local school jazz bands and dance classes. They like it here, and she thinks they'll stay put even if they call it a wrap at the Flamingo next year.
"I know what it's like to be uprooted constantly," she says. "It's OK when you're the performer, but not the person that follows the performer."
Donny is back and forth to his longtime home in Provo, Utah. "It's tough, but I'd rather make it convenient for my wife and kids, because they have a life, and I don't want to disrupt it."
The show doesn't suffer from the half-hour each spends onstage without the other, at least once you get used to the format. "We didn't have an act," Donny explains. "The last time we really did a substantial concert tour together was the '80s. And even then it was separated."
Now they have had time to work out more joint material, but why? "We don't do the same kind of music," Marie points out. "Donny doesn't sing legit soprano, you know?" The laugh again.
And the solo segments let this variety show veer off in different directions. At 53, Donny has made peace with his teen-pop origins, busting out the original dance moves to "Yo-Yo" from 1971 and plotting to go viral with the choreography at a Las Vegas fan gathering next month.
"It's almost cathartic, I guess is a good word, to be able to do that," he says. "I hated 'Puppy Love' (his No. 3 hit from 1972) at one point, I really did. And you can see why. Anybody can understand.
"But there comes a time when you just grow up and you realize, 'Man, what a great career.' And you embrace it. (Justin) Bieber's going to go through the same thing," he promises, before mock-singing a phrase of "Baby."
"He probably can't stand that song. Hopefully there will come a day where he can say, 'Do you remember this song?' Just like I do with 'Puppy Love.'
"And then he'll show my picture (on the overhead screen)."
PEACE WITH THE PAST AND PRESENT
If Donny's segment is more a winking look back, Marie's is more a poignant theme of endurance. She and director Richard Jay-Alexander dusted off a Liza Minnelli anthem, "But the World Goes 'Round" (from the movie "New York, New York"), that she turns into a sadder-but-wiser showstopper.
"That's the beauty of music, isn't it? That song is my life. It is my life. I can sing that song," she says. "But I don't want to set it up that way, because then it can mean what it means to you, or to somebody else."
But she does claim "Somewhere" from "West Side Story" for herself, after a touching story about the Children's Miracle Network and tearing up onstage while dedicating the song to her son Michael, who jumped to his death at age 18.
"Some nights I have a little more difficult time," she says, especially around his birthday last month.
She chose Michael's birthday for her remarriage to Craig. "We dated for two years, quietly. Because if it didn't work out, we have a son together (and) my children adore him." If it didn't work out, "you don't want to hurt any kids."
But it did. "I don't know, maybe we're just older and wiser, whatever. Appreciate things."
The Flamingo show could change still more if the new album catches on. So far they've carved out time for just one song, "Vegas Love," from the album that lands squarely in today's country pop territory, helmed by Kenny Chesney producer Buddy Cannon.
"It just seemed like a wonderful opportunity to give it one more shot," says Marie, who didn't see the album happening had the two not done the Flamingo show. "There is something unique about our sound. Whether it's sibling, whatever, there is a Donny and Marie sound. That blend, I guess you could call it."
The album hit a respectable No. 7 on Billboard's Country Album chart (it has since settled down to around No. 30), suggesting that with the right promotion, Donny and Marie's long Vegas career may still not have peaked.
Fine by Marie. "I still have a lot of bills to pay," she says. "Pre-nup would have been a good idea on the last (marriage)."
Contact reporter Mike Weatherford at mweatherford@ reviewjournal.com or 702-383-0288.
Preview
Donny and Marie Osmond
7:30 p.m. Tuesdays-Saturdays
Flamingo Showroom at the Flamingo Las Vegas, 3555 Las Vegas Blvd. South
$104.50-$137.50 (733-3333)