Excalibur's jousting knights live to see another Christmas
November 27, 2016 - 11:00 am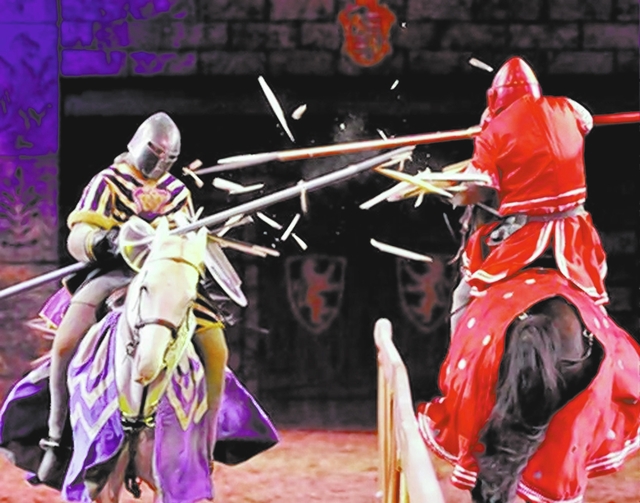 What's that in the mist behind the Excalibur castle? Could it be a manger?
OK, it's a barn. "It kind of is a manger, though," Phil Shelburne says with a laugh.
But it's a brand new one by either name. And the hotel paying for it is Christmas-themed evidence that "Tournament of Kings" isn't closing anytime soon.
The sword-swinging stunt show started its second holiday edition, again subtitled "'Twas the Knight," last week. But with so many shows closing, the new barn — built to stable performing horses after the original one got in the way of the Excalibur's new parking garage — is a more long-range sign of MGM Resorts International's commitment to the third longest-running show on the Strip.
Rumors of "Tournament" closing got so bad a couple of months ago the company had to issue a statement: "We normally don't comment on rumors but we want to assure our employees and our guests that we have no plans to close (it)."
Rumors often spread because of inherent logic, and the family-friendly show does seem out of sync with the nightclub-crazy Strip. But the irony of watching it now is that pop culture has moved closer to "Tournament" even as Las Vegas has moved away from it.
It seems like the knights could clash swords another 10 years with costumes and dialogue more in line with "The Hobbit" or "Game of Thrones" — minus the nudity and decapitations. And talk of a makeover has come up every now and then.
What's often overlooked is the decisions aren't all MGM's. "Tournament" is contracted out to independent producer Patrick Jackson, whose father opened it in 1990. Contract renewals become complicated negotiations between two parties over one highly specific, dirt-floor arena.
Shelburne was a theater graduate working in the puppet show upstairs when the knights arrived as "King Arthur's Tournament." He soon became a swing actor for the King Arthur and Merlin roles.
By the time the show changed its name to "Tournament of Kings" in February 1999, Shelburne had directed summer musicals at Spring Mountain Ranch, inspiring confidence that he could take the reins of the horse show after producer Peter Jackson died. (His PS Productions still stages a musical at the ranch each year; this year's was "Memphis.")
Shelburne says he hopes to build on the holiday version with new frills each year. "It happened very fast last time, and we had a little more time for preparation this year," he says of script changes, new costume elements and a new song to replace the drinking ditty many parents know well by now. …
It may be no coincidence that one of three other shows getting festive is "Legends in Concert," the longest-running title in town. ("Crazy Girls" falls between it and "Tournament," but don't really expect that one to get too Christmasy.) Holiday makeovers offer new motivation to visit or take relatives.
Just for perspective: "Legends" opened in 1983, when Sammy Davis Jr. was playing the Aladdin and Lola Falana was in the MGM Grand's Celebrity Room. "Tournament" opened in 1990, when "Siegfried & Roy at The Mirage" was the other hot new production show.
"Marriage Can Be Murder" has been around town since 1999, but has slightly different motivation to put on a Santa suit: The huge bump the interactive murder mystery gets from company Christmas parties. The D show even spills over from its usual venue to a nearby ballroom to run as many as five times a day, producer John Bentham says.
Vocal quartet Human Nature relaunched its Venetian showcase as "Jukebox" this year, with the Christmas extras now billed as a "twist" rather than a full commitment in the group's third holiday show, starting Tuesday.
That sounds more in line with "Legends," which adds one Christmas song to each of its character segments and invites local school choirs to share the stage.
The most committed Christmas show is always from Terry Fator, who again launches "A Very Terry Christmas" on Tuesday, this year re-creating the famous TV duet between David Bowie and Bing Crosby. …
Updates on two variations of the "Legends in Concert" formula.
First, "Country Superstars" bowed out of Hooters Hotel last week after four months. Producer Leonard Quenneville says the unsinkable country tribute is looking to return next year, hopefully in a new format more like the loss-leader lounges of the old days.
"We just didn't have the budget to compete," Quenneville says, suggesting anyone producing a little show better be ready to spend $10,000 a month to advertise in this new era of big-name concert stars.
"Solid Gold Soul" is a Motown twist on the "Legends"-style tributes in the Windows Showroom at Bally's. Last week its producer, California entrepreneur Marc Paskin, decided to pull the plug. But venue operator Ken Walker decided to take over "Soul" and produce it himself, as he previously did with the comic musical "50 Shades! The Parody."
Nannette Barbera will still oversee the content, but changes had to be made to pare running costs, and may affect things I liked in the show review. The band had to be cut down to keyboards and saxophone augmented by recorded tracks. And the fine Marva Scott is leaving, though "Legends" veteran Cookie Watkins is bringing her Tina Turner.
Read more from Mike Weatherford at reviewjournal.com. Contact him at mweatherford@reviewjournal.com. Follow him @Mikeweatherford.