Extraordinary 'Jersey Boys' worth another viewing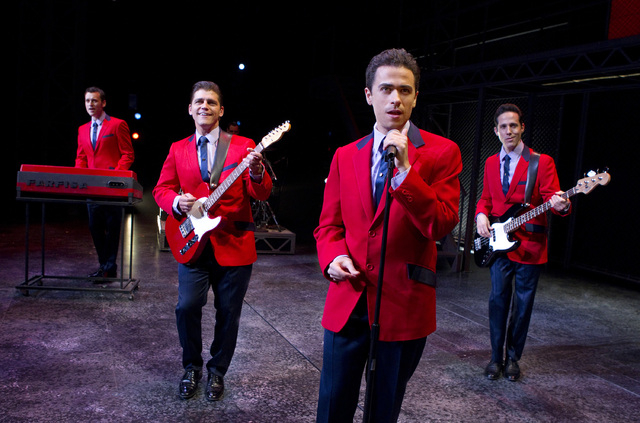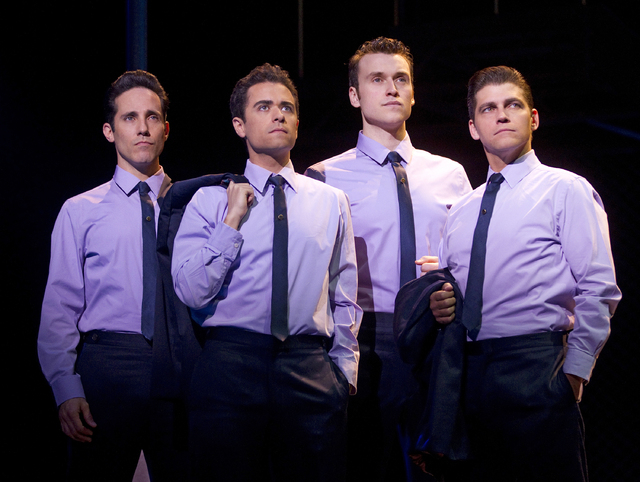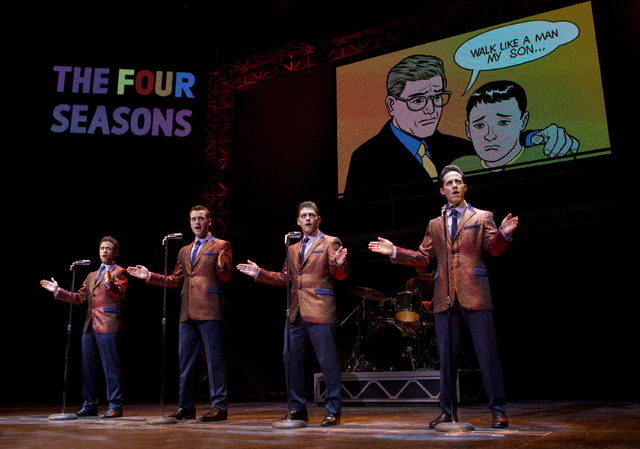 So, yes. "Jersey Boys" does stop for an applause break after a song, at least once, after "Sherry."
I felt compelled to check for that, even jot it down, because the ordinary routine of any other musical is just one of the rules broken in this least ordinary of musicals.
"Jersey Boys" unfolds like a movie on stage, both in its cinematic pace and a story told by four narrators mixing up the usual arc of a two-act structure.
But now there's a movie version, still clinging to at least a few local multiplex screens, and it's leaving people underwhelmed. I guess you kind of expect an actual movie to be "cinematic."
The balance of opinion on the "Jersey Boys" film deems it as stoic and stodgy as its director, Clint Eastwood, and not nearly as much fun as the stage show. Which brings us back to that applause point at Paris Las Vegas.
It seems the movie tilted a delicate balance. The stage version, now in its seventh year on the Strip, still stands out for being more serious and story-centric than Las Vegas usually allows. But it gets away with that because it's also fun, and at heart it's still a musical.
But it does take its time turning into one.
There's a 40-minute journey in which we hear people sing, but only as part of the rapid shuffle which shows how Frankie Valli and the Four Seasons got together. We race through the tale of how Tommy DeVito (Deven May) and Nick Massi (Jeff Leibow) took turns mentoring the young Valli (Graham Fenton on this night, alternating performances with Travis Cloer) with lessons in both music and the ways of women between separate stretches in jail.
After the three link up with even-younger songwriting prodigy Bob Gaudio (Jason Kappus), the long wind-up explodes on the set of "American Bandstand." "Sherry" is the first full-fledged Four Seasons song, but it's instantly followed by the double-whammy of "Big Girls Don't Cry" and "Walk Like a Man."
The movie often relegates these big-song moments to montages or quick cutaways. The stage version lets the songs pop, even as it keeps them in the story's context. Backstage musicians turn up at key moments; a drummer rolling on here, a horn section popping up there on the rear catwalk.
The "Jersey Boys" phenomenon may work against the surprise factor of the story that director Des McAnuff delivered to Broadway in 2005. The Four Seasons had 15 Top 10 hits (plus three for Valli as a solo act) from 1962 to 1976. But the game-changing British invasion obscured the continuity between "Dawn (Go Away)" in 1964 and "Can't Take My Eyes Off You" just three years later.
Even fewer people knew the group's strange offstage saga, where the balance of power shifts from DeVito to Gaudio, and things fall apart in the presence of a loan shark (Jason Martinez) and New Jersey mobster Gyp DeCarlo (Joe Barbara) — a character who gets a lot more time in the movie via the star power of Christopher Walken.
Three of the four Las Vegas stars — with Kappus the relative newbie — have been with the show so long, they have an authentic group chemistry. At least once you get used to accents that first seem too deep into Edward G. Robinson wise-guy talk.
Fenton is effortless in capturing Valli's signature falsetto without doing a forced impression on the likes of "My Eyes Adored You." But the real key to the role is capturing the bottled-up frustrations of being caught between two dysfunctional families: the group dynamic and his guilt over the wife (Lauren Tartaglia, another veteran of the Las Vegas cast) and children left at home.
If the movie helps sustain the "Jersey Boys" phenomenon, it will be through a cable and DVD afterlife, not by owning the summer's box office. But if the movie helps Las Vegas appreciate the superior version on the Strip? Or inspires a new visit? You might just thank it for not being better.
A postscript on some continuing Las Vegas peculiarities: Because of that cinematic flow and some odd start times, there's no real break in the action for ushers to hold up late arrivals and then let them in, so they arrive in a steady stream. Same thing happens in the second act, when the weird tradition of an eight-minute intermission doesn't allow much time to take care of business. Planning ahead, and an eye to the clock, can help in both cases.
Contact reporter Mike Weatherford at mweatherford@reviewjournal.com or 702-383-0288.
Review
"Jersey Boys"
7 p.m. Wednesday-Friday, Sunday; 8:15 p.m. Saturday, 6:30 and 9:30 p.m. Tuesday
Paris Las Vegas, 3655 Las Vegas Blvd. South
$59.30-$199.80 (702-777-2782)
Grade: A