Flamingo headliners Boyz II Men have grown into solid showmen
December 24, 2010 - 12:00 am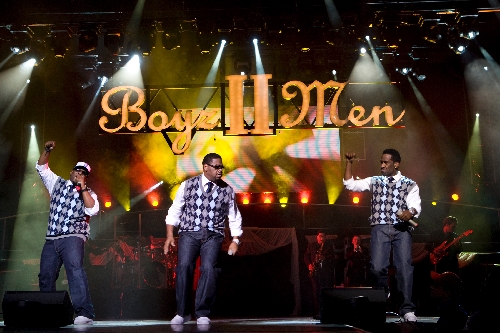 Boyz II Men wear crisp new jeans onstage, partly because of their sharp-dressed image. But they must wear a lot of holes in the knees, too, with all that beggin' and pleadin'.
As their prophetic group name suggests, the "boy band" hitmakers of the early '90s have aged gracefully into solid showmen carrying the mantle of the old-school R&B greats.
And that means a lot of "baby, baby" promises to shape up and resist temptation. They even have a song called "On Bended Knee."
"Everyone thinks, 'You sing for the girls,' " Shawn Stockman acknowledges onstage. But he goes on to explain, the Boyz serve as the male of the species' mouthpiece to express love or regret. "We try to make it easy for you guys."
They even bring along a few dozen roses to pass out to the ladies for one of their signature songs, "I'll Make Love to You."
The trio (down from a quartet in their salad days) has been gunning for a residency on the Strip, so they answered the call to deliver a Christmas show for the Flamingo Las Vegas on short notice, after Donny & Marie Osmond decided to clean up on Broadway instead.
Stockman, Nathan Morris and Wanya Morris still have their vocal chops, unlike Toni Braxton, who edged the Boyz out of a Flamingo berth a few years ago. And it's clear that they never stopped, never broke up to reunite 10 years later. In the best old-Vegas tradition, they may use nostalgia to get people through the door, but they keep them in the seats by being entertainers, not pop stars.
Since their own hits are cut from the same ballad cloth, the trio dons pinstripe suits for a Motown medley of roof-raisers such as "My Girl" and "It's the Same Old Song." There is also a cover of Hall & Oates' "Sara Smile" for those who come in not too deep in the Boyz catalog.
The Christmas accessories amount to a warm 10 minutes around a piano in crushed velvet blazers, followed by their custom version of "Let It Snow." They laugh about "unappreciative kids," their dream toys from childhood and how Wanya Morris was "a flirt at 5."
The segment reinforces how the three have matured as individual personalities, but still need their group democracy. No one voice is so distinct that it doesn't need the other two to create the magic.
It can't have been easy for these guys to have kept their heads level into their late 30s after what they witnessed as young men, playing the MGM Grand Garden full of screaming girls twice in 1995.
But the overriding vibe you get from the stage is that the three are grounded, and appreciate what they still have (especially those flashy wristwatches they show off more than once).
Like their boy-band days, synchronized stage choreography sometimes seems to occupy more attention than singing. Up-tempo songs are still a scarce commodity. "Motownphilly" is both the first song and the last.
And "War" — what is it good for? Not much as a Boyz cover of the Edwin Starr hit.
But by the time they make their case for what they call "real music" — setting up their signature ballad "End of the Road," you're more than convinced real people are singing it, too.
Contact reporter Mike Weatherford at mweatherford@ reviewjournal.com or 702-383-0288.
Review
Boyz II Men
7:30 p.m. today, Sunday, Tuesday-Thursday, Jan. 1-2 and Jan. 5-9
Flamingo Showroom at the Flamingo Las Vegas, 3555 Las Vegas Blvd. South
$64.90-$86.90 ($137.50 includes meet-and-greet) (733-3333)
Grade: B+