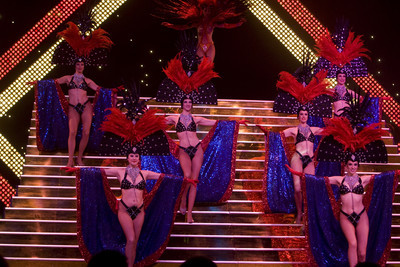 This sounded pretty easy. Go see "Folies Bergere" to give readers a two-month head's up on whether they should bother to catch the venerable showgirl revue one last time before it closes March 28.
But the answer isn't so simple. It kind of depends on where you're coming from.
If you walk in cold, it's easy to see why the cash-strapped Tropicana would dump the 49-year-old "Folies" in favor of a still-unnamed production that will pay rent.
But if memories are involved? That's another story. The last cast does what it can with the tools at hand, trying hard not to disappoint those who appreciate this archaic branch of show business. There's still something exciting about a showgirl on a staircase.
"Folies" has so long been denied funding that it tumbled from the top tier of Las Vegas attractions years ago and now hovers in an odd region.
Durable old prop pieces still offer more spectacle than cabaret-style topless revues such as "MGM Grand's Crazy Horse Paris." But not enough to out-lavish Bally's "Jubilee!" And just imagine what the show could have done with the $12 million being spent on the upcoming "Peepshow" at the Planet Hollywood Resort.
It's hard not to notice how cheap the recorded music sounds in long stretches, or that more recent segments use a salute to "the new millennium woman" as an excuse to substitute ball caps and gym wear for the lavish sequins and feathers of yore.
The best metaphor might be a giant mirror that shows the audience the kaleidoscopic moves of the showgirls spinning on a turntable below. But the mirror is smudged and even looks to be cracked in a place or two.
Fans of retro Vegas usually gravitate toward last-of-the-breed headliners such as Don Rickles, not a show staffed by young college students. And yet, two showcase sequences and their framing scenery smack of real Vegas history.
The adagio team of Dudley Correia and Sarah Mattox use the "Royal Forest in Winter," a ballet number set in a snowy outdoor garden circa 1850, to remind patrons "Folies" always presented more legitimate choreography than it gets credit for.
The same goes with cartwheeling waiters and high-kicking bloomer girls of the signature cancan number, which was restored to its original length a few years ago and is now taken out of the "women through the ages" chronology to be offered as the finale.
But longtime director Jerry Jackson had limited access to the production since the 1980s, and any new money went for piecemeal upgrades here and there. In the past few years, creative changes have been a game of coming up with new ideas for existing sets.
The overall results are understandably patchy. There will be a genuinely cool moment, such as glittery '70s showgirls descending to the stage in gigantic "Christmas ornaments" to the strains of Barry White's groove-a-licous "Love's Theme."
But that is immediately followed by a laughably ridiculous '60s "hippie" scene that looks like it might be the musical "Hair" as staged by a Mormon youth group. Somebody needs to hire singing emcee Christopher Coyne, if only for his ability to come out and sing "Get Ready" in this garb without dying of embarrassment.
Showing up perhaps too late in the game is Michael Holly, who actually manages to combine droll humor and juggling. Where else but maybe the Penn & Teller show are you going to get an M.C. Escher joke from a guy juggling a hatchet, an apple and a bowling ball?
So there you go. The "Folies" limps to the finish line bloody but not entirely beaten, clinging to a shred of dignity and some legitimately entertaining sequences. Who knows if it ever will be revived? But I hope they take the cancan and magic forest backdrops to a museum where they belong, instead of just auctioning them on eBay.
Contact reporter Mike Weatherford at mweatherford@ reviewjournal.com or 702-383-0288.
Review "Folies Bergere" 7:30 p.m. (covered) and 10 p.m. (topless) Mondays, Wednesdays, Thursdays and Saturdays, 8:30 p.m. (topless) Tuesdays and Fridays Tiffany Theatre at the Tropicana, 3801 Las Vegas Blvd. South $42.50-$53.50 (739-2411) Grade: B-