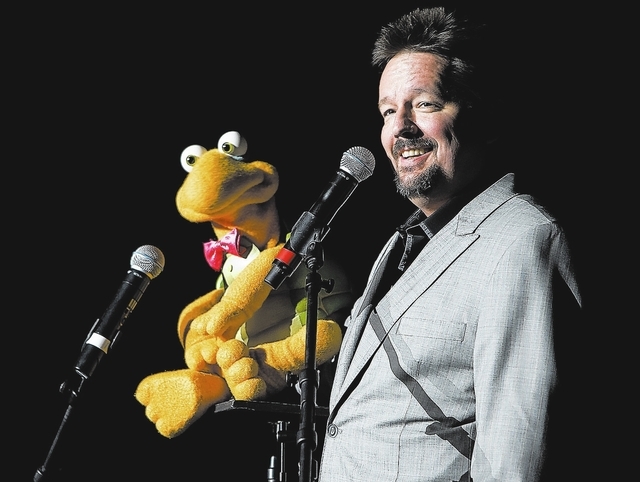 'Tis the season. The low season, if you ask most Scroogey show producers, but a special time for a few Las Vegas Charlie Browns.
Terry Fator claims to have not even crunched the numbers to see if two months of rehearsals pencil out for "A Country Christmas."
"I do it because I've always loved Christmas so much," the ventriloquist says of this year's special-edition holiday show, replacing his regular one Monday through New Year's Eve at The Mirage.
And "Marriage Can Be Murder" finds December to be great for interactive murder mysteries at The D, thanks to the company parties and buyouts that spike business for a holiday edition that also begins Monday.
On Friday, Stratosphere headliner Frankie Moreno returns from a break, customizing his show with holiday songs. The set list is sure to include "I'll Be Home for Christmas," which Moreno sings as a guest on violinist friend Josh Bell's new album "Musical Gifts."
"Legends in Concert" at the Flamingo has long had its celebrity impersonators throw in a Christmas song, but this year takes the extra step of having local choirs and performing arts groups share the stage Monday through Dec. 30.
Fator says he believes "we have perfected" the Christmas show he debuted in 2011, drawing its inspiration from golden-age television. The new one adds a country twist to appeal to the National Finals Rodeo crowd.
"Now it's kind of a mix of Andy Williams and 'Hee Haw,' with a little bit of 'Charlie Brown Christmas' thrown in," Fator explains of the concept in which his cowboy puppet, Walter T. Airdale, "hijacks the show and forces us to do something country every few minutes."
Fator admits "it is an expense" to put up a holiday show, especially because the Strip traditionally slows down between the rodeo's departure Dec. 14 and the influx of New Year's traffic around Dec. 27.
"I start listening to Christmas music on November 1st," Fator says. "We decorated our house a week after Halloween. I'm just that guy. I love the season so much, it's a lot of fun for a month just to get out there and do a big Christmas show."
The Christmas show also marks the debut of a new puppet character, Kani Kapila. "He's Taylor's (Makakoa, Fator's spouse and stage assistant) cousin come in from Hawaii to enjoy the buffets and the gambling. He'll be a regular part of the show from now on."
Downtown at The D, The Scintas taking all of December off means "Marriage Can Be Murder" can add shows, with most of the extra ones for corporate parties.
"Before 2008, this was our best month of the year," says Eric Post, who helms the show and stars in it most nights with wife, Jayne. "We slowly but surely are getting back there."
"We're doing a lunch show. It's almost like Branson," Jayne adds of corporate customers who want to throw their Christmas parties during the workday. Producer John Bentham is pondering the idea of matinees for the general public, too.
The showroom will be decorated with 18 trees for the holiday version of the mystery that has the audience — and even some of the victims — singing Christmas carols.
Post doesn't mind the extra effort because he changes the script three or four times a year anyway. "We get a lot of repeat customers. That's a big part of how we keep going," he says. …
Don't expect any major shifts in direction at the Colosseum at Caesars Palace or The Joint at the Hard Rock Hotel, despite a restructuring of their operating company, AEG Live.
Earlier this week, AEG announced the departure of CEO Randy Phillips. John Meglen, who ushered in the "residency" format of recurring headliners at the Colosseum, is now part of a four-man executive team reporting to Jay Marciano.
Meglen's title was elevated to president of global touring, but there is "no reason whatsoever to believe anything would change" in Las Vegas, corporate spokesman Michael Roth says. …
If Thanksgiving weekend involves California travel for locals, might I recommend a Halloween relapse called "Play Dead" at the Geffen Playhouse in Los Angeles?
The scary affair starring Todd Robbins was directed and co-written by Teller of Penn &Teller, and runs through Dec. 22. Only a lucky few locals got to see "Play Dead" in a Las Vegas workshop edition, but Teller's expanding career as a director might come home again with an unusual production of Shakespeare's "The Tempest" next year. …
Longtime locals staying in town will set their shopping aside on Sunday for a 2 p.m. show benefiting longtime Las Vegas entertainer Denise Clemente.
The show is organized by Tony Sacca, who says he has known Clemente since they were teens in New Jersey. Performers include Pia Zadora, Frank Scinta, Dondino, Rick Michel and Tom Stevens. Tickets are $25.
The singer has been battling heart problems that caused a long hospitalization.
Clemente arrived in Las Vegas straight out of high school in 1976. She toured as a Liberace backup singer before working the lounges when they featured personality-driven entertainment and she has been an opening act for Don Rickles.
Contact reporter Mike Weatherford at mweatherford@reviewjournal.com or 702-383-0288.