Fourth-place finishers to play Las Vegas first
September 26, 2013 - 11:42 am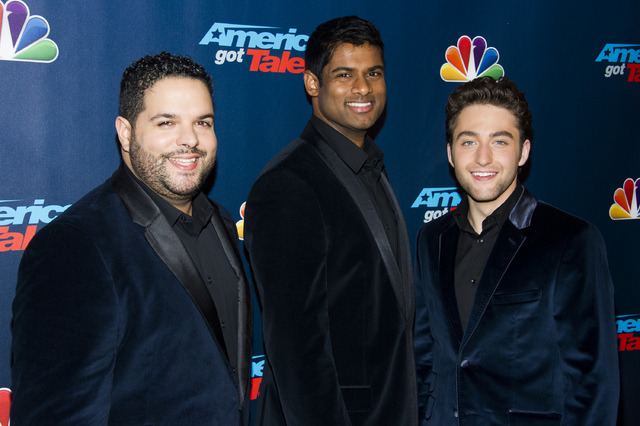 "America's Got Talent" always promises its winner will become "a Las Vegas headliner." But this year it looks as though the fourth-place TV finisher will be the first to play Las Vegas solo billed.
Forte, a trio of operatic singers, will play the Tropicana Dec. 28-30. The NBC talent contest teamed the three singers who hadn't previously worked together: Fernando Varela, Josh Page and Sean Panikkar.
Doing this on top of rushing out an album for Nov. 12 release on Simon Cowell's Syco label seems to come instead of touring with the other finalists — including Las Vegas hand balancers the KriStef Brothers — who stop across the street at the MGM Grand Garden on Oct. 23.
The booking is at least one piece of definitive news for the loneliest show venue in town, the 1,150-seat Tropicana theater. The former Tiffany showroom has been noticeably undisturbed since it was remodeled earlier this year, transforming from a table-and-booth showroom to a theater layout.
The Broadway hit "Mamma Mia!" is said to be looking for a new home on the Strip, and the Tropicana is the only empty, newly remodeled theater sitting on the south end of the Strip.
"We've been talking to a lot of people," says Tropicana's marketing head Fred Harmon, adding that no contracts have been signed with "Mamma Mia!" producers.
The Abba musical played six years at Mandalay Bay, which had about 600 more seats than the Tropicana. And "Jersey Boys" plays in a 1,500-seat venue at Paris Las Vegas.
But "Mamma" has been around the block so many times — not even counting a tour stop next January at The Smith Center for the Performing Arts — that it might be ready for licensing to producers who would stage a nonunion production. And that could keep both the budget and ticket price viable for a Trop-sized room. …
The Cosmopolitan will open its new show venue, The Chelsea, with Bruno Mars concerts on Dec. 29 and 31. Mars will return for six more dates scattered throughout 2014, which leaves the new venue with plenty of dates to fill.
Based on outreach to local acrobatic and variety performers, it sounds like The Chelsea plans to host an ongoing production that would work around concert bookings.
It's said to be another edgy variety show helmed by Ross Mollison, who stages "Absinthe" at Caesars Palace. …
And New Year's weekend keeps getting bigger with comedy-variety promoter Jeff Beacher launching his new Beacher's Madhouse at the MGM Grand, though it will be open for December "previews" leading to the "grand opening extravaganza" on New Year's weekend as well.
The funny part is how the figure of $100 million seems to have been attached to the deal, with no less an authority than Miley Cyrus Twitter-reinforcing the number.
I'm dying to find out how they came up with that $100 million figure, which isn't mentioned in the official release. Is someone really guaranteeing Beacher half a Batman movie to put on what is essentially a stand-up comedy showcase?
Or is that what's being invested to convert the modest cabaret that formerly hosted the Crazy Horse topless revue into an 8,500-square-foot theater? After all, they do promise hidden passages and 15 — ! — stages along with the main stage.
Still, $100 million seems a bit pricey for either scenario, unless they've signed Miley to twerk in every show. …
Josh Strickland aided "Peepshow" with its modern take on burlesque. Now the singer will revisit classic Vegas by joining the cast of "Vegas! The Show," turning his Broadway-trained pipes to Elvis Presley and Frank Sinatra standards.
Strickland steps into the revue at the Saxe Theater in the Miracle Mile Shops at Planet Hollywood on Oct. 5. He replaces Lou Gazzara, an "American Idol" finalist from way back in Season Two.
Strickland's past life included playing "Tarzan" on Broadway. He has heard the same rumors of "Peepshow" returning, but "until I see something on a billboard or in writing," he's not banking on it.
Besides, "I've been singing those songs for four and a half years. … I like to be creatively inspired. As artists, we have to keep finding new and exciting material that's going to spark that creativity." …
"Tony n' Tina's Wedding" at Bally's has a new local producer, and for the time being has scaled down to three from five shows per week. The move is said to be temporary amid otherwise positive developments for the interactive, partially improvised dinner show that was brought to Las Vegas by Raphael Berko and Jeff Gitlin.
Andrew Van Slee is now handling the show on behalf of Joe Corcoran, who holds the larger rights to the work produced around the country. Van Slee wrote and directed the 2001 film "Totally Blonde" — not to be confused with "Legally Blonde" — that is best remembered as an early vehicle for Michael Buble. …
Finally, we know 87-year-old Don Rickles has been filled with bile since he unleashed his venom on the old Sahara in 1959. But something really got into him on the road to Las Vegas last April, when he had to cancel his Orleans shows because of food poisoning.
"He got there and then he just got sick," says his publicist, Paul Shefrin.
But Rickles seems to have played Las Vegas every year since 1959 — no one has tried to verify whether he ever missed a year — and it takes more than a little food poisoning to break his record.
He's back this Saturday and Sunday, and bringing back movie tough guy-turned-crooner Robert Davi as well. Moreover, Shefrin says The Orleans already has Rickles booked for next year, too.
Contact reporter Mike Weatherford at mweatherford@reviewjournal.com or 702-383-0288.