Garth Brooks, Rolling Stones fight ticket scalpers in their own way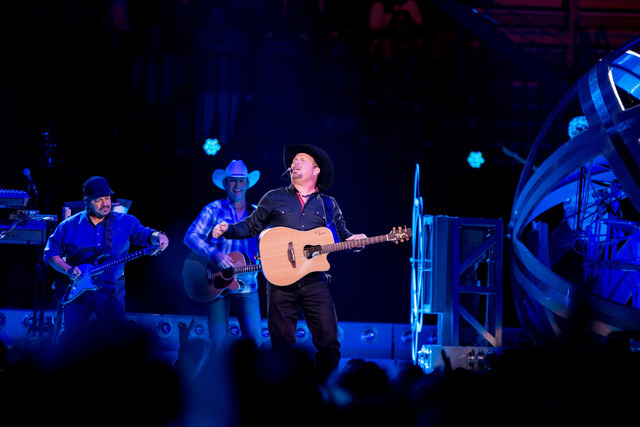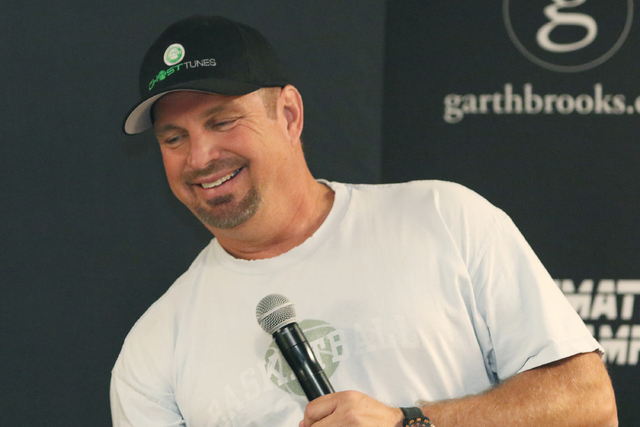 What's the difference between Garth Brooks and the Rolling Stones?
Start your own office punch-line contest, but here's one answer: Five shows and $665.
Both are playing T-Mobile Arena. Brooks has four more concerts Saturday through Monday (two on Saturday), and the Stones are playing Oct. 19.
But Stones tickets top out at $750 — and that's for much of the lower level, not just the first few rows — while Brooks tickets are a uniform $85 for any seat in the house.
What's the thinking there? We all know people don't actually pay for many albums anymore, and stars have to make it up on the road, right?
"Let me explain the theory, OK? If you're the Stones you can ask whatever you (expletive) want," Brooks said with a laugh when he met with reporters last week.
"Those guys have earned it," he added. "And the truth is man, I don't think going to see the Stones is what it used to be. I think what it is now is more, 'I got to see them. I can say I saw them.' Like if Elviscame today, you'd pay 750 bucks to say you saw him."
But for his shows, "it's the luck of the draw, that's it. It isn't like if you got more money, you get to get closer. I've never enjoyed that. For somebody like the Stones I get it, but not for us."
Brooks recalled he and Wynn Las Vegas CEO Steve Wynn had "a big go-round" over ticket prices during the country superstar's Wynn residency in 2010. The star insisted upon a uniform ticket price. "(Wynn) goes, 'You're crazy but OK.' And they were $125, which I thought was stupid."
After a year, Wynn told him, "I'm taking it over because you don't know what you're doing." But the new ticket price of $225 "sold out quicker," Brooks said. "And the quality of the whole crowd was (better)."
I asked Brooks about Broadway's "Hamilton" raising the top ticket to $849, its producers arguing that if people will pay scalpers that much, the money should go to the creators and investors.
"My job is to make sure there's enough tickets available for anyone who wants them," Brooks said of doing six dates in Las Vegas. (And on that level he succeeded. His first show didn't sell out.)
"I mean, I don't like scalping. I think capital punishment's a good answer for scalping. But it is part of this world, and my job is to make sure that if people don't want to go to scalpers, they don't have to."
By the way, Brooks isn't talking you out of dropping the $750 on the Stones.
Of Mick Jagger he says, "I don't know how he does it, but every time he comes you go, 'He won't be that great next time. He can't be, as old as he is.' And every time it's fantastic. That's a stupid amount of money, but I'm going to tell you right now, it's worth it."
MORENO SWAN SONG
Though an official announcement hadn't been made on Tuesday, it does seem fairly certain that Friday and Saturday will be the final performances of Frankie Moreno's "Under the Influence" at Planet Hollywood. My Sunday column will bring a longer explanation of how this came to such a quick (10-week) end. Hint: It wasn't the performer's fault.
SHARKS HELP ANIMALS
If you love both flying sharks and land-bound critters, July 31 brings the "Cast Party With a Cause" to celebrate the arrival of "Sharknado: The 4th Awakens" at the Stratosphere, a filming site for the Syfy epic.
Cast members Ian Ziering, Tara Reid, Gary Busey and Cheryl Tiegs are promised for the pool party, which comes after the amazement that first airs that night (Disclosure: I'm among four R-J columnists who were extras hoping for our big break). The $15 ticket benefits The Animal Foundation. You can buy them at StratosphereHotel.com.
HOLLYWOOD STARS
Las Vegas magic star Criss Angel and frequent headliner Jeff Dunham were announced as 2017 honorees for the Hollywood Walk of Fame, the sidewalk stars that line Hollywood Boulevard.
SUBLIMINAL ADVERTISING
Finally, eagle-eyed R-J cineaste Chris Lawrence spotted this unintentional plug for a resident Las Vegas act, awaiting moviegoers who walk by the poster for the new "The Legend of Tarzan" and sees the tagline "Human. Nature."
Four singing lads from Australia thank you, Lord Greystoke.
Read more from Mike Weatherford at reviewjournal.com. Contact him at mweatherford@reviewjournal.com. Follow him @Mikeweatherford