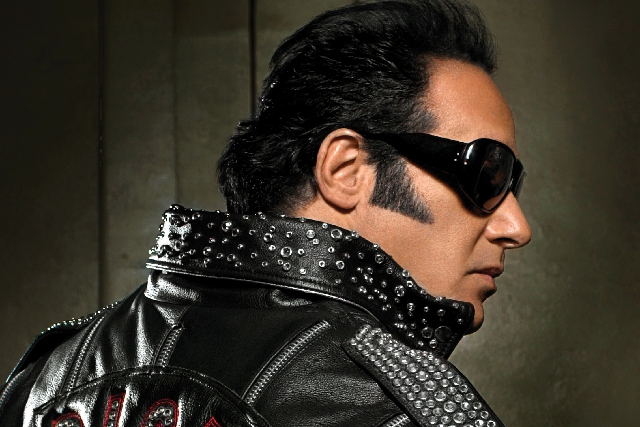 So the devil slides into the booth of an all-night diner on Sunset Boulevard near the Comedy Store circa 1984, and slaps a contract down on a coffee stain in front of an aspiring young comic.
"Here's the deal," the devil tells him. "You're going to be famous beyond your wildest dreams. You're going to play sports arenas and do movies. All you have to do is put on this leather jacket and some shades, fire up a smoke and say some of the gooiest, filthiest things ever said on a stage."
A catch? Well, this is the devil, so there's always a catch. But the devil will at least be straight-up about it.
"This is it. At least in comedy. You can try to branch out in the movies, and maybe some day Woody Allen will even direct you in one. But stand-up? You do this now, you do it for life."
So he takes the deal. Cut to the Vinyl room inside the Hard Rock Hotel last week. There is Andrew Dice Clay, 55 and still doing the Diceman, who made him what he is but never lets him be anything else.
Nothing really shocks us any more, but the Diceman still tries. He pummels us high and low with 40 minutes of comedy with a connecting theme: the many ways to describe seminal fluid.
For the faithful, it's now a nostalgia act. And for a sad few of his fans who don't see the cartoonishness of it, the Diceman may still be the guy who says what they feel but know they can't speak themselves.
And there is that Archie Bunker quality of a little old-fashioned common sense escaping, amid the bigotry and sexism, when all filters are removed. Today's young women need not seek the Diceman's approval for excessive grooming and bedazzling of the pubic area.
And he doesn't want to see what your phone can do, unless what it can do is an actual sexual act.
The faithful are rewarded with the latest variations on the theme, the Diceman's take on gay marriage. He takes a riff that's become familiar in stand-up — why would gays surrender promiscuity, the one thing straights always envied? — and briefly transforms into a gay Dice:
"We can't (get married), so I guess I gotta go now. … I can't marry ya, so take care a yerself. I gotta go (have sex with someone else)."
For those of us who never fully bought into the Dice bit, the best moments come when he borders on breaking character, giving us a wink from behind the aviator shades.
If he had a chance to talk to God — " 'Cause he's probably a fan, right?" — he would ask about the design logic of scrotums.
He asks a woman up front, "What'd you think you were walkin' into tonight, Seinfeld? He does the same thing I do, only he wears a tie." Then he recaps one of the previous routines in a pretty good Seinfeld impression.
He steps outside himself again to note, "They think they're going to see some kind of animal sayin' the wrong thing. But it's all about romance."
He can't do that much, though. He clings to the persona as tightly as Stephen Colbert does to his, down to the detail of calling Tiger Woods "the golf man," and fumbling for the names of his "sticks."
He's not so much trapped in character as in the material. You can tell there's a good comic in there from the timing and the few times he ventures beyond the sexual descriptives.
He seems almost bored of that stuff, too, and no one seems to mind when he puts a quick wrap on it, reprising a few dirty nursery rhymes and calling it a night when just an hour has passed since the opening act walked onstage.
But he's still here, and he still sells tickets. And you don't mess with the devil.
Clay's periodic dates resume next month at the rock club Vinyl, which provides cool atmosphere for comedy shows even if the rows of folding chairs are packed optimistically close together.
And it's a sign that at least some things have changed since Clay broke big in the '80s when opening act Eleanor Kerrigan (an ex of his) can spin off the Dice thing as insult comic and no one gives a second thought to it.
Contact reporter Mike Weatherford at mweatherford@
reviewjournal.com or 702-383-0288.
Review
Andrew Dice Clay
9 p.m. April 19-April 20
Hard Rock Hotel, 4455 Paradise Road
$54-$98 (800-745-3000)
Grade: C+