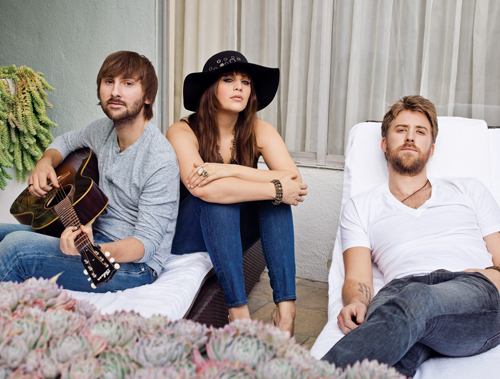 No stress or anything, just because you're interrupting recording sessions for one album to go collect Grammys for the last one.
Well, maybe a little.
"We'd be lying if we said we didn't put a little bit of pressure on ourselves," says Dave Haywood, one-third of the country pop group Lady Antebellum.
The trio was "completely dumbfounded and blown away by that night at the Grammys," he says, when their monster single, "Need You Now," won Record of the Year and Song of the Year in February.
But then it was back on the plane to resume work on the follow-up, "Own the Night." That album was released in September and now has a million sales and hit singles of its own for the trio to sing today at the Hard Rock Hotel (where they opened a Kenny Chesney concert in April 2009, a few months before "Need You Now" went through the roof).
"We took it as a great energy though," Haywood says of singing partners Charles Kelley and Hillary Scott on Grammy night. "I think for us, we were actually sitting there that night going, 'Let's not let this change the way we make our music.' It's not like we're going to head back to the studio and start putting a bunch of beats on everything so we can get it to Top 40 radio.
"I think we took it as a total positive reinforcement that what we were doing, as organic as we felt like it was, was working."
Even without a drum machine, Lady Antebellum has trampled any barriers Taylor Swift might have left standing between country and radio's softer pop formats. "Just a Kiss" and "We Owned the Night" prove there is still plenty to explore on the suburban outskirts of traditional honky-tonk and cowboy-hat country.
The trio is also willing to let "Need You Now" occupy its own place in history. "We're not going to chase down all the pop stuff," Haywood says. "Need" was "a once-in-a-lifetime opportunity to have a song like that. We're not gonna lose sleep at night trying to replicate that exact moment."
It would be difficult anyway. Like many a classic song with an "almost got away" story behind it, "Need You Now" almost slipped off the trio's radar. "That was a total dark horse. It hardly even made the last album. That song surprised us," Haywood shares about the hit, in which all three group members share songwriting credit with a fourth writer, Josh Kear.
"It disappeared for about six months and none of us ever talked about it or thought anything about it," Haywood recalls. When Kelley resurrected it, there was a lot of second-guessing: "We're all like, 'I don't know, I like it, I just don't think it's very radio. … We like it, I don't know if anybody else will.' "
But soon they realized, "This could be something special. We'll just put it out and see what happens."
Now, Haywood says the three try to "keep that mindset going forward. You just never know. You never know what people are going to respond to or you never know what's going to work. … We don't want to feel like we know it all and can just predict everything that's going to happen. We'll just put out the stuff we feel passionate about and see what life it takes."
The group's continued momentum makes it clear fans are responding to more than one song. For one thing, there's the odd dynamic. The men don't fall into the shadows behind Scott (whose mother had a '90s solo career as Linda Davis). Kelley (brother of Hard Rock opening act Josh Kelley) is video-genic, too, and Haywood's guitars and harmonies get equal billing with the twin lead singers.
"We just kind of fell into that, two lead vocalists, and I would play all the musical stuff. It just worked out that way," Haywood says, after he and longtime friend Kelley first met Scott and started writing together.
Then there's the likability factor. They all seem so darned nice.
"There's something that people gravitate towards," Haywood agrees. "We're not ashamed at all that a lot of families get to come to our shows." The fan base ranges from 10-year-olds to "superfans that are in their 60s."
Success has not strained the three-way partnership, he says. "We don't do something unless the three of us agree on it unanimously." However, he adds that these are not usually long debates.
"We've gotten to this point by not overthinking anything. That's one of the things we do best."
Contact reporter Mike Weatherford at mweatherford@ reviewjournal.com or 702-383-0288.
Preview
Lady Antebellum, Josh Kelley, Randy Montana
8 p.m. today
Hard Rock Hotel, 4455 Paradise Road
$45-$49 (693-5583)