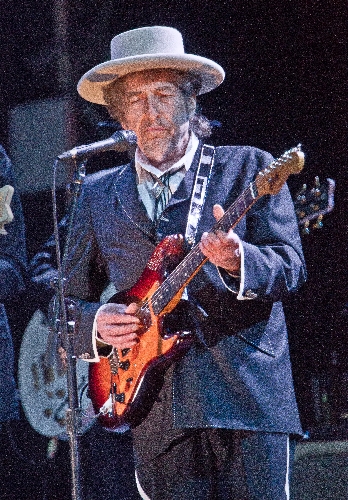 "Shine your light, move it on, you burn so bright, roll on John," Bob Dylan sings of John Lennon on his new album, one legend to another.
As Dylan's never-ending tour rolls back into Las Vegas on Saturday – with Mandalay Bay the first arena-sized stop in years – the legend is not alone.
Opening the show is Mark Knopfler, who continues to push his atmospheric guitar beyond Dire Straits with his sprawling, rootsy new album "Privateering."
Promoters breathe easier when Dylan is co-billed with another star, as do casual fans who warm slowly to Dylan's quirks of performing: not speaking to the audience (and sometimes not even facing them), rearranging his classics into a musical guessing game, and touring with a new album but not performing it (as it's been with "Tempest" on some recent shows).
"They love the music and songs I play, not me," the 71-year-old noted in a rare, recent interview with Rolling Stone.
Dylan has at least picked up his guitar and played grand piano on this tour, instead of remaining rooted to a hurdy-gurdy sounding keyboard as on some past Las Vegas shows.
But Knopfler's warm voice and guitar will be furniture polish to Dylan's sandpaper, and hope springs eternal that you just might see them onstage together, in the spirit of great Dylan road shows with Tom Petty and the Grateful Dead.
The two have been studio collaborators for years; Knopfler co-produced Dylan's 1983 album "Infidels."
On their European tour last year, Knopfler began spending more time onstage with Dylan's band, until the two finally sang "Forever Young" together on the final date in London.
That echoes one of two magic moments when Dylan shared the stage in Las Vegas, where the question of "Will they sing together?" stands tied at two and two.
Score!
■ It was goose bumps time in June 1999 when Dylan walked out to join Paul Simon's band near the end of the first set at the MGM Grand Garden.
Their twin version of "The Sounds of Silence" was the one to take home and cherish, but they kept going with a cover of Johnny Cash's "I Walk the Line" and a fun world-beat take on Dylan's "Knockin' on Heaven's Door."
■ "Happy birthday baby you're a star, Bob Dylan has gone too far," Bono merrily improvised when he joined Dylan on "Knockin' on Heaven's Door" at the christening of the House of Blues at Mandalay Bay in March 1999.
"U2's a force to be reckoned with. Bono's energy has far-reaching effects, and in some ways, he's his own tempest," Dylan told Rolling Stone.
Close but no cigar:
■ Dylan and fellow grizzled road warrior Merle Haggard shared the same stage at the Aladdin theater in March 2006, but not at the same time.
Dylan's set included the country-twanged "I'll Be Your Baby Tonight" and "Cat's in the Well." Haggard reminded people of the profound simplicity in songs such as "I Hate to See It Go," but they were together only as kindred spirits.
■ John Mellencamp has often sung about the working man's blues, and Dylan knows what it's like to fight authority. But they stuck to separate sets at the Colosseum at Caesars Palace in August 2010. And the general consensus of this and other dates were that while the two share lyrical sensibilities, their performing styles were miles apart.
What might have been:
■ Dylan, Mellencamp and Willie Nelson outdoors at Cashman Field in 2009? How cool would that have been? Too bad we never had a chance to find out. The concert was canceled before it ever came to pass.
Contact reporter Mike Weatherford at mweatherford@
reviewjournal.com or 702-383-0288.
Preview
Bob Dylan & His Band, Mark Knopfler
7:30 p.m. Saturday
Mandalay Bay Events Center, 3950 Las Vegas Blvd. South
$59.50-$129.50 (632-7580)