Hypnotist Marshall Sylver
September 14, 2007 - 9:00 pm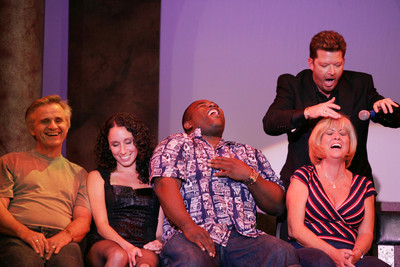 It's easy to get jealous of the volunteers in a hypnosis show. Not because they get to hop around like the cartoon Road Runner and go "beep beep," but because they get to sleep through the boring parts.
"Marshall Sylver Presents The World's Funniest Hypnotists" is better than its convoluted title, but it could improve its ratio of comic payoff to total running time.
If you have never seen stage hypnotism before, the induction process can be fascinating to first-timers. Otherwise, you know it's just a necessary ritual before you get to the good stuff: usually a crash course on hypnosis, followed by the mood lighting and celestial music while the mesmerist entrances his volunteers and thins the herd — close to 30 at this show, gleaned to a baker's dozen.
This 10 p.m. Harrah's show started with a video of Sylver hypnotizing David Letterman's staff. By 10:23 p.m., guest hypnotist Thom Kaz (more on that later) had the volunteers beginning to "breathe out all worldly anxieties." By 10:38 p.m. the final 13 remained.
That's nearly half the running time of many a Vegas show, but no matter. It's finally time for the good stuff.
Only, the good stuff is up to chance. It depends upon who volunteers and what the hypnotist can get out of his charges. On this night, maybe three things stood out as memorable in 100 minutes.
One was this seriously big guy, wide enough to be a college football linebacker. Kaz had coached him to get mad enough to "kick my butt." Though it seemed to be against the guy's laid-back nature, he finally charged the stage. When Kaz yelled "Sleep!" the guy fell dead in his tracks and did a rag doll back-flop with a thump you could hear in the back of the room.
Then there was the grand finale, when Kaz goes off-mic to coach a slim young woman into straightening her body so rigidly that he could stretch her across two sawhorses and stand on her stomach.
But the real highlight wasn't even a routine. A Minnesota woman previously told the crowd she was here on her honeymoon. Kaz was milking a fairly standard gag where a trigger word provokes her to scream. She's supposed to be confused, unable to explain the screams. But when Kaz asked her if there was anything else she wanted to say, she announced to the whole world, "I don't want to marry Jed." Then she said something about one of their mothers.
Kaz tried to patch up this awkward moment by instructing the woman to become super horny for Jed. But he forgot to tell her to wait until they got back to the room.
After the show, Kaz had to stop the couple at the top of the escalator and replant the post-hypnotic suggestion before they created a scene. This extra little free show drew spontaneous applause from those gathered around.
The rest of the time? Unless you just crack up watching two guys dance, it would be better to hypnotize the whole crowd and then wake us up if something really takes off. Remember, Kaz tells us one hour's hypnotism is equal to 10 hours of sleep.
A quintet of dancers perform a couple of routines, including a "voodoo" number integrated into a subject's "fire-breathing." Score it as a "nice try" to spruce up a genre often practiced in folding chairs under a state fair tent. But the hypnosis is the draw here, so the dance time would be better spent on more novel comic routines.
Sylver apparently made a killing with infomercials and self-help programs since he performed on the Strip in the 1990s. You wonder why he's even bothering with this half-committed endeavor. The title stems from an unusual arrangement in which Sylver produces the show and performs in it at least one week per month, with Kaz or magician Collin Foster performing the same act the rest of the time.
Kaz is a convincingly nice guy, easily gaining the trust of his volunteers and explaining the process in layman's terms. But there's a catch here: When the hypnotism is more believable, the comedy tends to suffer. (It works in reverse, too. If the subjects come off like improv comics, you get suspicious).
This show doesn't make raunch its selling point, and I'll let you decide for yourself whether that's a plus or a minus. I will say that for entertainers who maintain it's harder to work clean, this strengthens their argument.
Still, most people in the crowd will end up knowing one of the "stars," and that personal connection allows them to leave happy.
Even Jed was lining up to buy a DVD after the show. That's saying something.
MIKE WEATHERFORDMORE COLUMNS
View slideshow REVIEW what: "Marshall Sylver Presents The World's Funniest Hypnotists" when: 10 p.m. daily where: Harrah's Las Vegas, 3475 Las Vegas Blvd. South tickets: $43.95-$109.95 (369-5111) grade: C+