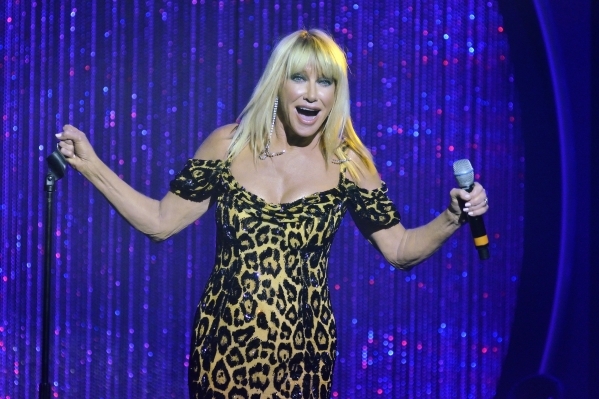 Some entertainers may be delusional about their audiences. Not Rich Little.
"I don't know how I'm going to do down there. I'm going to have to draw from an older crowd," the 76-year-old impressionist said of his current run in the Tropicana's Laugh Factory, through Aug. 23. "The thing is, I have to play to my own demographic. Anybody under 40 wouldn't really know what the hell I'm doing."
But who knows? Maybe Little (and producer Jay Harvey) are on to something. Whether they like to admit it or not, a lot of casinos seem to be exploring whether the Strip and surrounding tourist corridor was too quick to give up on the older crowd.
Except for the occasional "cool pass" issued to a Tony Bennett or Willie Nelson, most of Little's era of headliners were exiled to locals casinos in the suburbs.
But recently, Westgate Las Vegas brought back 68-year-old Suzanne Somers with great fanfare (She capitalized on the momentum of all those billboards by taking the rest of the summer off, to return Sept. 15).
The Golden Nugget has a Friday night concert series that mixes 82-year-old Mel Tillis and 70-year-old Brenda Lee in with younger draws such as comedian Charlie Murphy.
"Frank — The Man. The Music," "The Rat Pack Is Back," Vegas the Show" and "ShowStoppers" resurrect an earlier era of Las Vegas, or Broadway.
Can't hurt to experiment. It's not like young people are filling up the showrooms. The youngest-skewing act on the Strip, the break-dancing Jabbawockeez, are getting downsized from an 830-seat theater at Luxor to an MGM Grand venue that seats 250.
The Jabbawockeez were a noble experiment when they settled on the Strip in 2010. But few shows since have tried to skew so young. The attitude of casino landlords seems to be, "We already get the young crowd. They drop wheelbarrows of cash in our clubs. Who cares if they see shows?"
The lines in front of the nightclubs make you wonder if the Las Vegas Convention and Visitors Authority got a fair sampling in its annual visitors profile. A recent survey found only 8 percent of respondents saying they had been to a nightclub that charges a cover or admission and only 2 percent saying they had been to a dayclub.
The same survey found 17 percent of respondents saw a headliner, while 34 percent saw a "production or Broadway-type show."
If you can trust the numbers, maybe the casinos should start singing "I Want You Back" to retirees who remember Michael Jackson as a cute little kid.
The annual profile said 23 percent of the visitors were older than 60, 14 percent were in their 50s and 17 percent in their 20s. Another 47 percent fell within the expected majority range of your "average" Las Vegas visitor, 30 to 49.
Over the years, casinos have been fairly good at adjusting for their optimum target customer. Baby-boomer icons such as Elton John and Jimmy Buffett replaced Debbie Reynolds and Vic Damone. Now Britney Spears fans can invest in a nostalgic trip back to the year 2000. When it comes to concert-sized venues, they have it down to a science.
But don't be surprised if you see more attempts to lure back the over-55 crowd to the smaller showrooms. Do be surprised if anyone admits it.
Last winter, Steve Wynn sounded like he was setting up a rhetorical answer after I asked him if "ShowStoppers" was a deliberate play for a neglected older audience.
"Why would any XS customer give a damn about 'Hello Dolly' or 'Mame'?" he said. "I think it's a question of opportunity. There are nightclubs everywhere, but there aren't Broadway companies everywhere."
But then, as he talked about the magic of seeing a Broadway musical and the power of the enduring Broadway classics? Not so rhetorical.
"Isn't there something about those moments in those shows?" he asked. "My thesis is there's something in these numbers that resonates with human emotion. … I don't see any reason why the kids at XS wouldn't give a damn about something as big and as beautiful as what we've put on the stage."
Well, what did you expect him to say? That young people need not bother? After the years of "What happens here" marketing to make Vegas hip, no one is going to start a campaign that says, "Don't forget your AARP card."
Read more from Mike Weatherford at bestoflasvegas.com. Contact him at mweatherford@reviewjournal.com.