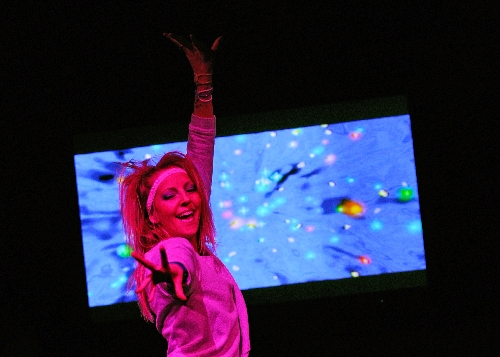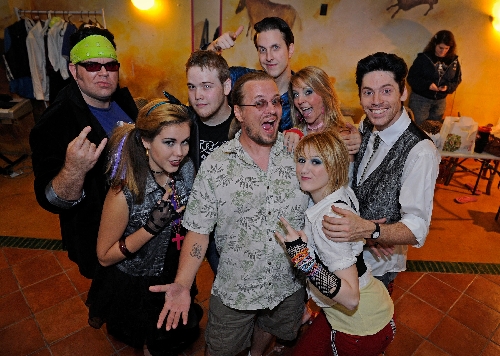 Sirc Michaels isn't sure what to call this thing he's doing, but so far it seems to be working.
"I don't want to do something everyone else is doing, because then you have to compete," he explains.
Not that Michaels would have the money to be opening his own water spectacular on the Strip anyway. But puppet moose heads possessed by evil spirits? That's another story.
The producer-director nudged his way onto the Strip last summer with "Evil Dead: The Musical." Technically it's a stage musical, and not even that unique; it's licensed to small theater companies around the country.
But when you consider where it is – following "V – The Ultimate Variety Show" in the namesake V Theater – context is suddenly everything. Context, and the fact that no other show on the Strip sprays its audience with stage blood.
Now, the 37-year-old director and his young company of performers are branching out into something even more unique: an original title called "Legwarmers – An 80s Musical."
Michaels hesitates to call it a "jukebox" musical because the characters don't actually sing to one another, but straight to the audience, concert-style. Michaels says ticket vendors will pitch it as simply "an audience-participation '80s musical."
Still, familiar hits such as The Cars' "You Might Think" and Robert Palmer's "Addicted to Love" arrive in the course of a John Hughes-like script about three high school friends and the eternal pursuit of the popular girl (in this case, one who knows how to "Flashdance").
And it was scripted by Michaels because he wanted it to be more traditional theater than "Awesome 80s Prom," the short-lived (and licensed) interactive title that inspired it, but didn't stick.
Michaels wrote and rehearsed "Legwarmers" with the six-week speed of a Roger Corman B-movie. That was the easy part, he says, because he considers himself a writer first.
His 2002 political satire "Patrios" was first produced by the alternative theater he started in Amarillo, Texas, and later competed in the Kennedy Center American College Theatre Festival.
Michaels' Avenue 10 troupe weathered a religious fundamentalist protest of another title, Martin Sherman's "Bent," in Amarillo. But he quickly identified a market niche for less challenging fare when he followed his wife's job opportunity to Las Vegas two years ago.
He worked quickly to stage "Dr. Horrible's Sing-Along Blog" and then the first version of "Dead" at the Onyx Theatre last year, matching the campy title with an untapped market segment: Theater for people who know more about movies than plays. People too restless to sit and watch something without being part of it.
And that more or less describes the general makeup of the cast performing "Legwarmers" and "Dead." They have become quite loyal to their boss, a good-humored fellow prone to Hawaiian shirts and casual profanity.
"I get a kick out of working with people who don't have a mile-long resume in traditional theater. They tend to be more passionate," Michaels says. "Somehow we've managed to create a small rep company on the Strip."
His cast members may do a little of everything from costume maintenance to folding programs.
"I don't ask them to do anything I wouldn't. And I do a lot," he says. "I believe in having a good time, being loud, being rowdy, acting like animals. But when it comes to the work, everyone's gotta buckle down and be ready to sell it. And be ready to work their asses off."
But they get paid. And their percentage is tied to the fortunes of the show.
"We all sink or swim together," he says. "And I'm not sinking."
Michaels claims "Dead" has "never not hit its (break-even) numbers," selling no fewer than 120 tickets and sometimes more than 300, more than enough to sustain his low-numbers game.
(During Halloween week, it will be performed 11 times in nine days, instead of the usual twice per week.)
It remains to be seen whether "Legwarmers" will follow suit. It's now developing on its feet in front of ticketed "preview" audiences, and won't be declared a finished product until after the Halloween rush for "Dead."
The first performance teetered on the edge of karaoke night, with a small, stoic audience that either did not witness the dawn of MTV and see "Pretty in Pink" in a movie theater, or wasn't having its buttons pushed merely by the nostalgia factor.
But Michaels is confident that once the show is fine-tuned – "We're gonna be beatin' the hell out of it till it's perfect," he says – the audience can be, too.
"We aggressively go after specific audience members for ('Dead') and that's what we're going to do with 'Legwarmers,' " Michaels says of laser-guided marketing on the Internet. "You actually go to those fan bases and talk to them.
"I think it will find its audience without straining," he says. "These smaller groups, you do enough of them and they communicate with each other and suddenly they create a buzz."
"A lot of people coming into town are that age group, so it's not a stretch to compete for their entertainment dollar," he adds. "And we don't have to fill a 1,000-seat room."
He points out that even the first night, "We had more people than 'Surf,' " last summer's $10 million-plus flop that was said to sell fewer than 50 tickets per show.
Michaels says he has resisted suggestions to pump up the rubber masks and scruffy production values of "Evil Dead" with Vegas-quality illusions and makeup.
"I don't know (much) about dancing girls or magic," he says. "But I do know how to entertain."
Contact reporter Mike Weatherford at
mweatherford@reviewjournal.com or 702-383-0288.
Preview
"Legwarmers – An 80s Musical"
9 p.m. daily
V Theater at Planet Hollywood Resort, 3667 Las Vegas Blvd. South
$62.68-$85.31 (260-7200)