J-Lo's 'All I Have' thankfully aware the title means more than singing
January 23, 2016 - 3:37 pm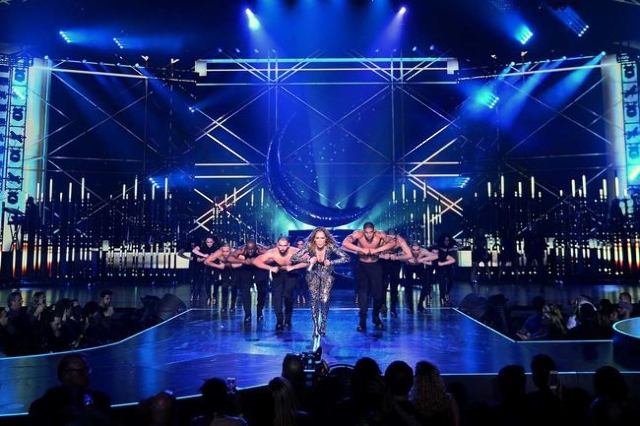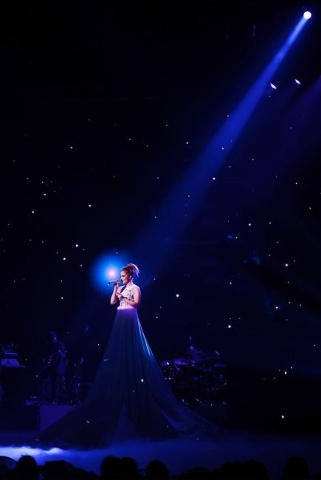 So you like J-Lo, but you're not so hot on her music?
Hey, it's not that big a contradiction. Jennifer Lopez is a lot of things to a lot of people, and "All I Have" seems fully aware of that.
If you only know "Waiting for the Night" and, uh, hmm, "Jenny from the Block" and, what was it, that newer one with Pitbull? Oh yeah, "On the Floor"?
It shouldn't automatically disqualify you from the gorgeous diva showcase at Planet Hollywood, which debuted last week and continues through Feb 9.
Understood, if you think "All I Have" must be more a "concert" because it involves singing. And that the long-awaited Lopez residency would, by necessity, force the musical part of her career out of its delicate and careful balance.
But the showcase is far easier on the eyes than the ears. It's more like a production show with a centerpiece.
Lopez shares the stage with 16 dancers and 335,000 Swarovski crystals (according to a press release from the company) under the helm of the Las Vegas-launched choreographers Napoleon and Tabitha D'umo. But Lopez hangs right in there with them, visually reminding us she started out as a dancer long before she tells us, about halfway through the show, that dancing is when she feels "the most warm, the most free, the most alive."
Still, you say, you really like her better as a movie star. Yes, we know, "Out of Sight" and "Selena," not "The Boy Next Door." Or even TV? The down-to-earth Lopez seen on the new cop show "Shades of Blue," or the one cutting up with the other "American Idol" judges? The way she can be so Bronx and so Swarovski at the same time?
It's all in the show too. Lopez romps and stomps the passarella circling both the VIP and standing-room seats, commanding "I need to know if New York is here!," but laughing when one of the alternative answers is "Alabama!"
And that confession about her dance passion? It comes from quite a lofty perch. If you need a metaphor for the way Lopez balances the diva with the working mom, it's when she's up high in the air, her gown unfolding into a train which becomes a huge triangle serving as a projection screen (The D'Umos were choreographers on "Viva Elvis," which featured a similar effect).
That most regal moment is the one where she talks about her children and covers Lee Ann Womack's "I Hope You Dance."
But truly, the singing is the least of it. Nothing reminds us of how average her voice is more than that ballad with the evening's least blended, processed vocal. And even "I Hope You Dance" is not trusted to sustain. A couple emerges to distract us with an adagio midway through the tune.
The show is broken into seven segments, representing everything from her love of old Hollywood to her Bronx subway rides. It's so stuffed with Versace costumes, shirtless men, fireworks and dimensionally-mapped video projections that at 110 minutes, the less devout will think they tried too hard. By the time opening night got to its third celebrity pop-up, Pitbull for the "On the Floor" closer, the audience had already peaked from seeing Ja Rule and Ne-Yo.
You're bound to disagree if you think the Lopez catalog is deep enough, if you know every word to "Get Right" or "Ain't It Funny" (the Ja Rule duet); songs the rest of us had forgotten or never paid much attention to in the first place.
But again, the creators seemed to sense that, unlike Mariah Carey and her string of "No. 1″s across the street, J-Lo needed to reach beyond her Top 40 career if she wants a long career on the Strip. Hence, the "Bye Bye Birdie" standard "A Lot of Livin' to Do," or the Havana nightclub segment with two sung-in-Spanish oldies, "Quimbara" and "Quien Sera" (which Dean Martin did as "Sway").
But if backing singers, killer dancers and "Hold It Don't Drop It" staged as a James Brown tribute — briefly letting the five-piece band have a moment in the spotlight — still didn't keep the lead vocals from sounding a little shrill?
There's one other kind of J-Lo fan left. The "I don't care about the rest, I just think she's hot" kind.
Well gents, the show is called "All I Have." And it includes a burlesque segment where she doesn't sing at all, as "Into You" gives way to a stockings-and-corset strip-tease number on a chaise lounge.
The lady does aim to please. And cover all her fan bases. And so it looks like she will be welcome to do so in Las Vegas as long as she wants.
Read more from Mike Weatherford at reviewjournal.com. Contact him at mweatherford@reviewjournal.com. Follow him @Mikeweatherford
Who: Jennifer Lopez 'All I Have'
When: 9 p.m. Jan. 23, 27, 29-30, Feb. 3, 5-6, 9 (returns in May)
Where: Planet Hollywood, 3667 Las Vegas Blvd. So.
Tickets: $59-$219 (855-234-7469)
Grade: B