Jokes and romance balance carny gross-outs of 'Comedy Daredevil'
November 26, 2016 - 10:03 am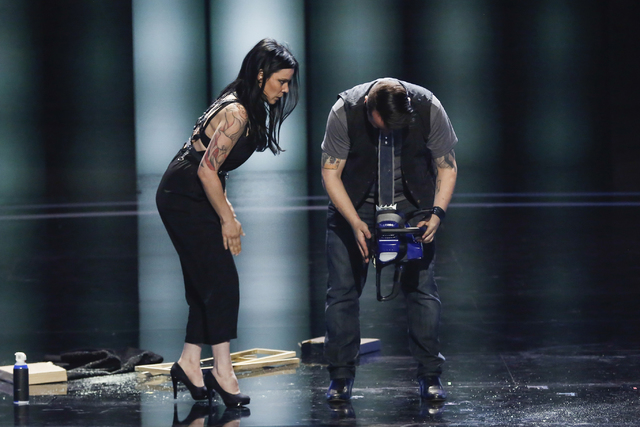 "I think the two of you are really sweet," Heidi Klum told the cute couple, the male half of whom had just weaved a meat hook through his nose and hung himself from it.
Klum was still the only "America's Got Talent" judge to vote against Ryan Stock and AmberLynn Walker. But she nailed the contrast between the sideshow antics of the "Comedy Daredevil" and the couple's likability, which balances their gross-out fun.
The Las Vegas-based duo squeezed more exposure out of the NBC talent show than they could have asked for last summer, after an archery stunt went south and a stray arrow (rubber-tipped, fortunately) caught Stock in the neck.
"Fail your way to the top," Stock now tells audiences in the Night Owl Showroom at Hooters Casino. If not the top, it's at least an entry point, or a place to wring the last drops of fame from 5.6 million YouTube viewings.
The bare-bones Hooters show reveals the Canadian carny to be a seasoned street performer with a solid running commentary of jokes, in the vein of the Amazing Johnathan or Piff the Magic Dragon. The difference here is all the sword-swallowing and power drilling are presented as real and not magic tricks.
"I can do this without hurting myself. That's the point," says the dude who balances a chain saw on his chin — with the blade in his mouth.
But as a "show" rather than a "sideshow"? Just barely.
No slick production or retro-'50s "I Love Lucy" set, like the "AGT" arrow mishap. The Hooters stage is sparse and dimly lit, though Stock finds a joke even in the no-budget conditions.
After upending the usual cliche to tell us, "Do try this at home. Why not?" he waves to the duffel bags full of masonry drills and bowling balls and says, "If you sue me, look at all the (stuff) you get. Remember, I didn't win the ("Talent") show."
The act borders on repetitive, even with a strong 15-minute assist from young magician opener Nick Diffatte ("I'm pale and alone," he says by way of introduction). Enough stuff goes up Stock's nose that he is finally compelled to tell us, "For the rest of the show I won't be putting objects into my sinuses. The bad news is I've got more orifices."
Simon Cowell also managed to pull more of the couple's life story to the surface in a just few TV minutes than you get in the whole live show. Stock and Walker haven't had time to figure out how to work in more of the chemistry that TV viewers will expect. She basically nods or shakes her head in reaction to his running banter until the big finale, where she gets to sledgehammer a construction block resting on his crotch.
But together, they make sure no one feels guilty about what they're watching. Some people go see Celine Dion, and some people go see Walker hang cowbells onto strings threaded through her dude's eyelids. How do you know where you belong?
Stock begins making cowbell references to Christopher Walken's Blue Oyster Cult sketch from "Saturday Night Live." First it's subtle, then more direct, but never fully explained. If you start reciting the bit with him, you know.
Read more from Mike Weatherford at reviewjournal.com. Contact him at mweatherford@reviewjournal.com and follow @Mikeweatherford on Twitter.
Review
Who: "Comedy Daredevil" Ryan Stock & AmberLynn
When: 9 p.m. Thursday-Monday
Where: Night Owl Showroom at Hooters Casino, 115 E. Tropicana Ave.
Tickets: $38.28-$54.63 (702-597-6024)
Grade: B-