Juan Gabriel's Las Vegas legacy charts the growth of Mexican holiday
September 10, 2016 - 3:06 pm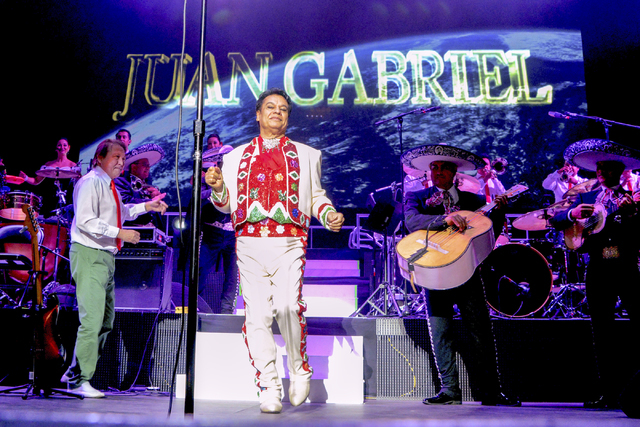 Juan Gabriel doesn't really need to claim a piece of Las Vegas history, given the legacy "El Divo Juarez" leaves in Latin America.
All the same, he really started something here.
The Mexican superstar's death, just three weeks before a planned Friday concert at Mandalay Bay, reminds us just how big a deal Mexican Independence Day has become on the Strip since Gabriel's 1990 concert took the Strip's celebration of "El Grito de Dolores" to a new level.
Gabriel then had the biggest-selling album in Mexico (8 million copies of "Recuerdos, Vol. II") and had sung to stadiums of 70,000 people by the time he was booked to play a 6,500-seat outdoor venue that had been set up for boxing behind The Mirage.
If it was a bit of a comedown, it didn't bother him. "I see this as a big challenge for me," Gabriel told the Review-Journal through a telephone translator in 1990. "One of the most divine things is to have to start all over again."
For Las Vegas, it was a start, period. Mexican Independence Day had been more of a locals celebration in Freedom Park, with token casino support on the Strip.
But the relatively new Mirage, setting the benchmark for the Strip's transformation on a number of fronts, went all-in.
"I had never heard of Juan Gabriel, but the pressure for VIP tickets was pretty intense," recalls Alan Feldman, who then headed public relations for The Mirage and is now an executive vice president for MGM Resorts International.
A growing U.S. Latino population and improving economic conditions in Latin countries "made the casinos pay more attention to Latins" and vice versa, The Mirage's head of Latin marketing, Jose Betancourt, said at the time.
"I doubt (Betancourt) had ever been in charge of anything quite that large before," Feldman recalls now, "but he managed through the days leading up to the concert with great style."
The night of the show, Feldman stopped by to take it all in: Gabriel in head-to-toe sequins, singing his mini-dramas with the entire audience chiming in.
"It was one of many moments that Las Vegas taught me a lesson. You may or may not know the name on the marquee, but that artist's popularity is likely very intense someplace," Feldman notes.
The landscape had transformed by the time Gabriel sang at the Colosseum at Caesars Palace in 2006. Though Gabriel will be missed Friday, this year's holiday includes three arena concerts and five more in large concert venues. The stars are a mix of returning favorites and new names: Alejandro Fernandez, Mana, Gloria Trevi, Julion Alvarez, Enrique Iglesias, Marc Anthony and a double bill of Emmanuel and Mijares.
Last year's actual El Grito of Sept. 16 fell on a Wednesday, splitting festivities over two weekends. The one before was only the 35th-busiest weekend of the year in terms of occupancy (93 percent), but the one after was the ninth busiest at 97.7 percent, according to the Las Vegas Convention &Visitors Authority.
Gabriel died suddenly Aug. 28 at home in California at age 66, just before he was scheduled to perform a sold-out concert. But playing Mandalay Bay's arena the past two years, he at least had the chance to see what he started. …
Could Broadway's loss be Las Vegas' gain for "Jersey Boys"? Possible, but not probable.
As the Las Vegas production of the Frankie Valli bio counts down to a Sept. 18 closing, its producers announced last week that the Broadway edition is closing as well, on Jan. 15.
The closing news came with the twist that the Frankie Valli part will be "stunt cast" for the first time ever, with Mark Ballas of "Dancing With the Stars" fame stepping in for the homestretch starting Oct. 18.
Could that name-star strategy signal a way to save the Paris Las Vegas edition? Would being the only stationary edition change anyone's mind? It sure seems to help "Rock of Ages" that the Rio is the only place in the United States to see it.
Alas, it sounds like no.
Things can change, but the general feeling among those who get paid to have such feelings is that "Jersey Boys" has hit the saturation point, after running for 11 years and more than 4,600 performances, Broadway's 12th longest.
It's the touring that really makes the difference."Boys" will stay on the road, with 2017 road dates bringing it back to California feeder markets: San Diego in May, and a long Los Angeles run at the Ahmanson Theatre May 16 to June 24.
Read more from Mike Weatherford at reviewjournal.com. Contact him at mweatherford@reviewjournal.com and follow @Mikeweatherford on Twitter.