September 5, 2008 - 9:00 pm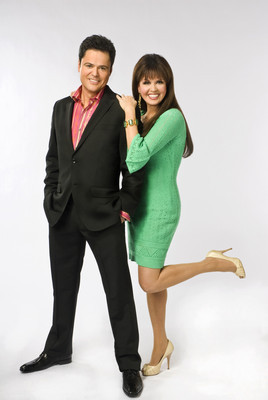 You can separate them, but they still get in their shots.
Interviewed on his own, Donny Osmond claims it's only funny when sister Marie is the one firing off the zingers. "It doesn't work with guys putting girls down."
But later, he lets one slip anyway: "She faints every night," he says of the new show that opens Tuesday at the Flamingo Las Vegas. "I have to revive her after every show."
Marie Osmond later says the new show pays homage to "Dancing with the Stars" — the dancing part, not the fainting — because "I have to keep Donny in shape some way." She also says her brother's "new career choice is to be an Elvis impersonator. That's why we actually came to Vegas. This is the only place they give classes, and he already had the jumpsuit."
Cue a drummer's rimshot, Marie's ribald laugh and the return of the team that hasn't needed a last name since 1973. "Donny alone is an entity and Marie alone is an entity. But Donny and Marie is a brand," Donny says.
And it took the brand's combined clout to get the Flamingo and the show's producers — impressionist Danny Gans and his manager, Chip Lightman — to make a major commitment: 265 or more shows in the next 12 months, with an option for a second year.
"Vegas is starting to look like a real focal point for the both of us," says the 50-year-old Donny. "This isn't something that just popped up in our minds. We've been talking about this for the last decade, trying to figure out the timing of all this and when it's going to happen.
"Both Marie and I knew it was inevitable, and to do it in Vegas is the right place."
Donny had his eye on the Strip since at least 2001, when he came close to joining the MGM Grand's bygone "EFX" revue (the job eventually went to Rick Springfield). Solo dates at The Orleans reintroduced him to Las Vegas while he waited for "the right offer with the right room."
The casinos might have been holding out for Marie. Still, they could not have predicted the 48-year-old singer would make such a huge re-entry into pop culture by competing on "Dancing" in the fall of 2007. Despite her father's death and the famous faint ("Wow, did I hit my head," she says), Marie danced her way to a third-place finish and new fans.
Donny will fly home to Provo, Utah, on days off, but Marie and seven of her eight children have moved here. Producers of "Marie," a planned daytime talk show, are discussing Las Vegas as home base for the show as well.
"I'm going to be really, really busy here but it's nice to be in one spot," she says. "It really helps the kids to focus in on their school and the consistency of being somewhere."
The money doesn't hurt either. "Unlike NutriSystem, my divorce didn't cost me $10 a day," she says with that wicked laugh, referring to both her diet commercials and last year's split from Brian Blosil.
Advance sales for the new show squelch some grumbling that Donny and Marie's ever-smiling faces on the hotel's colossal building wrap are out of phase with the "whatever happens" Vegas of nightclubs and topless bars.
Donny's response to that — "Poppycock" — doesn't bury the duo's squeaky-clean Mormon image. But skeptics also may forget the Osmonds somehow made that image work in the '70s, when casino-goers were even more about smokin' and drinkin'.
"We've seen many different incarnations of Vegas," Donny says. "I watched the Landmark go up — and down." When the Osmonds opened for Shirley Bassey at the Sahara in the mid-1960s, "I remember walking around backstage with all these half-naked women."
And Marie's crack about the Elvis jumpsuit didn't come out of the blue. The Osmonds commissioned stage garb from Presley's costume designer, and Donny remembers meeting the King backstage. "I really didn't think much of it at the time, but what a thing for a 13- or 14-year-old."
Marie was onstage with her brother at the Tropicana by 1974, the year of their duet hit "I'm Leaving It (All) Up To You," but two years before their ABC variety show.
Their Vegas history explains their enthusiasm about the Flamingo's old-school showroom — one of the few still standing from the old days — and their confidence about making the 750-seater work for them now.
"I know we can pull off this show. Because we were trained that way. We were trained on those stages when we were kids," Marie notes.
"When we say 'variety,' we don't mean Cirque du Soleil. We mean getting out there and giving the audience the spectrum, from soup to nuts, so to speak," Donny says.
Editing a video montage of their careers into the length of just one song (Alan Jackson's "Remember When") was a huge challenge, he adds. So was deciding, "What part of each career do you put in there?"
Marie's "Dancing" partner, Johnathan Roberts, flew in to stage the ballroom sequence. She also wants to show off her six years of opera lessons. Both singers say they hope to balance nostalgia with their present-tense momentum, a few lean years for both now just another memory.
"I went through a period where I was really trying hard to grow up the image or whatever in my 20s," Donny says of the dry spell before his 1989 pop hit, "Soldier of Love." "I look back at it now and say, 'C'mon, I could have lightened up a little bit.' "
Marie says "Dancing" was "one of those statements like, 'I do not need to climb into a hole, I need to climb a mountain.'
"It's just fun to put your life into action," she says. "It surprises you how your energy increases when you dare to challenge yourself. And this show is full of energy."
A few put-downs too, one would surmise.
"It's a sibling thing," Marie says. "There is a chemistry that siblings have that I think is unique. I think it's why we're unique."
Contact reporter Mike Weatherford at mweatherford@reviewjournal.com or 702-383-0288.
PREVIEW who: Donny and Marie Osmond when: 7:30 p.m. Tuesdays-Fridays; 4 and 7:30 p.m. Saturdays (show opens Tuesday) where: Flamingo Las Vegas, 3555 Las Vegas Blvd. South tickets: $97.35-$130.35 (733-3333)