Keith Sweat's seductive songs fuel a lovefest at the Flamingo
January 20, 2017 - 9:40 am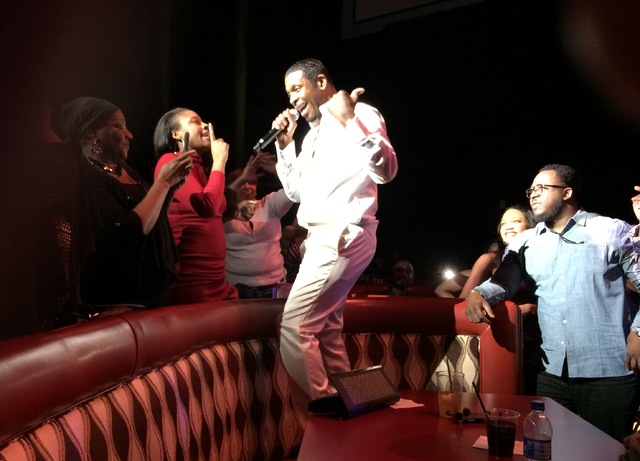 Keith Sweat caught the ringside fan in rapt concentration.
"You lookin' at me like I'm a piece of chicken or something!"
A few minutes earlier, he had seen the same fan filming him on her phone, grabbed that phone and sang right into it.
This time, he created some new lyrics for "I'll Give All My Love to You," improvising, "You lookin' at me like I'm a piece of chicken, and you want to take me home like I'm some steak …"
"I can make a song out of anything," he announced at that point.
But a couple of things were clear from the opening night of the 55-year-old R&B singer's run at the Flamingo.
First, sing about anything? Sweat's 30 years worth of hits make it clear there's one thing on his mind, ladies, and that thing isn't playing "Pokemon Go," meeting up for a dolche latte or snuggling up to watch "This Is Us."
Second, the ladies are fine with that. Sweat's recordings are all about seduction, but his shows are way past that, and way more fun. They're more of a shared, singalong ritual.
"I wanna drive you wild, baby," he declares in the opening, pun-preemptive "Make You Sweat." And it's variations on the theme all the way to the last one, "Nobody":
"Who can love you like me? Who can sex you like me? Who can lay your body down?" By then the questions were rhetorical, because he was out in the Flamingo's retro showroom amid the outstretched arms, climbing onto that sturdy space between the upholstered booths where generations of showmen have known it will support their body weight.
That was the finale, but it had been no less crazy up to that point. Who knew, for starters, that Sweat had so many up-tempo songs in his catalog? True, he borrowed back "Just Got Paid," the big hit he helped create but ultimately gave to Johnny Kemp.
But there were enough upbeat tunes beyond his career-making "I Want Her" to keep a trio of dancers busy in front of the oddly configured band, with five keyboardists and a drummer. The O'Jays' Eddie Levert (at least a part-year Las Vegan) even popped up on opening night to help with "My Body," which his late son Gerald sang with Sweat in the group LSG.
"It must be a Tuesday night," Sweat declared. But his Tuesday nights aren't like ours.
Everyone was having too much fun to care much about Sweat's one attempt to make the show anything more formal than a lovefest. It was a sincere attempt to tie his debut on the Strip to the city's past by putting on a waistcoat and hoofing his way through "Mr. Bojangles" in tribute to Sammy Davis Jr.
The fans got it, even if it might take a couple of more visits to Las Vegas for Sweat to learn how to calm things down and deliver the song in a way that will make people really listen to it, like Davis and the greats of his era.
But it sure seems like he will get that chance. And nobody needs to tell this guy how to work a room.
The evening started with an opening set from comedian Aries Spears of "MADtv" fame. A 7:30 p.m. start and an older crowd might explain why Spears seemed surprised that his aggressive material wasn't landing as it might with those who had absorbed more drinks.
"Y'all like that safe (stuff)?" he discovered after a riff on boxer Riddick Bowe went over better than his defense of names we aren't supposed to call people anymore.
Read more from Mike Weatherford at reviewjournal.com. Contact him at mweatherford@reviewjournal.com and follow @Mikeweatherford on Twitter.
Review
Who: Keith Sweat
When: 7:30 p.m. Tuesday-Saturday, with additional shows through Feb. 4
Where: The Flamingo, 3355 Las Vegas Blvd. South
Tickets: $64.31-$245.25 (702-777-2782)
Grade: B