Las Vegas in name boosts tenors' box-office allure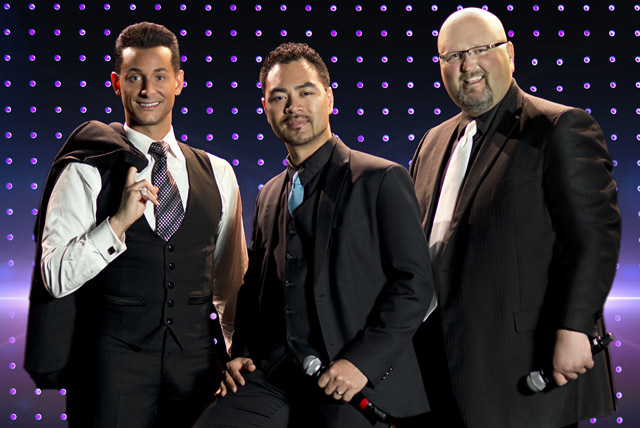 There's still a certain sizzle to having "Las Vegas" in your name. Maybe less so for pavers or locksmiths, but definitely for three singers trying to sell tickets to people who haven't heard of them.
"If you're not in Vegas (as a resident) and you haven't been on a cruise, then I'll be honest with you and say, 'Yeah, you probably don't know who the Las Vegas Tenors are,'" Bobby Black concedes of his vocal trio, which was to launch Wednesday in the LVH's Shimmer Cabaret.
"But here's the funny thing," he adds. "The word 'Las Vegas' grabs people no matter what."
When he tells people what he does, they claim to have heard of the group, even though "I know they haven't. But they think they have."
The Tenors join the Shimmer lineup to alternate with their friends in the a cappella group Mo5aic. Both shows are produced by Landon Balding, who essentially subleases the time slot from the hotel and needed to keep a show running when Mo5aic is off for its frequent cruise ship or corporate dates.
(Comedian Carlos Oscar alternated with Mo5aic before his outside schedule became even more complicated.)
Black is the one singer to have been with the Tenors since they were founded in 2005. The current group includes Lou Gazzara, formerly of "Vegas! The Show." The son of actor Ben Gazzara was a second-season contestant on "American Idol."
Shai Yammane is what Black terms the "Broadway, classical" voice of the group. The Tenors just finished their first album, available through the group's website or at the shows. It kicks off with Boston's "Long Time" to reinforce that they aren't those opera guys. …
Summer usually means big reality-TV business for Las Vegas, but two talent contests usually codependent on the city seem to have forgotten us this year.
Neither Fox's "So You Think You Can Dance" nor NBC's "America's Got Talent" is using the Axis theater at Planet Hollywood Resort for the callback, or "Vegas week" rounds of elimination to choose finalists, as both have in the past.
Caesars Entertainment Corp. folks say they didn't turn either show away now that the theater is seeing more use from Britney Spears and the like. "Talent" is said to be filming entirely in New York this year so celebrity judge Howard Stern can stay put.
Last fall, Las Vegas fielded the first and second-place finishers for "Dance," DuShaunt "Fik-Shun" Stegall and Aaron Turner. And Las Vegas always keeps "Talent" supplied with contestants, a proud tradition carried on this week by a card-throwing act of 8-year-old triplets (Dominic, Phoenix and Lyric Evans). …
On the other hand, a few Las Vegas magicians will get some love from "Wizard Wars." The magic competition in the vein of "Chopped" — magicians creating improvised illusions from common ingredients — is slated as a six-episode series on Syfy starting Aug. 16.
Penn &Teller will raise the show's profile by serving as judges. The challengers include three other magicians with Las Vegas shows: Murray Sawchuck, Nathan Burton and Tommy Wind.
Wind says that as he heads into his first full summer as a headliner, sharing his freestanding theater with a gay nightclub has its perks. Krave nightclub is the tenant sharing the former Empire Ballroom and Club Utopia, which Wind's family now leases.
When the previous operator of Krave was evicted from Neonopolis downtown, Wind says about $300,000 worth of nightclub gear was seized and auctioned, enabling him to buy it and reunite it with the new version of the club. Expect to see low-lying fog, bubbles, confetti and snow effects finding their way into the magic show soon. …
Magician Adam London may not be in the "Wizard Wars," but the man knows how to compete. Starting Saturday, his "Laughternoon" at the D tempts the summer family trade by throwing in free ice cream as part of his show. …
Should Have Seen This Coming, Part 1: Cirque du Soleil developing a live version of "Avatar" with James Cameron.
As if "Ka" doesn't have enough visual similarities to the 2009 movie hit, Cameron actually handled some of the 3-D camera work himself for "Worlds Away," the performance film of Cirque's live Vegas shows which Cameron co-produced.
Then again, the domestic gross for the 2012 movie was a dismal $12.5 million, about half its budget. Not the strongest start for a partnership, but an arena show based on the top-grossing movie of all time should make up that other $12 million in about an hour. …
Should Have Seen This Coming, Part 2: An entire arena-tour revival of "Jesus Christ Superstar" was abruptly canceled just before it hit the road, scrubbing a planned July 25 date at Mandalay Bay.
Despite the historic teaming of a member of the Sex Pistols ("Johnny Rotten" Lyndon) and 'N Sync (JC Chasez) on the same stage, poor advance sales across the board were blamed.
Did anybody remember that the 2012 Broadway revival, from the director of "Jersey Boys" no less, only ran 112 performances? Not sure what this embarrassment means for producer Michael Cohl and his S2BN Entertainment, which has a hit with "Rock of Ages" at The Venetian, but is now trying to place a new version of the Broadway "Spider-Man" musical on the Strip.
Contact reporter Mike Weatherford at mweatherford@reviewjournal.com or 702-383-0288.