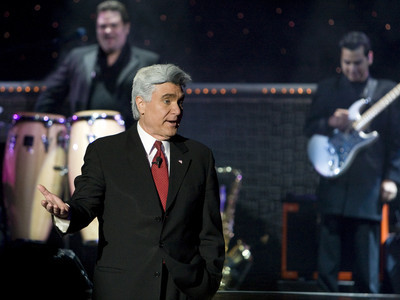 In 1983, believe it or not, Elvis wasn't everywhere in Las Vegas.
But for 26 years, there has been one sure and steady place to find him: the glory-glory-hallelujah, flag-waving finale of "Legends in Concert."
That won't change, but a lot of other things are about to — including the fact that you soon will find the King next door.
On Saturday, the third longest-running show in Las Vegas, behind only "Folies Bergere" and "Jubilee!," gives its last performance in its longtime home at the Imperial Palace. It reopens Monday at next-door Harrah's Las Vegas, sharing the main showroom with comedian Rita Rudner.
"Legends" is using the occasion as "a boost of B-12" — as Jay Leno impersonator Marcel Forestieri puts it — to make some long-delayed upgrades and relaunch a show that's somewhat a victim of its own success.
When original producer-director John Stuart introduced "Legends" to the Strip in May 1983, it was quite the conversation piece. Departed Vegas greats such as Bobby Darin returned to this mortal coil, sharing stage time with other ill-fated stars who never made it to the Sands. Buddy Holly and Janis Joplin were part of the opening-week lineup.
But now, costumed impersonators — or "tribute artists," the kinder industry term — are so widely accepted, no one blinks an eye. Tributes to everyone from John Denver to Ozzy Osbourne are a staple of off-Strip locals casinos and tribal-owned casinos around the country. And lately, the official versions of classic rock bands such as Journey and Styx have blurred the line by pulling in singers from the tribute circuit.
With so many look-alike, sound-alike acts, the producer of "Legends" says it has been hard for the company to assert its, um, authenticity.
"It's amazing how the word 'Legends' has become just synonymous with any tribute show that's out there," says Brian Brigner, chief operating officer of OnStage Entertainment, who spends much of his time protecting his brand name in court.
"I think a few years back, there were a lot of questions of, how long will this continue on? Is the interest going to stay with this thing?" Brigner recalls. "I was concerned the whole product was going to get watered down. There are only so many top Elvises, or only two or three top Madonnas in the world. But I guarantee, there are a whole lot more than that working tonight."
Within the ranks of those who make a living at impersonation, "This is still the top rung of the ladder," says Matt Lewis, who has been the Imperial Palace Elvis for seven years.
"Everybody has their local hometown Elvis, but that doesn't really take away from what we do here," he says. "I have the best job as Elvises go," he says. "You would not get this kind of exposure on your own."
Even with four standing "Legends" productions to staff in the United States, OnStage can be picky about hiring the cream of the audition crop. It was the production itself that had fallen behind on the quaint Imperial Palace stage. "Everybody's got unbelievable video projection or LED walls. Those trendy new toys are where we kind of got left in the dust a little," Brigner admits.
Before the recession smacked Las Vegas, "Legends" operated under constant rumors that the Imperial Palace would be imploded or gutted. Brigner held off on rebooting the production until cementing the deal to move next door. But now, it's time for "technology and production value to catch up to the level of entertainment we've been providing every night."
Brigner had hoped to unveil the Harrah's edition with a new set by "American Idol" production designer Andy Walmsley. But a subcontractor fell victim to the recession and didn't deliver by deadline. Even so, Walmsley says his "halfway house" version of the new set still runs laps around the old one.
The show also is creating new video to put each act into the context of its times. And the format is trying harder to blend the "modular" approach that allowed acts to easily be swapped in and out, but often seemed like throwing a sports car into reverse when it segued from, say, Garth Brooks to Janet Jackson.
"Legends" even has grown bolder about exploring its fanciful premise, letting some of its acts appear together. One Christmas show re-created the famous "Little Drummer Boy" duet between Bing Crosby and David Bowie.
"We're providing a fantasy, and they're going along for the ride," says Forestieri, who also smooths out some of the transitions by hosting as Leno.
Lewis says that even with an Elvis at every wedding chapel, fans come up to him after the show and say, "I have all your albums."
"They're still coming out of it," he says of the stage magic.
And some illusions are stronger than others. "When Dolly Parton is here, nobody wants a picture of me," Forestieri says with a laugh. "It's like, 'Can you take a picture of me with her?' "
Contact reporter Mike Weatherford at mweatherford@ reviewjournal.com or 702-383-0288.
Preview
"Legends in Concert"
7:30 and 10 p.m. today and Saturday at the Imperial Palace, 3535 Las Vegas Blvd. South (794-3261)6:30 p.m. Monday, 7:30 and 10 p.m. Tuesday and Thursday at Harrah's Las Vegas, 3475 Las Vegas Blvd. South (369-5111)
$49.95-$59.95