March 25, 2010 - 11:00 pm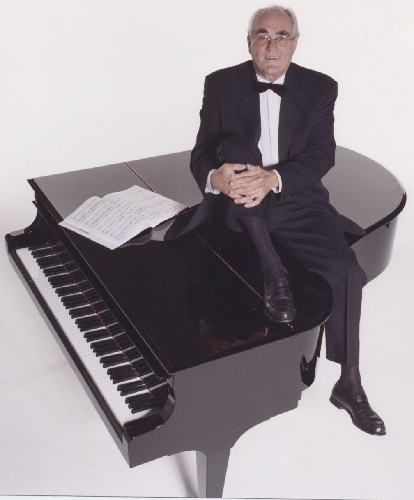 The songs stood proud on Las Vegas stages for decades. But for their composer, it's a rare visit.
Michel Legrand, the 78-year-old composer of modern-day standards and memorable movie themes, makes the long haul from France for a Saturday tribute concert at the MGM Grand Garden, to be filmed for PBS.
The affable composer offers one major qualifier in a long-distance chat: "There is no retrospective on my career for one good reason: My career is not finished yet," he says. "I'm very active. I'm writing new stuff and I have many, many projects. Don't talk about my career in the past. In the future, I'm going to do much more."
Legrand started his career as a jazz pianist and, unlike some film composers, loves taking an active stage role playing and conducting, sometimes even singing. At one point in the past — "Don't ask me which year" — he and Tony Bennett spent "three marvelous weeks" co-billed at the Riviera.
Still, Legrand is better known in the United States for his rich melodies, which range from the themes to "Summer of '42" and "Brian's Song" to the one Bennett currently uses as his closer, "How Do You Keep the Music Playing?"
"Every melody which goes out of my chest should be really very good and as beautiful as possible," he says.
His melodies are sentimental, but Legrand says he not prone to reminiscing. "I never bend toward the past. I never look behind. I always think and talk about today or tomorrow, but rarely about yesterday."
So Legrand will be forced to change his perspective, at least for one weekend, when he celebrates his catalog with a roster of stars. Local producer Vince Vellardita sold Legrand and his manager on the idea of a concert tribute, with plans to release it as a live album, two-hour DVD and 80-minute PBS special.
The show will be hosted by "Summer of '42" stars Jennifer O'Neill and Jon Voight, and will include performances with a 66-piece orchestra by Dionne Warwick, Steve Lawrence, George Benson, Melissa Manchester, Patti Page, Andy Williams, Frank Sinatra Jr. and even Jerry Lewis.
"We are very close friends because we've done so much television together in the United States and France and other countries," Legrand explains of Lewis, promising "many adventures happening in the performance."
The live taping will be augmented by video segments featuring Quincy Jones and Peter Gabriel, as well as Sting, who put a claim on "What Are You Doing the Rest of Your Life?," perhaps Legrand's best-known song, by performing it in recent years with jazz trumpeter Chris Botti.
Sting also remade Legrand's "The Windmills of Your Mind" for the remake of "The Thomas Crown Affair," for which Legrand first penned the tune.
"I just wrote what the movie inspired me to write," Legrand says of his famous film themes. "I always tried to make something original. I never scored a movie in expected ways. I wanted to be always adventurous. I always tried to be different, to be audacious."
"He made a contribution over many, many decades," says Lawrence, who also does a wicked imitation of Legrand's heavily accented English. "He was one of the few composers who managed to swim through all those different currents, and he survived it all musically."
With the help of lyricists Marilyn and Alan Bergman, Legrand gave Lawrence and others on the bill strong melodic material that was sometimes scarce as the rock era exploded.
The composer says the oldest song on the program is "Once Upon A Summertime," penned in 1954. By then, he was arranging jazz albums and working as a musical director for the likes of Maurice Chevalier.
In 1964, Legrand crossed into film with the quirky, no-dialogue musical "The Umbrellas of Cherbourg" and its oft-recorded theme song, "I Will Wait for You."
Lawrence was among those who recorded that one, but it was spoken for in Saturday's event. So he chose "Happy," with lyrics by Smokey Robinson from 1972's "Lady Sings the Blues." "It's been like a secret favorite of mine," Lawrence says. "It never achieved great prominence."
But many others have, including Legrand's songs for Barbra Streisand's "Yentl." "When I write a song and the song goes out once, twice … then it doesn't belong to me anymore," he says.
"People want to have their own execution, their own idea. I'm always very happy," he says of the various interpretations. "I'm never disappointed, or so rarely. It's their idea how to express, how to perform it, that surprises me all the time and gives me good pleasure."
Preview
"Michel Legrand & Friends:
Fifty Years of Music & Movies"
8 p.m. Saturday
MGM Grand Garden arena,
3799 Las Vegas Blvd. South
$72.63-$164.50 (891-7777)
Contact reporter Mike Weatherford at mweatherford@ reviewjournal.com or 702-383-0288.
Preview
"Michel Legrand & Friends: Fifty Years of Music & Movies"
8 p.m. Saturday
MGM Grand Garden arena,
3799 Las Vegas Blvd. South
$72.63-$164.50 (891-7777)