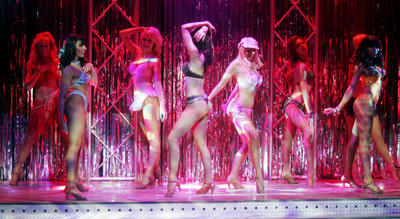 So in Las Vegas, you have strip clubs and you have "topless adult dance revues," because the casinos haven't yet folded strip clubs under their roofs.
But casino shows sometimes run into problems figuring out what a "topless adult dance revue" is supposed to be. The dancing can seem at cross purposes with the main attraction, which is to say, a booby show.
The strength of "Fantasy" at the Luxor is that it's both a show and a booby show, with neither suffering as a result.
Various competing titles over the years have shown the dancing can go off the tracks in a couple of directions: painfully strained and graceless, or excessively aerobic and athletic.
But "Fantasy" choreographers Cris Judd and Tiger Martina get it just right. The women move with purpose without distracting from the larger purpose, and they don't make it look like they're trying too hard.
The latter is a lesson that the one male in the cast, Sean Cooper, could study. Sharing the hosting duties with singer Stephanie Jordan, Cooper comes off as a likable guy who is all over the place doing a little bit of everything — a little Sammy Davis Jr. here, a little white-faced Michael Jackson there — without anyone being sure what he does best.
I can give away that Cooper comes out in drag to do "Proud Mary" as Tina Turner because by the time he does, you're not surprised that he would. And his jokes about masturbating to the "Fantasy" calendar are kind of gross, making you realize that, much like topless show choreography, dirty humor is tougher than it looks.
But Cooper does his part in giving the show way more personality than you would expect in one of these things. A lot of little factors add up, from the women sporting distinct body types and hairstyles, to the fact that some have been onboard for years now.
Since the show opened as "Midnight Fantasy" in late 1999, it has developed an identity that's been aided and abetted by a calendar, a cast album and the Internet, with separate MySpace pages for the dancers.
Original songs, some co-written by Judd and others by Jordan, gradually replaced pop covers such as "Let's Get It Started," which always seem to turn from fresh to snicker-provoking as quickly as those leftovers in your fridge.
The originals may not rise far above guitar-funk Prince riffs or dance-diva pop, but Jordan delivers her own "Goin' to Vegas" with a pride of ownership, and gives the same lusty gusto to the old standbys. You can't go wrong with "Roxanne," and Alannah Myles' 1989 hit "Black Velvet" has cycled through to the point that it sounds like a quirky choice. It never hurts to have lead dancer Jennifer Ross and another brunette dancer, Tracey, wrapping themselves in lengths of fabric while Jordan is singing.
Ross also does a smoking striptease solo to Idina Menzel's "Damsel in Distress," fully commanding a stage which is larger than ideal for this type of show. You can tell Ross how much you liked it in afterward in the lobby, where the "Fantasy" women meet people filing out after each show.
The revue's main competitor at this point is the Crazy Horse Paris at corporate sister property MGM Grand. The two offer distinct choices; Crazy Horse is all stylized and sleekly European with its aloof, symmetrically matched dancers.
But now comes word that Crazy Horse is holding its first American auditions next month. Makes you wonder if "Fantasy" doesn't have the upper hand right now, with its women Americanized, individualized and — at least on some lobby-cordial level — accessible.
Contact reporter Mike Weatherford at mweatherford@reviewjournal.com or (702) 383-0288.
REVIEW what: "Fantasy" when: 10:30 p.m. Sundays, Mondays, Wednesdays-Fridays, 8 and 10:30 p.m. Tuesdays, 11 p.m. Saturdays where: Luxor, 3900 Las Vegas Blvd. South tickets: $53-$68.40 (262-4400) rating: B-