Mac King, 'Popovich Comedy Pet Theater'
April 29, 2010 - 11:00 pm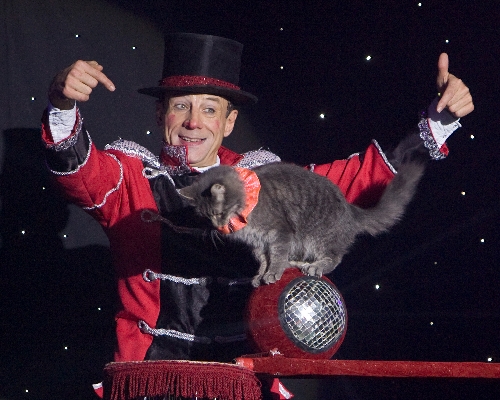 "Iron Man 2" opens next week, Memorial Day is nearing, and it's time to start looking forward to summer traditions. On the Strip, that translates into two family favorites for hot afternoons: Mac King and "Popovich Comedy Pet Theater."
If it's a little soon to be talking about this, I confess: Last week was Take Your Daughters and Sons to Work Day.
Part of me wishes our schools would join others around the country in retreating from this badly timed loss of a good instructional day. (Couldn't the darn thing be in the summer?)
A bigger part was happy to have a 10-year-old in tow to revisit these well-trod titles, so I could sponge off her enthusiasm. She was on board for "Viva Elvis" as well, and I think I saw it from a different, less jaded perspective than some other reviewers.
And who's the real target demographic to watch a dog walk on its hind legs?
We both agreed the pet show is the one that reaches down to really young children; like, as young as 3 or 4. King, at the risk of belaboring the obvious, is for children old enough to get the jokes; maybe 6 and up.
I was proud of the 10-year-old when she noted, "There was a joke wherever he could fit it in."
Yes, King's a magician. And yes, there are sight gags, beginning with his trademark plaid suit, which might have been worn by Captain Kangaroo's hayseed cousin. A lot of King's double-takes and line deliveries recall the man-child bumpkins of vintage TV — Jim Nabors, Don Knotts — no 10-year-old today could recognize without deep cable.
But King wouldn't be such a good fit on the Strip the rest of the year — all those weekdays when school is in session — if he weren't across-the-board funny.
You're a liar if you claim you didn't join every other person in the room, young and old alike, in laughing hard at this one: "Did you feel No. 2 land in your pants?"
Juvenile, yes, but quite carefully set up, in a trick involving person-to-person transportation of playing cards. That's King in a nutshell: The magic is startling on its own, but it really works as the framework for layers of carefully placed one-liners.
Maybe that's the answer for those who wonder why his value-priced act doesn't change more, beyond ad libs within four audience-participation bits. King celebrates 10 years at Harrah's Las Vegas next week (after a debut at the bygone Maxim in October 1999), and has been more prolific writing books and a Sunday comic strip than in messing with the main event.
But a major segment he added about four years ago actually scares people silly. Really. Young and old alike. So you might be careful what you wish for.
Nothing scary at the pet theater, unless you are bouncing back from a long night on the town. Gregory Popovich is a Russian circus veteran who worked at Circus Circus for years, then opened this V Theater showcase in 2006.
He didn't get the Cirque du Soleil memo about the new-age music. It's a noisy affair, complete with circus costumes and brassy backing tracks, chicken-dancing, slide whistles, regular whistles, metal plates crashing and four dancing acrobats vaulting around the stage.
Parents may be taking one for the team in the early going, but Popovich is pretty inspiring for an old guy. He climbs up one side of a ladder and down the other, juggles and balances a pole on his forehead with a medium-sized dog on top.
The show hits a more graceful stride with Popovich's Chaplin-esque bit as a park-bench clown, sharing his meager rations with a poaching pooch.
If that doesn't make you say "Aww," the dog-school skit will. And you'll go double-"Aww" at the video explaining all the critters are shelter rescues, and that you, too, can train 16 cats to jump through hoops or ride a rolling ball.
"That's adorable!" the 10-year-old exclaimed, more than once. And that's all a parent has to hear.
Contact reporter Mike Weatherford at mweatherford@ reviewjournal.com or 702-383-0288.
Reviews
Mac King
1 and 3 p.m. Tuesdays-Saturdays
Main Showroom at Harrah's Las Vegas, 3475 Las Vegas Blvd. South
$27.45 (369-5111)
Grade: A
"Popovich Comedy Pet Theater"
4 p.m. Thursdays-Tuesdays
V Theater in the Miracle Mile Shops at Planet Hollywood, 3663 Las Vegas Blvd. South
$43.49-$54.49, $21.49 ages 2-12
(260-7200)
Grade: B