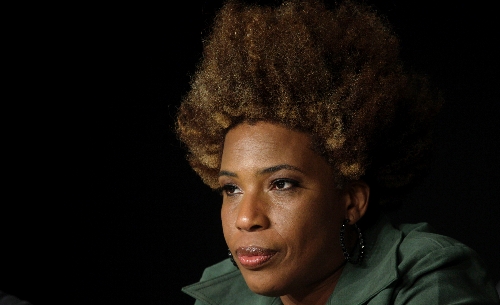 It was a question I wondered about for years, but the answer didn't make the wait pay off.
Did Macy Gray ever see the late Danny Gans imitate her?
"No," she says over the phone, adding her hearty laugh. "I had no idea."
But that's how mainstream Gray's signature song "I Try" became in the early 2000s; Gans slipped it into the act alongside George Burns and Kermit the Frog.
Gray never again reached those pop-culture heights of her first album, "On How Life Is." But like many an artist who fell from the zeitgeist but never stopped putting out quality albums – Norah Jones, Tori Amos – the earthy singer sustained delivery of quirky, genre-spanning discs for a smaller but committed fan base.
"It's working out. Because I didn't know what to expect from it when everything started," she says. "I'm really surprised people still know all the words to 'I Try.' … It's a big deal to hang around, I realize. It's not easy. So I'm proud of myself about that."
Now she's on a tour with Seal, which stops Saturday at the Palms. Gray and Seal both are promoting albums of cover tunes, but that's where the similarity ends.
"I did more of like a rock cover album, and he does old soul songs mostly," she says. "I definitely wanted to do something nobody would expect. I thought doing a soul cover album, or anything R&B, would be too obvious."
"Covered" is instead eyebrow-raising eclectic, though less surprising if you're familiar with the work of producer Hal Willner and his genre-spanning tribute albums that seem to pull together everyone in the musical universe.
Gray puts new focus on the damaged honesty of her voice, applying new skills as an interpreter to everything from Metallica's "Nothing Else Matters" to Arcade Fire's "Wake Up" and Colbie Caillet's "Bubbly."
"I'm a huge rock 'n' roll fan, you know. I like all kinds of music," she says. "Hal's a huge music connoisseur, so he'd pick weird stuff nobody would want to do, like really obscure stuff," she says with a laugh. "But I wanted to do songs everybody would know."
Willner's job then became to "come up with different ways to do it, different ways to arrange it."
She's been changing up the set list in each show, but "we manage to get all six albums in the set."
After all these years in the business, the 44-year-old singer says, "I just get really nervous every time I put a record out. As excited as I am, that's always a really depressing time for me because I get really nervous."
Because?
"Every time we do something you feel like you could have done it better, I don't know. There's no reason to it, I just do it anyway. I don't know why. … It's just difficult when it first comes out. After it first comes out, you're fine."
The new album includes some comedy interludes that demystify the singer a little bit and clue you in to her sense of humor. But Gray is still prone to unpredictable behavior: When Seal was singing "Kiss from a Rose" at New York's Beacon Theater, she ran out from the wings in sweats and hugged him.
"I just got really excited backstage. That song made me cry that night for some reason. I just went and gave him a hug," she explains. "It was completely – I wasn't even thinking or anything."
There's one place she doesn't mind being hard to read: the poker table. "I used to come to Vegas way too much," she says. "I like to play poker and blackjack, I like to roll dice. It's fun to me."
She doesn't put herself in the Jennifer Tilly leagues of celebrity poker. "I'm not bad; I'm not terrible," she says, adding, "I bluff very well because no one expects me to know how to play."
Contact reporter Mike Weatherford at mweatherford@ reviewjournal.com or 702-383-0288.
Preview
Seal, Macy Gray
8 p.m. Saturday
The Pearl at the Palms, 4321 W. Flamingo Road
$59-$114 (944-3200)