'Magic Mike Live' makes the male revue funny and sensitive
Updated April 27, 2017 - 5:34 pm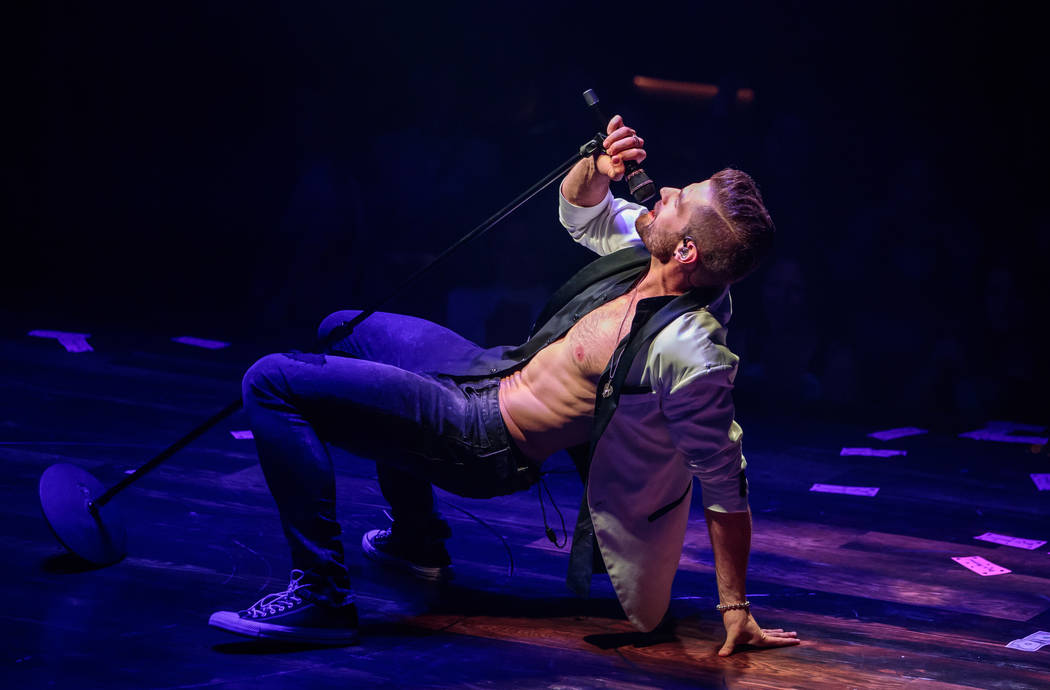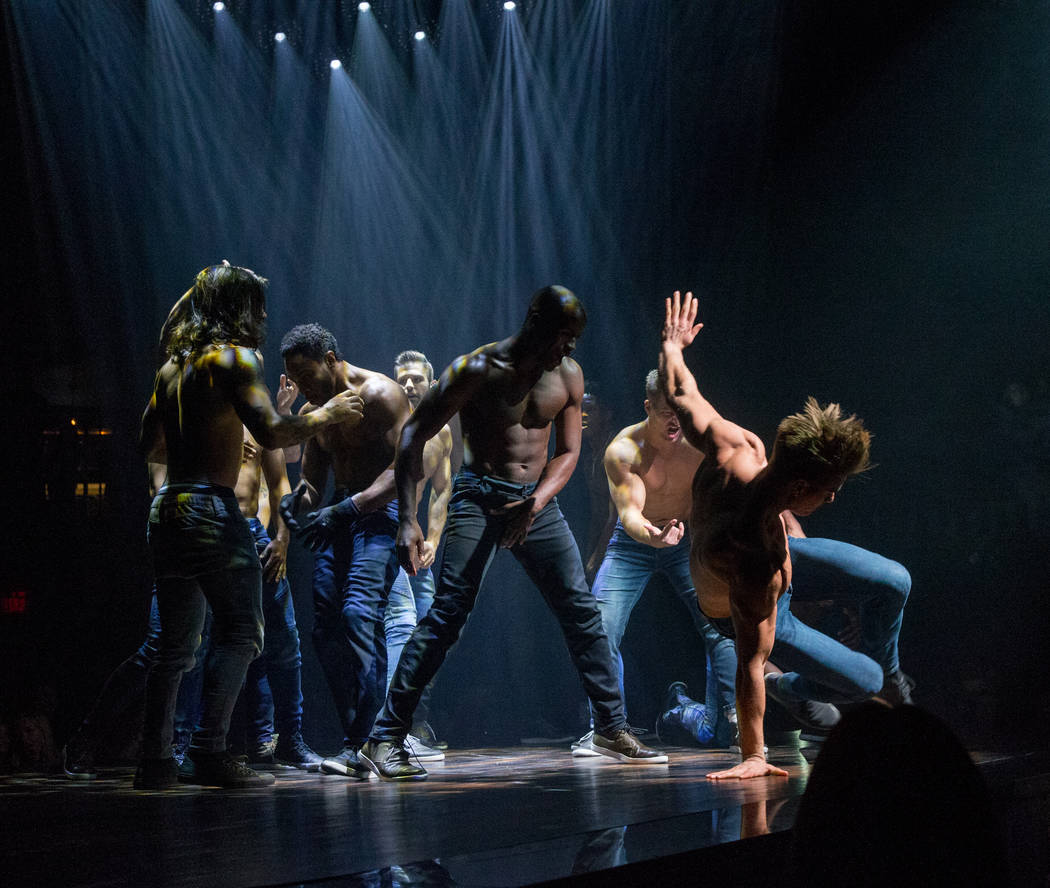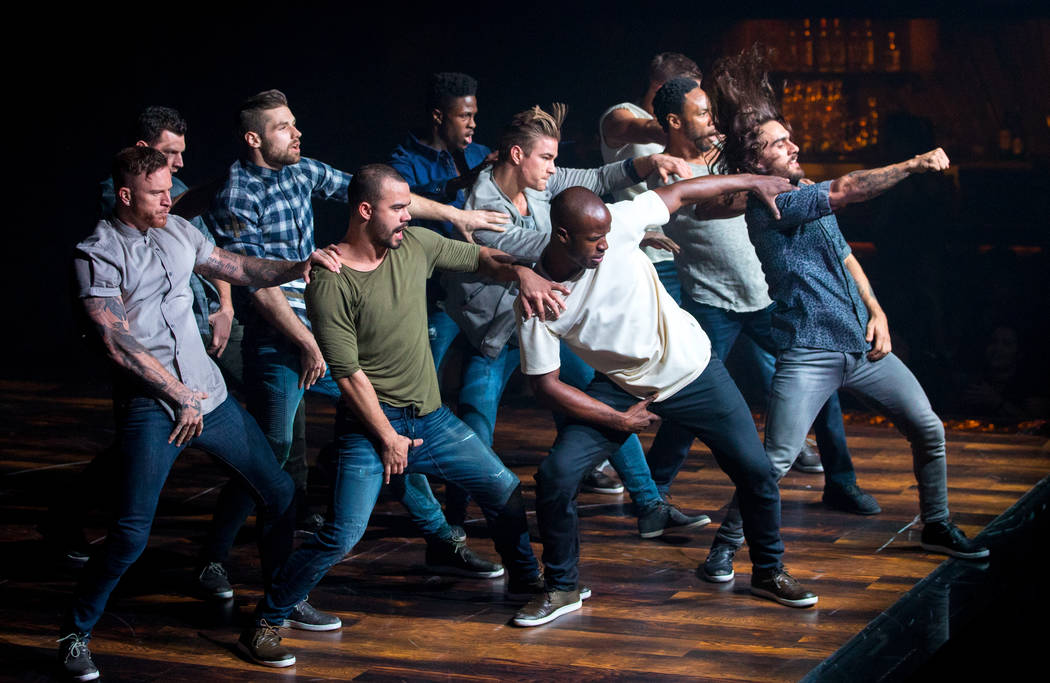 They may share the name "Magic Mike," but only one of them watches the Oprah network.
The movie Mike, as played by Channing Tatum, backflips right off that stage, hoists a gal, chair and all, right off the floor, throws his new friend down on the stage, loses his shoes, then his trousers and … well, you get it, or you can get it on Netflix.
But when his namesake in the live show — a novice freshly promoted from the service industry — gets commanded, "Mikey, make her feel beautiful"?
He leans over the stage and tells her, "Beautiful doesn't even begin to describe you … all I see is perfect … thank you for just being you."
Aww. And that's even before the foot rub.
Make no mistake, Tatum's big-budget update of the male dance revue does get around to plenty of bumping and grinding, even if it's quite modest on G-string nudity. And it dims the lights for a lap dance segment, in which women are given a "safe word" most didn't seem to need.
And yet there's a designated chair for Oprah herself in the basement club of the Hard Rock Hotel, and her protective spirit seems to hover over the only male revue that signs off with "We all hope you leave here tonight feeling loved and respected."
"Magic Mike Live!" turns out to be as agile as its dancers in having it both ways. It does a crafty job of arguing those other shows are cheesy and misogynistic. But this one? It really cares about you.
Never mind that it's a faulty premise. No one ever seems to have a bad time at Chippendales or "Thunder From Down Under." If anything, the G-string displays turn the tables on misogyny. The screaming girls-night-outters revel in the campy ritual of objectifying men who are happily not the schlubs they left at home.
But here? (Spoiler alert.) A fake-out opening briefly puts us in the world of Village People cops, firefighters and, hmm, a guy in a bow tie, before emcee Lyndsay Hailey's "psychotic breakdown in the middle of a strip club."
"I came here tonight because I thought it was going to be different," she says. "Why can't we just have a guy in a white T-shirt?"
Said guy and a dozen others pop up, and you can debate whether they are hotter than the competition. But it's sure not a level playing field.
Producers Base Entertainment spared no expense in remodeling the Hard Rock club (formerly Body English and Baby's). The most direct inspiration turns out to be not the other male revues, but "Absinthe," which Base co-produces at Caesars Palace.
Like that one, the audience surrounds a stage in the square. Dancers jump up on the bar. Acrobats fall from the sky. Drum kits and beds rise from the floor. The showstopping number offers a very "Absinthe"- or "Zumanity"-like couple (Ryan Carlson and Liinda Garisto) having an adagio sexy time in the rain.
There is one strong tie to the movie: the amazingly nimble dance numbers orchestrated by Tatum and the movie choreographers, Alison Faulk and Teresa Espinosa. No stunt doubles here. If anyone is surprised the dudes are lean and ripped, not Hans & Franz pumped, it takes all of two minutes to know why.
The momentum does stall at times, like the musical numbers that never quite commit. The all-around action also makes it easy to lose focus. But the clever premise and Hailey's consistently funny banter are proof that the G-string revue really was ready for new ideas — or at least a steamer trunk of sweaty cash.
Once the novelty wears off, will the audience still respect all this respect, and be content that the rare display of male hindquarters doesn't come until a half-hour into the show?
If anyone was complaining, the screams were too loud to hear.
Contact Mike Weatherford at mweatherford@reviewjournal.com or 702-383-0288. Follow @Mikeweatherford on Twitter.
Review
What: "Magic Mike Live"
When: 7:30 and 10 p.m. Wednesdays-Sundays
Where: Club Domina at the Hard Rock Hotel, 4455 Paradise Road
Tickets: $49-$139 (800-745-3000)
Grade: B+