Match made in heaven? Cabaret women, G-string guys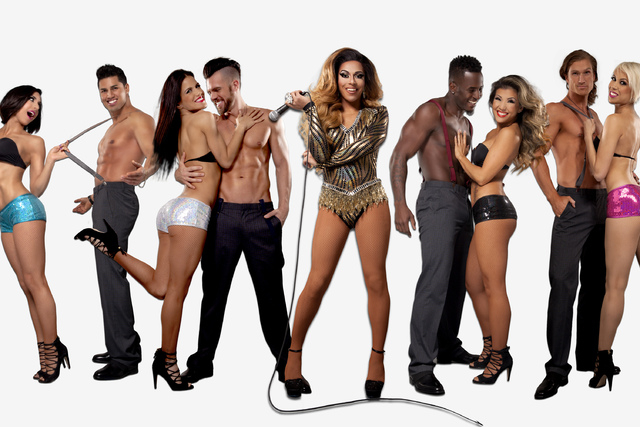 "We're evolving as a society, becoming more accepting and more open," says Bryan Cheatham. "I just think it's time now to explore that and push the envelope and see how far we can go."
But this is Las Vegas, so what groundbreaking societal change are we speaking of?
Why, putting scantilly clad women and G-string dudes into the same show, of course.
C'mon. It is the Strip's last bastion of segregation. Before, you had to choose between female cabaret shows, or "nude dude" G-stringers for the bachelorettes.
But on March 11, Chippendales producer Kevin Denberg opens "53X" in the Chateau Nightclub at Paris Las Vegas. Four men, four women, in the same show. Producers say it will feature "obscured nudity and implied nudity" but no bare breasts.
"Gay guys can come. Straight guys can come. Everybody can come together as one and enjoy sex and love and be entertained," says creative director Cheatham, as sentimental a statement about the Las Vegas show scene as you are likely to hear.
"53X" will answer the question of whether the idea just had to wait for the right time, or whether the two formats were separated because that's the way people like them.
Having seen both sides, I can say the "girls' night" audiences at the dude shows seem far more liberated to scream and go crazy without the ballcap-wearing, buried-six-pack guys they left at home.
The other side already has made progress in this direction, and is the one more likely to make room for the new show. "Fantasy" is but one example of a cabaret show playing to the middle, with either a female stand-up or an athletic physical comedian such as Sean E. Cooper. This tactic traces back more than 10 years, to "Skintight" at Harrah's Las Vegas and its willing-to-bare-it host Darryl Ross.
But those were unadvertised rewards for wives and girlfriends who had already decided to take a bullet and let their guys ogle. "53X" advertises its equal four/four mix, with no tiebreaker in the host, because the host is in drag.
"Everybody loves a drag queen," Cheatham says of Shangela of "RuPaul's Drag Race" fame. "I think our show has to have that, to break up any tension anybody might have."
Another tactic: No solos.
"You'll never see just a guy or just a girl stripping solo onstage. There's always gonna be a distraction," Cheatham says. "If a guy doesn't want to see a guy stripping, all he has to do is look to the left and there will be a girl there as well."
And what could they do if they are not doing it alone?
When the Chippendales drag women from the audience to the stage, "there's only so much we can do," Cheatham says.
"Now that I've got a (professional) boy and a girl together and they work together, I can do so many things that allows the audience to be a voyeur into their sex life. Hopefully we'll give some people some ideas." …
Perhaps what separates the young and old in our society is whether "Uptown Funk" was a fresh new sound or a throwback.
Larry Blackmon is squarely in the latter camp. So much that the pervasive Mark Ronson and Bruno Mars hit did not merely remind him of his band Cameo.
"They went so far as to make the bass sound like Aaron Mills, our bass player. Those sounds didn't come from no place."
If you don't believe him just watch, as Cameo revives its '70s and '80s funk in its new residency in the Westgate Cabaret at the Westgate Las Vegas.
"I don't know (if there will be) a dance floor, but I'm sure people will be dancing," he says.
Cameo was supposed to open in October, but it turned out to be a false start. Blackmon actually moved to Las Vegas in late 2014 for the usual weather and lifestyle reasons. But he negotiated with the Westgate for more than a year, starting over when both the casino's overall management and its subcontracted producer of entertainment changed.
"This is a milestone for us. We've never done a residency before. We're so accustomed to one-nighters that it took a little adjusting," Blackmon says. "We're gonna go at it and see how things go. We intend to do it as long as we can."
Cameo is best-known for the 1986 classic "Word Up." But Blackmon disputes calling the group a one-hit wonder, and the band's history does give him an argument. While Billboard only credits "Word Up" and the next year's "Candy" as Top 40 hits, the mid-'80s were actually a comeback for the band that had been a solid force in funk.
"Our very first album, 'Cardiac Arrest' went gold (in 1977) and we've sold close to 14 million pieces of product over the course of our career," he says.
Even if "Uptown Funk" didn't help the group directly, "it just confirmed what I always felt, which was that our music has more than legs," Blackmon says. "If you had proper support, it could be something special. Oh, and a white producer," he adds with a laugh. …
Some quick notes on topics sure to be elaborated upon in coming weeks:
• Monday is the day you can tune in to Logo at 9 p.m. to see how "Divas Las Vegas"'s very own Britney impersonator, Derrick Barry, fares against the likes of Chi Chi DeVayne, Kim Chi and Bob the Drag Queen (yeah, that guy) on the eighth season of "RuPaul's Drag Race." A live spinoff of the contest comes to the Palms April 29.
• Frankie Moreno announced this week he will return to the Strip on April 20, when a new show called "Under the Influence" debuts in the PH Showroom at Planet Hollywood.
Moreno ended a three-year run at the Stratosphere in late 2014, but kept in practice with Cabaret Jazz gigs at The Smith Center for the Performing Arts. The Planet Hollywood theater was most recently host to a year's run by ventriloquist Jeff Dunham. But at 1,400 seats, the theater is known for high overhead and has proven too big for most of the resident shows it has hosted, including "Peepshow" and "Stomp Out Loud."
Moreno says he will close the room down to a capacity of about 800 for his six shows per week. His show will be produced by Base Entertainment, which leases the theater space and helmed "Peepshow."
• Maybe you don't go to record stores anymore, but you can digital shop for new singles from Las Vegas headliners not usually mentioned in the same sentence: Marie Osmond this week released "Music Is Medicine," the title track of a new album due April 15.
And the Blue Man Group's single "Giacometti" paves the way for a new instrumental album "Three" on April 22.
Read more from Mike Weatherford at reviewjournal.com. Contact him at mweatherford@reviewjournal.com. Follow him @Mikeweatherford.