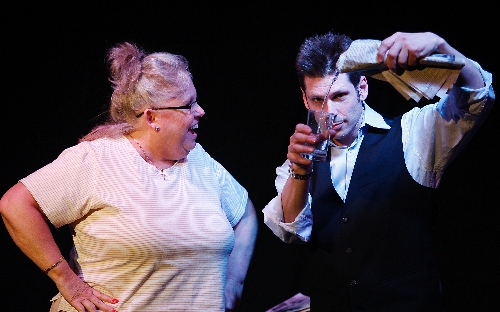 Las Vegas' Mike Hammer looks and sounds more like Michael Cera than Stacy Keach, but he can hold his chin as high as any Mickey Spillane tough guy.
In a recent survey of show ticket prices, Hammer's generically named "Comedy Magic" (just like Nathan Burton) had the lowest ticket price of the 95 counted.
The Las Vegas Advisor used only face value and didn't factor in discounts, coupons or gimmicks. So it posted $17.95 (including taxes and fees) for Hammer's show of nearly a year's duration in the Four Queens' Canyon Club.
But the folks at my table paid $10 per ticket ($11.69 with tax), with that including a drink. You score those coupons if you're a hotel guest, or from Hammer himself when he's out on Fremont Street doing promotional close-up magic.
Since beers run $5 at the bar, it's a value not seen since the early days of Mac King and afternoon shows such as "Viva Las Vegas," which once had casino support as loss leaders to generate foot traffic.
So Hammer is the lowest certified bargain in town, and he's not even working in some makeshift venue. The Canyon Club is an attractive room, abandoned by its original rock club promoter and still waiting to realize its full potential. You can sit in rows of folding chairs up front, or kick back at a table or sofa.
But your time is precious. What kind of show do you get for your 10 bucks?
Not a bad one at all, it turns out.
Hammer should probably weight the "Comedy" part of the title at about 70 percent to the "Magic." The latter is fairly basic, and a few bits will be familiar to those who have seen King or others.
But see the magic for what it is: a structural support for fast-quip banter with a half-dozen audience "volunteers." Hammer is really an improv comic, but the magic organizes the show.
He also tries to add his own punch lines to the nonexclusive tricks. You may have seen other magicians fold a newspaper and pour a glass of water into it, but Hammer gives it the extra dimension of having an audience member try to follow along with him.
This Hammer may not be hard-boiled like his trench coat namesake, but he can work a tough crowd. On this particular evening, he had the misfortune to choose a lady so giddy she almost derailed the trick; she couldn't even remember that she chose a black card instead of a red one.
Hammer played it. Tying back to the stoicism of the previous recruit, he quipped, "First I had someone in a coma. Now I have someone who will never be in one. … Between (the first guy) and her, I'm dealing with half a cell."
When he pulled up a guy who was from Egypt of all places, he even had an ad-lib for that: "Well, we're semifriends." He went on to improvise a joke about car bombings, before the guy told him, "That's not even funny."
But at the end, the guy still wanted to buy a DVD.
That's because the Cera-like vulnerability plays well against the Don Rickles-like put-downs. One lady was so protective, she did not want to keep aiding a Russian-roulette bit involving staple guns, one-in-four loaded, tested on his throat.
From neck-stapling to gumshoe magic on Fremont Street, Hammer's doing what a guy's gotta to turn an honest buck in a hard town.
Contact reporter Mike Weatherford at mweatherford@ reviewjournal.com or 702-383-0288.
Review
Mike Hammer "Comedy Magic"
6 p.m. Tuesday-Saturday
Four Queens, 202 Fremont St.
$17.95 (275-1823)
Grade: B-