Neverland inspiration for Cirque's 'Immortal' tribute to Michael Jackson
December 2, 2011 - 1:59 am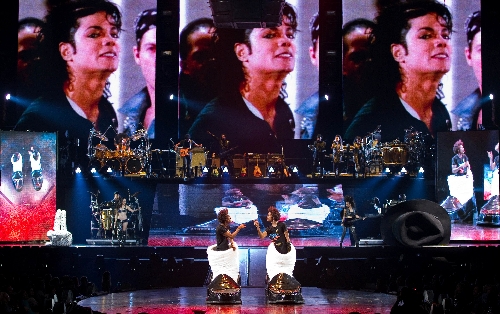 Where do you go for the inspiration to live up to a pop legend? Back to Neverland.
"The Immortal" carries the name of Cirque du Soleil. But when it came time for its tribute to the King of Pop, the king of the Strip reached beyond its Montreal walls to assemble a team of collaborators with more direct ties to Michael Jackson.
But the shadow of Jackson's legacy puts "extra heat on you," says Michael Curry, creator of giant puppets and props for "The Lion King" and four other Cirques. "In fact there's ominous pressure to get it right. I should say, not to get it wrong."
So the team of creators took a field trip to the famous California estate where Jackson spent the better days of his career.
"That was the most magical, fantastical, world that Michael created," recalls Jamie King, director of the arena spectacle that comes off the road and settles into Mandalay Bay for a whopping 33-show run launching Saturday. "It was his sanctuary. He found his solace there; he wrote beautiful music there."
When Cirque's chief executive Guy Laliberte approached King for his vision of a Jackson tribute, "For me the only thing that made sense immediately was the idea of the environment being Neverland," King remembers.
"He had a favorite tree that was right outside his bedroom. He named it 'The Giving Tree.' … It's the heart of our show. He'd write poetry and paint and all sorts of things. It was a real source of inspiration."
"We all climbed up inside of it," Curry adds. "He has carved things in there, lyrics from songs."
The tree now unfurls as the central prop of the arena tour. But other ideas "came out of that very magical day," Curry says, from the exterior gates of the estate to the giant storybook that sets up the "Thriller" segment.
Bigger and badder
"The Immortal" debuted in Montreal two months ago, an enthusiastic hometown audience overcoming the chill of a cold, rainy night.
The next day, King and other creators returned to the Bell Centre arena to meet reporters and explain the mammoth production that uses 64 performers and a 12-piece band and takes more trucks to cart around than Roger Waters' tour of "The Wall." It's an eccentric potpourri that doesn't forget any aspect of Jackson's career, from Bubbles the chimp to the Jackson 5 cartoon show of the '60s.
"Everything he did in performance was already so big," King noted from the "pod" stage that extends the action into the audience via a ramp. But this show had to be "even a bigger spectacle. In only the way that Michael would have it."
King wanted to create "a celebration of Michael's life and his beliefs," an attempt to "make you get inside of Michael's head and make you experience the world through his eyes."
There are direct references to Jackson's MTV heyday, from a giant pair of 9-foot shoes with proportionate hat and sequined glove, to the zoot-suited gangsters of "Smooth Criminal" and vampire bats for "Thriller."
"Everybody had to be capable of doing Michael Jackson's moves," creative director Chantal Tremblay noted of the dancers selected from hotly competitive auditions.
But the music reaches beyond the essential hits in its thematic sections. The beginning is anchored by the little-known "Childhood," featuring an animatronic Jackson as a young boy, floating in a hot-air balloon.
"Michael always looked at the world through childlike eyes," King says. "There's lots of animals and lots of things that kids would like. Just to get everyone in a childlike state, the way that Michael would perceive the world."
From there, the show salutes "Michael the showman. All his iconic dance moves that we all came to love and some of us tried to do but couldn't execute properly," King says with a laugh.
A serious turn brings out an army of threatening robots to the strain of Jackson's most controversial song, "They Don't Care About Us." "We wake up and go into the more political side of Michael" and his message of "unity and having a love for another. Michael's environmental stance and statements," King says.
"The Immortal" concludes with "a celebration, which is the way Michael would have done it. Here we celebrate his legacy and his immortality, and we celebrate the fans, showing that Michael does live in all of us."
Bittersweet reunion
Many of "The Immortal" creators found themselves working together again soon after Jackson's "This Is It" concerts in London were aborted by the singer's death during rehearsals in June 2009.
"I was sort of not sure if I wanted to do it, because it had only been a year after his passing," says costume designer Zaldy Goco, who was part of the "This Is It" team. Jackson's death was "still very fresh, and I wasn't sure what the intention of the show was going to be."
Eventually, "I realized this could be a great opportunity to keep the message and the inspiration of Michael Jackson alive." Except for some light-up outfits in "Billie Jean," Goco tried not to repeat anything he had created for "This Is It." "Michael was about new ideas, new technology. He always wanted to deliver something new for his fans."
Others were less hesitant. "It didn't take me two seconds to say yes," says Travis Payne, one of 10 choreographers who ended up working on the show. "I was actually on my way to his house when I found out he had been rushed to the hospital."
The reunion is "like family," Payne says. "Michael brought us together. … It's just like coming home again. His death was a surprise to us all. But what he did leave us with was all his wonderful ideas and music and visuals and the information to pass on to the younger generations."
"We sort of know his spirit to a degree, as far as dance was concerned," choreographer Rich Talauega agrees.
For King, it was a full circle back to his first professional job as a dancer on Jackson's "Dangerous" tour, before he went on to build pop productions around Madonna, Rihanna and Celine Dion. Two years of touring with Jackson became "kind of my college in a way, my school for creativity if you will, for what I do."
And on this day, a cavernous but largely empty sports arena becomes a cathedral for those to take "The Immortal" title seriously. "That's really just expressing the idea that Michael lives on," King says. "His spirit lives on. And he's here with us. Maybe not physically, but certainly his energy, his influence, will never die."
Contact reporter Mike Weatherford at mweatherford@ reviewjournal.com or 702-383-0288.
Preview
"Michael Jackson — The Immortal World Tour"
7 and 10:30 p.m. Saturday, Sunday, Dec. 9-11, 16-18, 24-27
7 p.m. only Tuesday-Thursday, Dec. 13-15, 22-23
Mandalay Bay Events Center, 3950 Las Vegas Blvd. South
$50-$175 (632-7580)