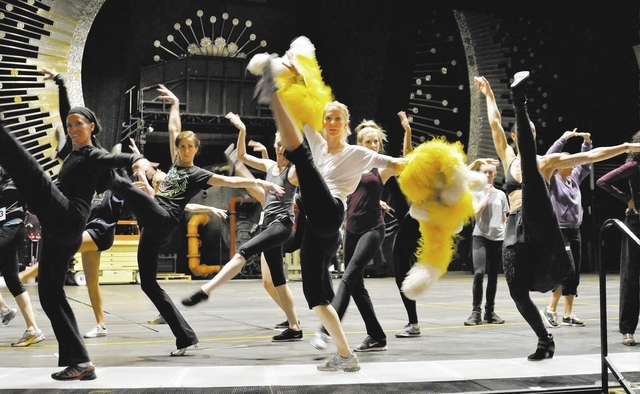 Priced out of Cirque du Soleil's big "One Night for One Drop" benefit last year? Friday brings a second chance, with entry-level tickets going for less than a prime Celine Dion seat.
Friday is the second year in which seven Cirque shows normally performing on Friday go dark, so their cast and crew members can stage the "One Drop" show with exclusive content in the "Michael Jackson One" theater at Mandalay Bay.
The big difference for consumers is that some tickets go for $225 and $325 — and had not sold out earlier this week — compared with the $1,500 entry point last year.
Cirque officials started dropping the price of some tickets last year after finding the $1,500 price point middled out; it was too steep for walk-up purchases, while corporate or institutional donors already were in for more expensive packages.
The show again raises money for the One Drop Foundation started by Cirque's co-founder Guy Laliberte for advocacy, education and micro-loans related to global water issues.
The benefit is arguably more of a lost-revenue sacrifice for Cirque this year, because the company took its big-selling Michael Jackson show offline for two weeks during spring-break season to give "One Drop" more exclusive rehearsal time in the theater.
Like last year, the theme of water's value and scarcity will be the thematic backbone of the show, which is helmed by local choreographer Mukhtar Mukhtar. Pulling off the showcase for 110 performers could open a lot of doors for the former "Love" dancer.
He was offered the job partially on the strength of the "penguins" segment he choreographed a piece for at last year's "One Drop." But he had been flexing his creative wings as far back as the piece he set for Nevada Ballet Theatre's annual Choreographer's Showcase collaboration with Cirque in 2011.
"What I'm trying to do with the (circus) disciplines is attack them from a fresh point of view. Show them in a way that's not been seen before," Mukhtar says. "I'm really trying to bring my signature, I'm trying to show them what's in my head. They will get a Cirque du Soleil feeling, but with a fresh twist I would say, because it's coming from someone else's head."
Last year's benefit used about 100 more performers and was the first use of the "O" stage for another purpose. This year's "One" stage is more traditional, and the lack of water allows Mukhtar to shift the theme.
Because so many of the big-wheel donors will be repeat viewers, "I thought about how I could connect the two shows," Mukhtar says. If last year's benefit helmed by Krista Monson was "a celebration of water," this year looks at "the opposite side of that, the desertification aspect. I really want to see the lack of water."
"Of course we want to send the emotional message of 'We need to do something about this now,' but do it in a really beautiful, poetic way."
Mukhtar was born in Saudi Arabia and lived in Somalia before he ended up in Las Vegas. "I've seen droughts. I understand it 100 percent," he says. "For me it's not so hard to try to imagine that."
The director says he feels more pressure from the time crunch and rehearsal logistics than the fact that Laliberte will walk in cold without having been part of previous creative decisions.
"Usually when Cirque creates an hour and a half show like this, they spend six months to a year and a half. We need to do this in three months. That's no joke," he says.
"We have to be as prepared as possible. There's no 'Let's try this' 'let's try that,' it's 'This is what we're doing.' " …
It has long been discussed on Broadway how connectivity and social media have mostly destroyed the concept of previews. Patrons now share detailed information that can form a public opinion about a show even as it's being tinkered with up to the official opening night.
Bally's "Jubilee!" show finds itself in the same boat after reopening Tuesday, a day later than originally announced, on the path to a grand reopening March 29.
Earlier reports from rehearsals say director Frank Gatson Jr. came up with so much new material, the revue was running about two hours and 20 minutes at one point. And that's after cutting the variety-special acts that used to break up the dance numbers. The goal, of course, is to pare it back down to 90 or 95 minutes.
The iconic tent-pole sequences about the Titanic and Samson and Delilah remain, of course, but are now said to be part of a larger story. And speaking of poles, a new stripper pole was said to cause some concern among dancers who always objected to the term "showgirl" being used to advertise strip-club dancers. …
If you had wondered how the Chinese acrobatics show "Panda!" is doing at the Palazzo, it has been extended at least until July. Starting April 7 though, the show goes from six days a week to five. …
At 9 p.m. Sunday, cable network CMT airs comedian Ron White's "Comedy Salute to the Troops," taped last month at The Mirage.
Airing the show live would have been "nerve-wracking and unnecessary," White told podcaster Marc Maron. The guest roster includes Kathleen Madigan, Josh Blue, Roy Wood Jr. and Las Vegan Geechy Guy, who starts a twice-monthly comedy showcase at the Bootlegger Bistro on April Fool's Day.
Contact reporter Mike Weatherford at mweatherford@reviewjournal.com or 702-383-0288.